Power Pro Lady Sisters
Japanese

パワプロ・レディ三姉妹

Base

パワプロ・レディ三姉妹

Kana

パワプロ・レディさんしまい

Rōmaji

Pawapuro Redi Sanshimai

Translated

Power Pro Lady Three Sisters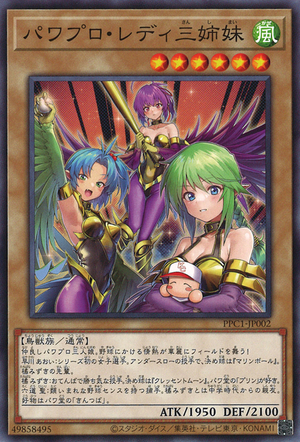 Card type
Monster
Attribute
WIND
Types
Winged Beast / Normal
Level
6
ATK / DEF
1950 / 2100
Password
49858495
Status

Three good friends from Power Pro. They dance gracefully on the field with their passion for baseball!
Aoi Hayakawa: The series' first female player. She's an underhand pitcher, and her signature move is the "Marineball". She's Mizuki Tachibana's senior.
Mizuki Tachibana: She's a tomboyish and spirited pitcher. Her signature move is the "Crescent Moon". She loves pudding from the Power Canteen.
Hijiri Rokudo: A catcher with unmatched baseball talent. She's been best friends with Mizuki Tachibana since middle school. She loves the kintsuba from the Power Canteen.
Yugioh-Card database #17344
Search categories
Other languages
Language
Name
Lore
Japanese
パワプロ・レディ三姉妹

仲良しパワプロ三人娘。野球にかける情熱が華麗にフィールドを舞う!
早川 あおい:シリーズ初の女子選手。アンダースローの投手で、決め球は『マリンボール』。橘みずきの先輩。
橘 みずき:おてんばで勝ち気な投手。決め球は『クレッセントムーン』。パワ堂の「プリン」が好き。
六道 聖:類いまれな野球センスを持つ捕手。橘みずきとは中学時代からの親友。好物はパワ堂の「きんつば」。

Pawapuro Redi Sanshimai
Power Pro Lady Three Sisters
Sets
Japanese