| | |
| --- | --- |
| | Help support Yugipedia by installing our new Chrome extension. This extension automatically redirects any links to the old Wikia/Fandom site to Yugipedia to ensure that you're always viewing the most up-to-date information available. You can enable the extension by clicking "Add to Chrome" on the app's webstore entry. For those of you using Firefox, don't worry—a Firefox add-on to do the same thing will be out soon. If you have any issues with the extension or you come across any bugs, be sure to let us know on Discord! |
Queen
This article is a stub. You can help Yugipedia by expanding it.
Queen
Names
English

Japanese
Japanese

クイーン

Rōmaji

Kuīn

Personal
Gender
Organization
SOL Technologies
Deck
Allure Queen
Appearances
Anime debut
Yu-Gi-Oh! VRAINS episode 47: "Playmaker Returns"
Voice actors
Japanese
Queen
Queen (クイーン, Kuīn) is a character appearing in the Yu-Gi-Oh! VRAINS anime and an antagonist in the second season. She is one of the higher-ups at SOL Technologies.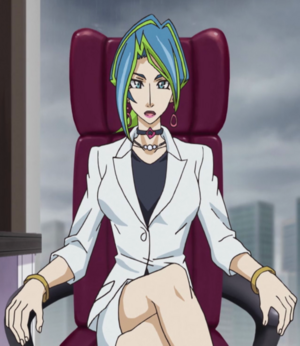 Appearance
[
edit
]
Queen is a pale-skinned woman with teal eyes and neck-length teal hair with bright green highlights.
Queen is introduced in swimwear, which is composed of a long cream dress open over a black bikini, teal short-shorts, and large sunglasses. Later on she was shown in business attire, a white V-necked skirt suit over a black camisole. Both outfits are accessorized with gold bracelets, a black collar with a pink buckle (shaped like a square "Q"), pink hoops earrings, and a black necklace with three light lavender beads.
During the third season, Queen dresses in more formal attire for the party on her ship. She wears a magenta dress with black sides, a golden bracelet on her right wrist and her Duel Disk on the other, and black and while high-heeled shoes.
Etymology
[
edit
]
Like many of the higher-up employees at SOL Technologies, Queen's name is derived from a chess piece.
Biography
[
edit
]
Queen uses an "Allure Queen" Deck. Her Skill is Honey Trap, which allows her to Set Trap Cards that are not even in her Deck when it is used and activate them in the same turn. She can use this Skill in a Master Duel.
| Opponent | Episode(s) | Outcome |
| --- | --- | --- |
| Ai | 104 | Lose |
References
[
edit
]