It is with heavy hearts that we mourn the passing of our game's creator, Kazuki Takahashi.
SPYRAL MISSION - Recapture
SPYRAL MISSION - Recapture
Japanese

SPYRAL MISSION-奪還

Base

SPYRAL MISSION-奪還

Kana

スパイラル ミッション-だっかん

Rōmaji

Supairaru Misshon - Dakkan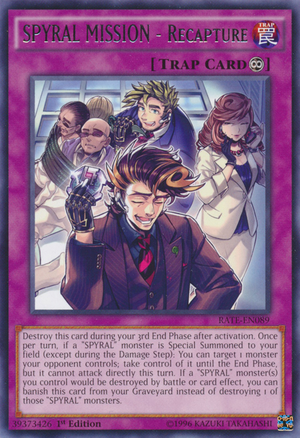 English sets
Worldwide
Search categories
Other languages
Language
Name
Lore
French

MISSION ESPIRALE - Recapture

Détruisez cette carte durant votre 3e End Phase après activation. Une fois par tour, si un monstre "ESPIRALE" est Invoqué Spécialement sur votre Terrain (sauf durant la Damage Step) : vous pouvez cibler 1 monstre contrôlé par votre adversaire ; prenez son contrôle jusqu'à la End Phase, mais il ne peut pas attaquer directement ce tour. Si un ou plusieurs monstres "ESPIRALE" que vous contrôlez vont être détruits au combat ou par un effet de carte, vous pouvez bannir cette carte depuis votre Cimetière au lieu de détruire 1 de ces monstres "ESPIRALE".

German

SPIORAL-MISSION - Wiederergreifung

Zerstöre diese Karte während deiner 3. End Phase nach ihrer Aktivierung. Einmal pro Spielzug, falls ein "SPIORAL"-Monster als Spezialbeschwörung auf deine Spielfeldseite beschworen wird (außer während des Damage Steps): Du kannst 1 Monster wählen, das dein Gegner kontrolliert; übernimm bis zur End Phase die Kontrolle darüber, aber es kann in diesem Spielzug nicht direkt angreifen. Falls ein oder mehr "SPIORAL"-Monster, die du kontrollierst, durch Kampf oder einen Karteneffekt zerstört würden, kannst du diese Karte von deinem Friedhof verbannen, statt 1 der "SPIORAL"-Monster zu zerstören.

Italian

MISSIONE SPIARALE - Ri-cattura

Distruggi questa carta durante la tua 3ª End Phase dopo l'attivazione. Una volta per turno, se un mostro "SPIARALE" viene Evocato Specialmente sul tuo Terreno (eccetto durante il Damage Step): puoi scegliere come bersaglio 1 mostro controllato dal tuo avversario; prendine il controllo fino alla End Phase, ma esso non può attaccare direttamente in questo turno. Se uno o più mostri "SPIARALE" che controlli stanno per essere distrutti in battaglia o dall'effetto di una carta, puoi bandire questa carta dal tuo Cimitero invece di distruggere 1 di quei mostri "SPIARALE".

Portuguese

MISSÃO ESPIRÃO - Recapturar

Destrua este card durante sua 3ª Fase Final depois da sua ativação. Uma vez por turno, se um monstro "ESPIRÃO" for Invocado por Invocação-Especial no seu campo (exceto durante a Etapa de Dano): você pode escolher 1 monstro que seu oponente controla; tome o controle dele até a Fase Final, mas ele não pode atacar diretamente neste turno. Se um ou mais monstros "ESPIRÃO" que você controla seriam destruídos em batalha ou por um efeito de card, você pode banir este card do seu Cemitério em vez de destruir 1 desses monstros "ESPIRÃO".

Spanish

MISIÓN E.S.P.I.R.A.L. - Recaptura

Destruye esta carta durante tu 3ra. End Phase después de que fue activada. Una vez por turno, si un monstruo "E.S.P.I.R.A.L." es Invocado de Modo Especial a tu Campo (excepto durante el Damage Step): puedes seleccionar 1 monstruo que controle tu adversario; hasta la End Phase, toma su control, pero este turno no puede atacar directamente. Si uno o más monstruos "E.S.P.I.R.A.L." que controlas fueran a ser destruidos en batalla o por efecto de una carta , puedes desterrar esta carta en tu Cementerio en lugar de destruir 1 de esos monstruos "E.S.P.I.R.A.L.".

Japanese
SPYRAL MISSION-奪還

このカードは発動後、3回目の自分エンドフェイズに破壊される。①:1ターンに1度、自分フィールドに「SPYRAL」モンスターが特殊召喚された場合、相手フィールドのモンスター1体を対象として発動できる。そのモンスターのコントロールをエンドフェイズまで得る。この効果でコントロールを得たモンスターは、このターン直接攻撃できない。②:自分フィールドの「SPYRAL」モンスターが戦闘・効果で破壊される場合、その破壊されるモンスター1体の代わりに墓地のこのカードを除外できる。

Supairaru Misshon - Dakkan
Korean
SPYRAL MISSION-탈환

이 카드는 발동후, 3번째의 자신 엔드 페이즈에 파괴된다. ① : 1턴에 1번, 자신 필드에 "SPYRAL(스파이랄)" 몬스터가 특수 소환되었을 경우, 상대 필드의 몬스터 1장을 대상으로 하고 발동할 수 있다. 그 몬스터의 컨트롤을 엔드 페이즈까지 얻는다. 이 효과로 컨트롤을 얻은 몬스터는, 이 턴에 직접 공격할 수 없다. ② : 자신 필드의 "SPYRAL(스파이랄)" 몬스터가 전투 / 효과로 파괴될 경우, 그 파괴되는 몬스터 1장 대신에 묘지의 이 카드를 제외 할 수 있다.
Sets in other languages
French
German
Italian
Portuguese
Spanish
Japanese
Korean