It is with heavy hearts that we mourn the passing of our game's creator, Kazuki Takahashi.
SPYRAL Sleeper
Japanese

SPYRAL-ボルテックス

Base

SPYRAL-ボルテックス

Kana

スパイラル-ボルテックス

Rōmaji

SPYRAL - Borutekkusu

Translated

SPYRAL - Vortex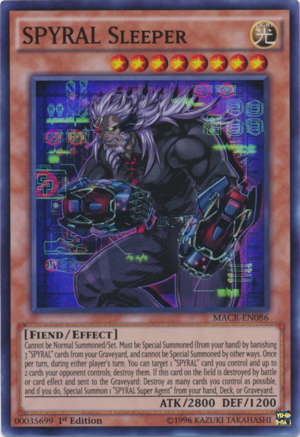 Card type
Monster
Attribute
LIGHT
Types
Fiend / Effect
Level
8
ATK / DEF
2800 / 1200
Password
00035699
Effect types

Status
English sets
Worldwide
Search categories
Other languages
Language
Name
Lore
French

Dormeur ESPIRALE

Ni Invocable Normalement ni Posable Normalement. Uniquement Invocable Spécialement (depuis votre main) en bannissant 3 cartes "ESPIRALE" depuis votre Cimetière, et non Invocable Spécialement autrement. Une fois par tour, durant le tour de chaque joueur : vous pouvez cibler 1 carte "ESPIRALE" que vous contrôlez et max. 2 cartes contrôlées par votre adversaire ; détruisez-les. Si cette carte sur le Terrain est détruite au combat ou par un effet de carte, et envoyée au Cimetière : détruisez autant de cartes que vous contrôlez que possible, et si vous le faites, Invoquez Spécialement 1 "Super Espion ESPIRALE" depuis votre main, Deck ou Cimetière.

German

SPIORAL-Schläfer

Kann nicht als Normalbeschwörung beschwören/gesetzt werden. Muss als Spezialbeschwörung (von deiner Hand) beschwören werden, indem du 3 "SPIORAL"-Karten von deinem Friedhof verbannst, und kann nicht auf andere Art als Spezialbeschwörung beschwören werden. Einmal pro Spielzug, während des Spielzugs eines beliebigen Spielers: Du kannst 1 "SPIORAL"-Karte, die du kontrollierst, und bis zu 2 Karten, die dein Gegner kontrolliert, wählen; zerstöre sie. Falls diese Karte auf dem Spielfeld durch Kampf oder einen Karteneffekt zerstört und auf den Friedhof gelegt wird: Zerstöre so viele Karten, die du kontrollierst, wie möglich und falls du dies tust, beschwöre 1 "SPIORAL-Superagent" als Spezialbeschwörung von deiner Hand, deinem Deck oder deinem Friedhof.

Italian

Dormiente SPIARALE

Non può essere Evocato Normalmente/Posizionato. Deve essere Evocato Specialmente (dalla tua mano) bandendo 3 carte "SPIARALE" dal tuo Cimitero, e non può essere Evocato Specialmente in altri modi. Una volta per turno, durante il turno di qualsiasi giocatore: puoi scegliere come bersaglio 1 carta "SPIARALE" che controlli e fino a 2 carte controllate dal tuo avversario; distruggile. Se questa carta sul Terreno viene distrutta in battaglia o dall'effetto di una carta e mandata al Cimitero: distruggi tante carte che controlli quante possibile e, se lo fai, Evoca Specialmente 1 "Super Agente SPIARALE" dalla tua mano, Deck o Cimitero.

Portuguese

ESPIRÃO Dormente

Não pode ser Invocado por Invocação-Normal/Baixado. Deve ser Invocado por Invocação-Especial (da sua mão) ao banir 3 cards "ESPIRÃO" do seu Cemitério, e não pode ser Invocado por Invocação-Especial de nenhuma outra forma. Uma vez por turno, durante o turno de qualquer duelista: você pode escolher 1 card "ESPIRÃO" que você controla e até 2 cards que seu oponente controla; destrua-os. Se este card no campo for destruído em batalha ou por um efeito de card e enviado para o Cemitério: destrua tantos cards que você controla quanto possível e, se isso acontecer, Invoque por Invocação-Especial 1 "Super Agente ESPIRÃO" de sua mão, Deck ou Cemitério.

Spanish

Agente Encubierto E.S.P.I.R.A.L.

No puede ser Invocado de Modo Normal/Colocado. Debe ser Invocado de Modo Especial (desde tu mano) desterrando 3 cartas "E.S.P.I.R.A.L." en tu Cementerio, y no puede ser Invocado de Modo Especial de otra forma. Una vez por turno, durante el turno de cualquier jugador: puedes seleccionar 1 carta "E.S.P.I.R.A.L." que controles y hasta 2 cartas que controle tu adversario; destrúyelas. Si esta carta en el Campo es destruida en batalla o por efecto de una carta, y mandada al Cementerio: Destruye tantas cartas que controles como sea posible y, si lo haces, Invoca de Modo Especial, desde tu mano, Deck o Cementerio, 1 "Súper Agente E.S.P.I.R.A.L.".

Japanese
SPYRAL-ボルテックス

このカードは通常召喚できない。自分の墓地の「SPYRAL」カード3枚を除外した場合のみ特殊召喚できる。①:1ターンに1度、自分フィールドの「SPYRAL」カード1枚と、相手フィールドのカードを2枚まで対象として発動できる。そのカードを破壊する。この効果は相手ターンでも発動できる。②:フィールドのこのカードが戦闘・効果で破壊され墓地へ送られた場合に発動する。自分フィールドのカードを全て破壊し、自分の手札・デッキ・墓地から「SPYRAL-ダンディ」1体を選んで特殊召喚する。

SPYRAL - Borutekkusu
SPYRAL - Vortex
Korean
SPYRAL-보텍스

이 카드는 통상 소환할 수 없다. 자신 묘지의 "SPYRAL(스파이랄)" 카드 3장을 제외했을 경우에만 특수 소환할 수 있다. ①: 1턴에 1번, 자신 필드의 "SPYRAL(스파이랄)" 카드 1장과, 상대 필드의 카드를 2장까지 대상으로 하고 발동할 수 있다. 그 카드를 파괴한다. 이 효과는 상대 턴에도 발동할 수 있다. ②: 필드의 이 카드가 전투 / 효과로 파괴되어 묘지로 보내졌을 경우에 발동한다. 자신 필드의 카드를 전부 파괴하고, 자신의 패 / 덱 / 묘지에서 "SPYRAL(스파이랄)-댄디" 1장을 골라 특수 소환한다.
Sets in other languages
French
German
Italian
Portuguese
Spanish
Japanese
Korean