It is with heavy hearts that we mourn the passing of our game's creator, Kazuki Takahashi.
Satellarknight Capella
Japanese

星因士 カペラ

Base

星因士 カペラ

Kana

サテラナイト カペラ

Rōmaji

Sateranaito Kapera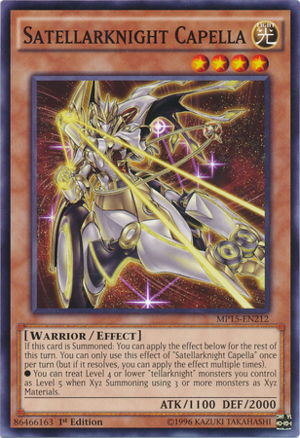 Card type
Monster
Attribute
LIGHT
Types
Warrior / Effect
Level
4
ATK / DEF
1100 / 2000
Password
86466163
Effect types

Status
English sets
Worldwide
Search categories
Other languages
Language
Name
Lore
French

Satellchevalier Capella

Si cette carte est Invoquée : le reste de ce tour, vous pouvez appliquer l'effet ci-dessous. Vous ne pouvez utiliser cet effet de "Satellchevalier Capella" qu'une fois par tour (mais s'il est résolu, vous pouvez appliquer l'effet plusieurs fois).
● Vous pouvez traiter les monstres "tellchevalier" de max. Niveau 4 que vous contrôlez comme de Niveau 5 lorsque vous Invoquez par Xyz en utilisant min. 3 monstres comme Matériels Xyz.

German

Fixsternritter Capella

Falls diese Karte beschworen wird: Du kannst den Effekt unten für den Rest dieses Spielzugs anwenden. Du kannst diesen Effekt von "Fixsternritter Capella" nur einmal pro Spielzug verwenden (aber falls der Effekt aufgelöst wird, kannst du ihn mehrmals anwenden).
● Du kannst "Sternritter"-Monster der Stufe 4 oder niedriger, die du kontrollierst, als Stufe 5 behandeln, wenn du Monster als Xyz-Beschwörung beschwörst und dabei 3 oder mehr Monster als Xyz-Material verwendest.

Italian

Satellcavaliere Capella

Se questa carta viene Evocata: puoi applicare gli effetti seguenti per il resto di questo turno. Puoi utilizzare questo effetto di "Satellcavaliere Capella" una sola volta per turno (ma se si risolve, puoi applicare l'effetto più volte).
● Puoi considerare i mostri "tellcavaliere" di Livello 4 o inferiore che controlli come di Livello 5 quando Evochi Xyz utilizzando 3 o più mostri come Materiali Xyz.

Portuguese

Cavaleirostélite Capella

Se este card for Invocado: você pode aplicar o efeito abaixo pelo resto do turno. Você só pode usar este efeito de "Cavaleirostélite Capella" uma vez por turno (mas se ele resolver, você pode aplicar o efeito diversas vezes).
● Você pode considerar os monstros "Cavaleirostélite" de Nível 4 ou menos que você controla como de Nível 5 ao realizar uma Invocação-Xyz usando 3 ou mais monstros como Matéria Xyz.

Spanish

Satelcaballero Capella

Si esta carta es Invocada: por el resto del turno, puedes aplicar el efecto que sigue. Sólo puedes usar este efecto de "Satelcaballero Capella" una vez por turno (pero si se resuelve, puedes aplicar el efecto múltiples veces).
● Puedes tratar a los monstruos "telcaballero" de Nivel 4 o menor que controles como de Nivel 5 cuando Invoques Xyz usando 3 o más monstruos como Materiales Xyz.

Japanese
星因士 カペラ

「星因士 カペラ」の効果は1ターンに1度しか使用できない。①:このカードが召喚・反転召喚・特殊召喚に成功した場合に発動できる。このターン自分は、モンスター3体以上を素材としたX召喚をする場合、自分フィールドのレベル4以下の「テラナイト」モンスターをレベル5の素材として扱う事ができる。

Sateranaito Kapera
Korean

사테라나이트 카펠라

"사테라나이트 카펠라"의 효과는 1턴에 1번밖에 사용할 수 없다. ①: 이 카드가 일반 소환 / 반전 소환 / 특수 소환에 성공했을 경우에 발동할 수 있다. 이 턴에 자신은, 몬스터 3장 이상을 소재로 한 엑시즈 소환을 할 경우, 자신 필드의 레벨 4 이하의 "테라나이트" 몬스터를 레벨 5 의 소재로 취급할 수 있다.
Sets in other languages
French
German
Italian
Portuguese
Spanish
Japanese
Korean