Super All In!
Japanese

超勝負!

Base

超勝負!

Kana

ちょうしょうぶ!

Rōmaji

Chōshōbu!

Translated

Super Match!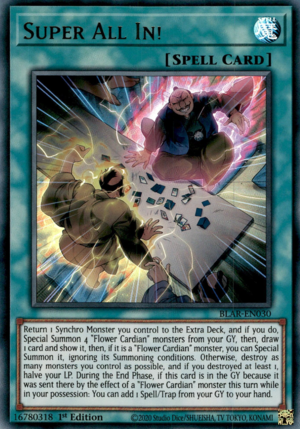 Card type
Spell
Property
Normal
Password
16780318
Effect types

Status

Return 1 Synchro Monster you control to the Extra Deck, and if you do, Special Summon 4 "Flower Cardian" monsters from your GY, then, draw 1 card and show it, then, if it is a "Flower Cardian" monster, you can Special Summon it, ignoring its Summoning conditions. Otherwise, destroy as many monsters you control as possible, and if you destroyed at least 1, halve your LP. During the End Phase, if this card is in the GY because it was sent there by the effect of a "Flower Cardian" monster this turn while in your possession: You can add 1 Spell/Trap from your GY to your hand.
English sets
Worldwide
Search categories
Other languages
Language
Name
Lore
French

Super Tapis !

Renvoyez 1 Monstre Synchro que vous contrôlez à l'Extra Deck, et si vous le faites, Invoquez Spécialement 4 monstres "Fleur Cardian" depuis votre Cimetière, puis, piochez 1 carte et montrez-la, puis si c'est un monstre "Fleur Cardian", vous pouvez l'Invoquer Spécialement en ignorant ses conditions d'Invocation. Sinon, détruisez autant de monstres que vous contrôlez que possible, et si vous en avez détruit min. 1, divisez par deux vos LP. Durant la End Phase, si cette carte est dans le Cimetière parce qu'elle y a été envoyée par l'effet d'un monstre "Fleur Cardian" ce tour tant qu'elle est en votre possession : vous pouvez ajouter 1 Magie/Piège depuis votre Cimetière à votre main.

German

Super-All-In!

Lege 1 Synchromonster, das du kontrollierst, ins Extra Deck zurück und falls du dies tust, beschwöre 4 "Blumen-Kartian"-Monster als Spezialbeschwörung von deinem Friedhof, dann ziehe 1 Karte und zeige sie, dann, falls es ein "Blumen-Kartian"-Monster ist, kannst du es als Spezialbeschwörung beschwören, ungeachtet seiner Beschwörungsbedingungen. Andernfalls zerstöre so viele Monster, die du kontrollierst, wie möglich und falls du mindestens 1 zerstört hast, halbiere deine LP. Während der End Phase, falls sich diese Karte im Friedhof befindet, weil sie in diesem Spielzug durch den Effekt eines "Blumen-Kartian"-Monsters dorthin gelegt wurde, solange sie dir gehörte: Du kannst deiner Hand 1 Zauber/Falle von deinem Friedhof hinzufügen.

Italian

Super All-In!

Fai ritornare 1 Mostro Synchro che controlli nell'Extra Deck e, se lo fai, Evoca Specialmente 4 mostri "Fiore Cardian" dal tuo Cimitero, poi pesca 1 carta e mostrala, poi, se è un mostro "Fiore Cardian", puoi Evocarlo Specialmente ignorando le sue condizioni di Evocazione. Altrimenti, distruggi tanti mostri che controlli quanti possibile e, se ne hai distrutto almeno 1, dimezza i tuoi LP. Durante la End Phase, se questa carta è nel Cimitero perché è stata mandata lì dall'effetto di un mostro "Fiore Cardian" in questo turno mentre era sotto il tuo comando: puoi aggiungere 1 Magia/Trappola dal tuo Cimitero alla tua mano.

Portuguese

Super All In!

Devolva 1 Monstro Sincro que você controla para o Deck Adicional e, se isso acontecer, Invoque por Invocação-Especial 4 monstros "Flor Cardian" do seu Cemitério e, depois, compre 1 card e mostre-o e, depois, se for um monstro "Flor Cardian", você pode Invocá-lo por Invocação-Especial ignorando suas condições de Invocação. Caso contrário, destrua tantos monstros que você controla quanto possível e, se você destruiu pelo menos 1, diminua seus PV pela metade. Durante a Fase Final, se este card estiver no Cemitério porque foi enviado para lá pelo efeito de um monstro "Flor Cardian" neste turno enquanto estava sob sua posse: você pode adicionar 1 Magia/Armadilha do seu Cemitério à sua mão.

Spanish

¡Jugando Con Todo!

Devuelve al Deck Extra 1 Monstruo de Sincronía que controles y, si lo haces, Invoca de Modo Especial, desde tu Cementerio, 4 monstruos "Flor Cardian" y después, roba 1 carta y muéstrala y después, si es un monstruo "Flor Cardian", puedes Invocarlo de Modo Especial, ignorando sus condiciones de Invocación. De otra forma, destruye tantos monstruos que controles como sea posible y, si destruiste por lo menos 1, divide tus LP a la mitad. Durante la End Phase, si esta carta está en el Cementerio porque fue mandada allí este turno por el efecto de un monstruo "Flor Cardian" mientras estaba en tu posesión: puedes añadir a tu mano 1 Mágica/Trampa en tu Cementerio.

Japanese
超勝負!

①:自分フィールドのSモンスター1体を選んで持ち主のEXデッキに戻し、自分の墓地から「花札衛」モンスター4体を選んで特殊召喚する。その後、自分はデッキから1枚ドローし、お互いに確認する。それが「花札衛」モンスターだった場合、そのモンスターを召喚条件を無視して特殊召喚できる。違った場合、自分フィールドのモンスターを全て破壊し、自分のLPを半分にする。②:このカードが「花札衛」モンスターの効果で墓地へ送られたターンのエンドフェイズに発動できる。自分の墓地から魔法・罠カード1枚を選んで手札に加える。

Chōshōbu!
Super Match!
Korean

초승부!

①: 자신 필드의 싱크로 몬스터 1장을 골라 주인의 엑스트라 덱으로 되돌리고, 자신 묘지에서 "카디언" 몬스터 4장을 골라 특수 소환한다. 그 후, 자신은 덱에서 1장 드로우하고, 서로 확인한다. 그 카드가 "카디언" 몬스터였을 경우, 그 몬스터를 소환 조건을 무시하고 특수 소환할 수 있다. 다를 경우, 자신 필드의 몬스터를 전부 파괴하고, 자신의 LP를 절반으로 한다. ②: 이 카드가 "카디언" 몬스터의 효과로 묘지로 보내진 턴의 엔드 페이즈에 발동할 수 있다. 자신 묘지에서 마법 / 함정 카드 1장을 골라 패에 넣는다.

Choseungbu!
Sets in other languages
French
German
Italian
Portuguese
Spanish
Japanese
Korean
In other media