It is with heavy hearts that we mourn the passing of our game's creator, Kazuki Takahashi.
Symphonic Warrior Miccs
Japanese

音響戦士マイクス

Base

音響戦士マイクス

Kana

サウンドウォリアーマイクス

Rōmaji

Saundo Woriā Maikusu

Translated

Sound Warrior Mics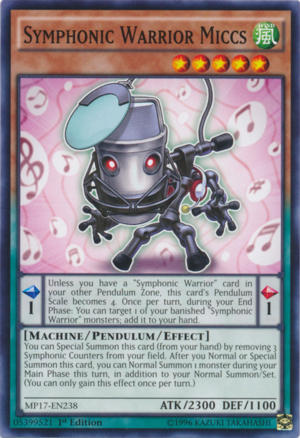 English sets
Worldwide
Search categories
Other languages
Language
Name
Lore
French

Micro, Guerrier Symphonique

Effet Pendule

L'Échelle Pendule de cette carte devient 4, sauf si vous avez une carte "Guerrier Symphonique" dans votre autre Zone Pendule. Une fois par tour, durant votre End Phase : vous pouvez cibler 1 de vos monstres "Guerrier Symphonique" bannis ; ajoutez-le à votre main.

Effet de Monstre

Vous pouvez Invoquer Spécialement cette carte (depuis votre main) en retirant 3 Compteurs Symphonique depuis votre Terrain. Après que vous avez Invoqué Normalement ou Spécialement cette carte, vous pouvez Invoquer Normalement 1 monstre durant votre Main Phase ce tour, en plus de votre Invocation Normale ou Pose Normale. (Vous ne pouvez gagner cet effet qu'une fois par tour.)

German

Symphonischer Krieger Mik-k-ks

Pendeleffekt

Der Pendelbereich dieser Karte wird zu 4, es sei denn, du hast eine "Symphonischer Krieger"-Karte in deiner anderen Pendelzone. Einmal pro Spielzug, während deiner End Phase: Du kannst 1 deiner verbannten "Symphonischer Krieger"-Monster wählen; füge es deiner Hand hinzu.

Monstereffekt

Du kannst diese Karte als Spezialbeschwörung (von deiner Hand) beschwören, indem du 3 Symphonisch-Zählmarken von deiner Spielfeldseite entfernst. Nachdem du diese Karte als Normal- oder Spezialbeschwörung beschworen hast, kannst du während deiner Main Phase dieses Spielzugs zusätzlich zu deiner Normalbeschwörung/deinem Normalen Setzen 1 Monster als Normalbeschwörung beschwören. (Du kannst diesen Effekt nur einmal pro Spielzug erhalten.)

Italian

Miccs Guerriero Sinfonico

Effetto Pendulum

A meno che tu abbia una carta "Guerriero Sinfonico" nella tua altra Zona Pendulum, il Valore Pendulum di questa carta diventa 4. Una volta per turno, durante la tua End Phase: puoi scegliere come bersaglio 1 dei tuoi mostri "Guerriero Sinfonico" banditi; aggiungilo alla tua mano.

Effetto Mostro

Puoi Evocare Specialmente questa carta (dalla tua mano) rimuovendo 3 Segnalini Sinfonico dal tuo Terreno. Dopo che hai Evocato Normalmente o Specialmente questa carta, puoi Evocare Normalmente 1 mostro durante la tua Main Phase in questo turno, in aggiunta alla tua Evocazione Normale/Posizionamento. (Puoi guadagnare questo effetto una sola volta per turno.)

Portuguese

Guerreiro Sinfônico Miccro

Efeito de Pêndulo

A não ser que você tenha um card "Guerreiro Sinfônico" na sua outra Zona de Pêndulo, a Escala de Pêndulo deste card se torna 4. Uma vez por turno, durante sua Fase Final: você pode escolher 1 dos seus monstros "Guerreiro Sinfônico" banidos; adicione-o à sua mão.

Efeito de Monstro

Você pode Invocar este card por Invocação-Especial (da sua mão) ao remover 3 Marcadores Sinfônicos do seu campo. Depois que você Invocar este card por Invocação-Normal ou Especial, você pode Invocar por Invocação-Normal 1 monstro durante sua Fase Principal neste turno, em adição à sua Invocação-Normal/Baixar (padrão). (Você só pode se aproveitar deste efeito uma vez por turno.)

Spanish

Guerrero Sinfónico Microófono

Efecto de Péndulo

A menos que tengas una carta "Guerrero Sinfónico" en tu otra Zona de Péndulo, la Escala de Péndulo de esta carta se convierte en 4. Una vez por turno, durante tu End Phase: puedes seleccionar 1 de tus monstruos "Guerrero Sinfónico" desterrados; añádelo a tu mano.

Efecto de Monstruo

Puedes Invocar esta carta de Modo Especial (desde tu mano) retirando 3 Contadores Sinfónicos en tu Campo. Después de que Invoques esta carta de Modo Normal o Especial, puedes Invocar 1 monstruo de Modo Normal durante tu Main Phase este turno, además de tu Invocación Normal/Colocada. (Sólo puedes ganar este efecto una vez por turno).

Japanese
音響戦士マイクス

P効果

①:もう片方の自分のPゾーンに「音響戦士」カードが存在しない場合、このカードのPスケールは4になる。②:自分エンドフェイズに、除外されている自分の「音響戦士」モンスター1体を対象として発動できる。そのモンスターを手札に加える。

モンスターの効果

①:このカードは自分フィールドの音響カウンターを3つ取り除き、手札から特殊召喚できる。②:このカードが召喚・特殊召喚に成功したターン、自分は通常召喚に加えて1度だけ、自分メインフェイズにモンスター1体を召喚できる。

Saundo Woriā Maikusu
Sound Warrior Mics
Korean

사운드 워리어 마이크스

펜듈럼 효과

①: 다른 한쪽 자신의 펜듈럼 존에 "사운드 워리어" 카드가 존재하지 않을 경우, 이 카드의 펜듈럼 스케일은 4 가 된다. ②: 자신 엔드 페이즈에, 제외되어 있는 자신의 "사운드 워리어" 몬스터 1장을 대상으로 하고 발동할 수 있다. 그 몬스터를 패에 넣는다.

몬스터의 효과

①: 이 카드는 자신 필드의 음향 카운터를 3개 제거하고, 패에서 특수 소환할 수 있다. ②: 이 카드가 일반 소환 / 특수 소환에 성공한 턴에, 자신은 통상 소환 외에도 1번만, 자신 메인 페이즈에 몬스터를 1장 일반 소환할 수 있다.
Sets in other languages
French
German
Italian
Portuguese
Spanish
Japanese
Korean