It is with heavy hearts that we mourn the passing of our game's creator, Kazuki Takahashi.
The Phantom Knights of Lost Vambrace
The Phantom Knights of Lost Vambrace
Japanese

幻影騎士団ロスト・ヴァンブレイズ

Base

幻影騎士団ロスト・ヴァンブレイズ

Kana

ファントム・ナイツロスト・ヴァンブレイズ

Rōmaji

Fantomu Naitsu Rosuto Vanbureizu

Translated

Phantom Knights Lost Vambrace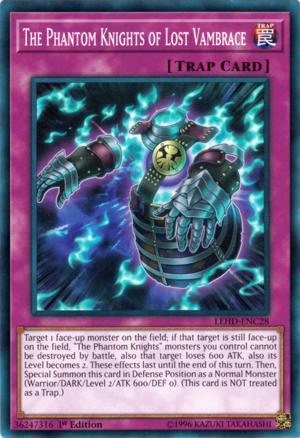 English sets
Worldwide
Search categories
Other languages
Language
Name
Lore
French

Les Chevaliers Fantômes du Brassard d'Avant-Bras Perdu

Ciblez 1 monstre face recto sur le Terrain ; si la cible est toujours face recto sur le Terrain, les monstres "Les Chevaliers Fantômes" que vous contrôlez ne peuvent pas être détruits au combat, et aussi, la cible perd 600 ATK, et aussi, son Niveau devient 2. Ces effets durent jusqu'à la fin de ce tour. Puis, Invoquez Spécialement cette carte en Position de Défense comme un Monstre Normal (Guerrier/TÉNÈBRES/Niveau 2/ATK 600/DEF 0). (Cette carte N'EST PAS traitée comme un Piège.)

German

Die Phantomritter der Verlorenen Armschiene

Wähle 1 offenes Monster auf dem Spielfeld; falls das gewählte Ziel immer noch offen auf dem Spielfeld liegt, können "Die Phantomritter"-Monster, die du kontrollierst, nicht durch Kampf zerstört werden, zusätzlich verliert das gewählte Ziel 600 ATK, zusätzlich wird seine Stufe zu 2. Diese Effekte dauern bis zum Ende dieses Spielzugs an. Dann beschwöre diese Karte als Spezialbeschwörung als Normales Monster (Krieger/FINSTERNIS/Stufe 2/ATK 600/DEF 0) in die Verteidigungsposition. (Diese Karte wird NICHT als Falle behandelt.)

Italian

I Cavalieri Fantasma dell'Avanbraccio Perduto

Scegli come bersaglio 1 mostro scoperto sul Terreno; se quel bersaglio è ancora scoperto sul Terreno, i mostri "I Cavalieri Fantasma" che controlli non possono essere distrutti in battaglia, inoltre quel bersaglio perde 600 ATK, inoltre il suo Livello diventa 2. Questi effetti durano fino alla fine di questo turno. Poi, Evoca Specialmente questa carta in Posizione di Difesa come Mostro Normale (Guerriero/OSCURITÀ/Livello 2/ATK 600/DEF 0). (Questa carta NON viene considerata come una Trappola.)

Portuguese

Os Cavaleiros Fantasmas da Manopla Perdida

Escolha 1 monstro com a face para cima no campo; se o alvo ainda estiver com a face para cima no campo, os monstros "Os Cavaleiros Fantasmas" que você controla não podem ser destruídos em batalha e, além disso, o alvo perde 600 de ATK e, além disso, o Nível dele se torna 2. Esses efeitos duram até o final deste turno. Depois, Invoque este card por Invocação-Especial em Posição de Defesa como um Monstro Normal (Guerreiro/TREVAS/Nível 2/ATK 600/DEF 0). (Este card NÃO é considerado como uma Armadilha.)

Spanish

Los Caballeros Fantasma del Avanbrazo Perdido

Selecciona 1 monstruo boca arriba en el Campo; si ese objetivo todavía está boca arriba en el Campo, los monstruos "Los Caballeros Fantasma" que controles no pueden ser destruidos en batalla, y además ese objetivo pierde 600 ATK, y además su Nivel se convierte en 2. Estos efectos duran hasta el final de este turno. Después, Invoca esta carta de Modo Especial en Posición de Defensa como un Monstruo Normal (Guerrero/OSCURIDAD/Nivel 2/ATK 600/DEF 0). (Esta carta NO se trata como una Trampa).

Japanese
幻影騎士団ロスト・ヴァンブレイズ

①:フィールドの表側表示モンスター1体を対象として発動できる。ターン終了時まで、そのモンスターの攻撃力は600ダウンし、レベルは2になり、自分の「幻影騎士団」モンスターは戦闘では破壊されない。その後、このカードは通常モンスター(戦士族・闇・星2・攻600/守0)となり、モンスターゾーンに守備表示で特殊召喚する(罠カードとしては扱わない)。

Fantomu Naitsu Rosuto Vanbureizu
Phantom Knights Lost Vambrace
Korean

팬텀 나이츠 로스트 뱀브레이스

①: 필드의 앞면 표시 몬스터 1장을 대상으로 하고 발동할 수 있다. 턴 종료시까지, 그 몬스터의 공격력은 600 내리고, 레벨은 2 가 되며, 자신의 "팬텀 나이츠" 몬스터는 전투로는 파괴되지 않는다. 그 후, 이 카드는 일반 몬스터(전사족 / 어둠 / 레벨 2 / 공 600 / 수 0)가 되고, 몬스터 존에 수비 표시로 특수 소환한다(함정 카드로는 취급하지 않는다).
Sets in other languages
French
German
Italian
Portuguese
Spanish
Japanese
Korean
In other media