It is with heavy hearts that we mourn the passing of our game's creator, Kazuki Takahashi.
These Overflowing Feelings Don't Stop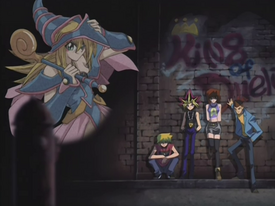 "These Overflowing Feelings Don't Stop" (あふれる感情がとまらない Afureru Kanjō ga Tomaranai) is the fourth Japanese ending theme of the Yu-Gi-Oh! Duel Monsters anime, performed by Yuichi Ikusawa. It debuted on November 5, 2002, and aired during episodes 132 to 189. It was replaced by "EYE'S" in episode 190.
TV Version
[
edit
]
Full Version
[
edit
]
Characters
[
edit
]
Duel Monsters
[
edit
]
Kienai kinou ga owaroutoshite
Hitomi tojireba ima demo sou kimi ga
Omoi dewa itsudemo mujyaki na mama de
Hitori no kurashi mada narenakute

Nomi komare sonna jidai ni deatta kiseki
Ano koro wa tada soba ni iru dake de ai seru to omotte ita

Afureru kanjyou ga tomaranai
Onaji yume toki no naka zutto daite itakatta

Nagareru machi nami akaku someteku
Itami mo kidzukeba shiawase ni kawaru
Tsuyou ga ri dake ga sou ikiteku watashi
Rounsoku no hi no you ni kokoro tobosu

Hito wa namida wo fukutabi hito wo shitte
Kimi ga kureta atatakai chikara yasashisa ni kaete yuku yo

Afureru kanjyou ga tomaranai
Kanjita mama ikiteku yo boku ga boku de aru tame ni
Afureru yuujyou ni iyasarete
Meguri ai ga shinjitsu dato itsuka wakari aeru yo

Afureru kanjyou ga tomaranai yo...
If I try to put an end to the indelible past*
And close my eyes, even now, that's right, you are...
My memories are still not used to living alone
While still innocent all the time

The traces that I met in the engulfing times
Back then, I thought that I'll make you love me just by being by your side

Overflowing feelings don't stop
I wanted to embrace the same future** within time

The houses lined down the street drifting by being dyed red
If I notice pain, it'll turn into happiness
Only bluffing it, right, is my proof of living
My heart lights up like a candlelight

Every time people wipe away tears, they understand bonds***
The warm strength that you gave me will change into kindness

Overflowing feelings don't stop
I'll live while I felt it, for me to be myself
Healed by overflowing friendship
Our fated encounter is a truth, and someday we'll be able to understand each other

Overflowing feelings don't stop...
References
[
edit
]