| | |
| --- | --- |
| | Help support Yugipedia by using our Chrome extension, which redirects links to the old Wikia/Fandom site to Yugipedia, ensuring you see the most up-to-date information. If you have any issues or find any bugs, be sure to let us know on Discord! |
Tiadosia Kallister
Tiadosia Kallister
Names
English
Other
Nicknames
Harucchi (by Asana Mutsuba)

Japanese
Japanese
上城 大華
Base

上城 大華

Furigana

かみじょう はるか

Rōmaji
Kamijō Haruka

Personal
Age

Sixth-grade[1]
Eighth-grade (finale timeskip)

Gender
Relatives
Organization
Music Club (president)
School
Deck
WIND Warrior
Appearances
Anime debut
Yu-Gi-Oh! SEVENS episode

030

30: "Tiger's Breath"
Voice actors
English
Japanese
Kallister, Tiadosia
Tiadosia Kallister, known as Haruka Kamijo (上城 大華 Kamijō Haruka) in the Japanese version and nicknamed Tiger (タイガー Taigā) in both, is one of the main supporting characters in the Yu-Gi-Oh! SEVENS anime. She is Lucidien Kallister's older sister, and the president of the Music Club at Goha #7 Elementary.
Appearance
[
edit
]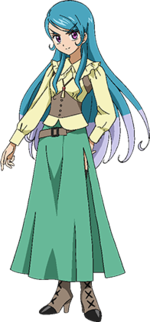 Like her brother, Tiger is tall with teal hair, but she has purple eyes instead of red and her hair is dyed lilac at the tips of her waist-length hair, while her skintone is also paler than Luke's. Tiger dresses more elegantly than her brother, wearing a pale yellow top with a pleated collar and closed cuffs, a pale brown corset that also supports her upper back, a long green skirt with a slit up the left side, a pale brown belt crossed over her right hip, pale brown lace-up heeled boots with black toes, and dark stockings. Tiger also wears a small tasseled necklace with a red stone, conceals a knuckleduster hanging from her back under her hair, and carries a large silver bassoon.
Tiger has also been seen in a red Chinese-style gi with yellow lining, black cuffs, shoes and a belt, with her hair alternatively tied in a bun besides two long sidetails or in her usual style. In her youth, she also wore a more traditional white martial arts uniform with a black belt.
Two years after the events of the series, Tiger has cut her hair to the length Asana Mutsuba's was; conversely Asana has grown her hair to the length Tiger's hair used to be. The tips of her hair still retain their lilac color. Tiger wears the Goha #8 Middle School girls' uniform; a white blouse, a sailor-style blue collar, and a long blue skirt.
As The☆Jushin Tiger, she dons a red, black and yellow costume; a predominantly red bodysuit with a black midriff, black lines running down her torso and legs, and black sleeves. The bodysuit has yellow triangular shoulder pads, yellow gloves, and yellow calf-length boots. She wears a full-head mask with her hair emerging from it in a ponytail and sidetails of hair emerging around her ears; the mask has a red base with a somewhat cartoonish jagged "mouth" line and simple black ovular eye pieces, a golden crest resembling the head of a dragon, and golden axe-like blades emerging from the side to frame the face akin to a big cat. The costume itself references Japanese professional wrestler Jushin Liger, who also starred in the 1995 superhero film Jushin Thunder Liger: Fist of Thunder.
Personality
[
edit
]
Tiger is generally short-tempered and loud, especially concerning her younger brother; she holds a low opinion of his intelligence and is angered by the general disuse of her nickname. However she also cares for him, asking him what his goals are and she was pleased to see him enjoying himself during his Rush Duel with Yuga Ohdo. She also tends to be quite dramatic like her brother. While Tiger is competitive, she is content with her defeat at Yuga's hands due to his ideals and clear goals and admits her confidence that he can fulfill them. On occasion however she can be extremely tactless; after she learned of the plan to awaken Yuga Goha, she immediately tried to stop Yuga and Luke from helping Swirly without any explanation and when Yuga voiced a desire to continue helping Swirly even after she defeated him, Tiger was prepared to punish him physically.
Tiger shows herself to be honorable, defending Yuga's Road Laboratory from Caterpillio Elephantis and expressing distaste at his underhanded attempts to dismantle it. As a result she was furious when Asana Mutsuba apparently left her to search for a missing Luke on her own and renounced their friendship, vowing to defeat her in a Duel to force her to apologize. When Asana reveals the truth of what happened and apologizes of her own accord, Tiger accepts her apology and repairs their friendship, though they still maintain a friendly rivalry. Luke's betrayal and dishonor of his family enrages Tiger and she takes it upon herself to stop him, training to the point of exhaustion after she loses to The☆Lukeman.
Tiger believes that breath is a core part of all martial arts, and as such she took up wind instruments to develop her breathing. She strikes up a fast rapport with Yuga over his similarities to her. Tiger also tries to use her breathing to calm herself down, though this does not always succeed.
Voice/Mannerisms
[
edit
]
Tiger speaks casually, but sometimes adds ん ("n") after verbs or expressions, giving her speech a rough edge, though she uses the feminine personal pronoun "atashi".
Etymology
[
edit
]
Tiger's nickname comes from her Japanese first name, as 大華 can also be read as "Taika".
Biography
[
edit
]
History
[
edit
]
Tiadosia mastered many martial arts from a young age, arts that her brother Lucidien could never defeat her in.[5] One day while she was practicing she was introduced to Asana Mutsuba, the heiress to Mutsuba Heavy Machinery, and they quickly became fast friends, spending every day together and having their first Goha Duels against one another. Lucidien went missing on a snowy day, so Tiadosia and Asana went out to search for him and Asana suggested they split up in order to find him more quickly. Tiadosia eventually found Lucidien in an abandoned house on their property and hurried to inform Asana, but she couldn't find her and came to the conclusion that Asana had gone home as soon as they split up, developing a grudge and rivalry against her former friend.[6] Eventually she began using the nickname of "Tiger". Lucidien challenged her to a Duel one day, but he was defeated and Tiger asked him what he sought at the conclusion of his challenges, though Luke didn't have an answer for her.[5] At one point. Luke also Dueled their great-granfather, who let Luke win, but Tiger spotted the cards in his hand and told him off for pretending to lose and lying about doing so.[7] During her third-grade years, Tiger also got to know Caterpillio Elephantis of Goha #6 Elementary, though she had to remind him to call her "Tiger".[8][9]
Tiger came to the conclusion that breathing was the core of all martial arts, and she practiced on the outskirts of Goha City. One night as she practiced in a thunderstorm, a lightning bolt shattered a nearby mountain peak, revealing a lump of metal shaped like an instrument. Tiger blew into a protrusion on the side of the object, shattering the substrate from it to reveal a bassoon. Deciding that fate had brought her and the bassoon together, she joined the Music Club at Goha #6 Elementary, eventually becoming its president.[5][8]
After Lucidien started to use the nickname Luke, a new form of Dueling called "Rush Dueling" was created, and Tiger witnessed Luke Dueling the format's creator, Yuga Ohdo, at school the next day. She was pleased to see that Luke was enjoying himself, as she hadn't seen her brother like that in a long time.[5]
Goha #6 Elementary
[
edit
]
Tiger returned to the Music Club one day to find Luke, Yuga, Romin Kassidy, Gavin Sogetsu, Kaizo and Seatbastian there and she angrily asked her little brother why he'd come, blowing him into the wall when he didn't call her by her nickname. Yuga explained that their Rush Duel Club had been accidentally entered into a Trumpet Duet Tournament thanks to Luke, and Tiger agreed to help them if they defeated her, offering them several martial arts weapons to combat her with. Yuga instead chose his Duel Disk, suggesting a Rush Duel. Tiger agreed, revealing to the Rush Duel Club that she had defeated Luke in their youth. Tiger started strongly with her three "Trumpetonfa the Music Princess", which Yuga combated with his "Sevens Road Magician", a strategy that Tiger likened to her own and approved of. She brought out her ace, "Ensembullfighter the Music Fiend" and attempted to reduce the ATK of "Sevens Road Magician" with the effect of her "Nuncharinet the Music Princess", but she failed to send the required card to the Graveyard, allowing Yuga to survive her attacks. Tiger then asked Yuga what he wanted to see at the conclusion of his road, and Yuga replied that he wanted to see smiles (though Luke believed it was the King of Duels). Yuga was able to defeat Tiger with "Bendorbreak the Conqueror", and Tiger told him about how she had seen his Rush Duel with Luke and admitted that she was confident Yuga would be able to achieve his goal. After the Duel, Luke crowed that he'd finally beaten his sister, given that he'd defeated Yuga, but Tiger blew him into a wall again for not calling her by her nickname, before she began training the Rush Duel Club in wind instruments.[5]
After the so-called "Trumpet Duet Tournament", Luke, Yuga and their friends were forcibly transferred to Goha #6 Elementary. Tiger took it upon herself to keep watch over Yuga's Road Laboratory, rescuing Scoop Pitman, Masaru and Nico from Caterpillio by repelling his caterpillar track with her bassoon and challenging Caterpillio to a Rush Duel to decide whether he would be allowed to dismantle Yuga's lab. Although Tiger brought out "Ensembullfighter" on her first turn, Caterpillio gained an early lead by debilitating her monsters with his "Beast Battlefield Barrier" Field Spell Card and forcing "Ensembullfighter" to attack his high-DEF "Hampering Hippo". After Caterpillio switched the ATK and DEF of his monsters with "Shield & Sword" in an attempt to defeat Tiger that turn, Tiger was forced to breathe deeply to calm herself and activate a Trap to barely survive the attack. On her next turn, Tiger was faced with the prospect of depleting all 4000 of Caterpillio's LP in one round, and she brought out "Digisoon the Music Fiend", recalling how she had found her bassoon before strengthening "Digisoon" with both its own effect and "Straight Pierce" enough to destroy Caterpillio's "Beast Drive Mega Elephant" and defeat him. Despite her victory, Caterpillio still tried to destroy the Road Laboratory until Galian Townsend dug his way out of the ground and ordered him to stop, explaining to Tiger that Caterpillio had acted without Asana's permission before leaving with Caterpillio. As the Newspaper Club finally tried interviewing Tiger after the Duel she noted this wasn't the true power of the Heavy Cavalry Duel Club and urged Yuga and Luke to return as soon as they could.[8]
Tiger later saw Yuga and Asana's second Rush Duel from Goha #7 Elementary due to the light emitted by the clash of their Maximum Monsters. She urged Yuga to smile no matter the outcome and believed he would be able to save the Heavy Cavalry Duel Club.[10]
Team Battle Royal
[
edit
]
After Luke assumed the position of Student Council vice president and abused his power by painting Goha #7 Elementary the color of his "Multistrike Dragon Dragias", Tiger showed up to put him in his place, yelling him and his accomplice Kaizo into a wall after he forgot to use her nickname again.[11]
Tiger did not participate in the Goha Rush Duel Team Battle Royal. She was training near Maximum Mountain with the Music Club when she was approached by Kaizo, who wanted Tiger to beat up Yuga and his friends for mistreating him, but he suddenly left.[12] Tiger noticed something interesting was happening at Maximum Mountain and she decided to investigate, warning her fellow club members not to follow her. She found Asana, Caterpillio, Galian, Schubel Quill and Pidgetrap facing off with the members of Goha 66, though she had to remind them to call her Tiger and yell her club members out of the mine. Asana told Tiger to leave, claiming their battle had nothing to do with her, though Tiger simply claimed she'd noticed something interesting and investigated it, before joining forces with the Heavy Cavalry Duel Club to defend Asana from Goha 66.[9]
Tiger, Galian, Caterpillio and Pidgetrap defeated all the members of Goha 66, and immediately afterwards Tiger challenged Asana to a Duel to settle their rivalry at last. Before they could clash, Luke, Romin, Gavin, Saburamen, Sushiko Maki and Briscoe arrived with a captured Kaizo, who had joined Goha 66 and Luke used Kaizo's confession switch to force him to reveal Goha 66's plan; to take over Goha Enterprises and the Dueling world by gaining control of the main Dueling server buried beneath Maximum Mountain.[12] Tiger was surprised to see her brother, who Asana finally remembered from their childhood, and she proceeded to yell everyone into submission who either tried to distract her from her Duel with Asana or who was whispering about it, intent on forcing Asana to apologize for abandoning her and Luke in their childhood. Tiger successfully fended off Asana's "Constructor Wyrm Buildragon" with "Ensembullfighter" and "Defense Breath", then proceeded to bring out "Digisoon" and power it up with "Straight Pierce", intending to defeat Asana in an OTK, but after she destroyed "Buildragon" Asana was able to revive it in the window between Tiger's attacks, preventing the effect of "Ensembullfighter" from stopping it. On her next turn Asana played her "Snows of Blisstopia" Field Spell Card, and the snowy landscape it created reminded Tiger of the snowy day where Asana had betrayed her. Asana told them what had happened that day and Tiger accused her of abandoning her. Asana used the effects of her Field Spell and "Buildragon" to bring out two "Constructor Demolition Wyrm Dracrush", but Tiger countered by using "Music Princess Secret Art - Triple Tiger" to increase the ATK of her monsters, vowing to make Asana apologize after she defeated her. To her surprise, Schubel and Pidgetrap interrupted the Duel and Schubel revealed that Asana and her great-grandfather had been rescuing him and Pidgetrap from the snow where they had been trapped. Tiger could only ask Asana in shock why she hadn't said anything and Asana admitted that she felt that she didn't deserve to make excuses as she'd left without saying anything, apologizing to Tiger and using her preferred nickname for the first time. Her anger abated, Tiger told Asana she could still call her Harucchi and they resumed their Duel. Asana activated "Constructor Art - Buildestruction", reducing the high ATK of Tiger's monsters and increasing the ATK of her "Dracrush", allowing her to defeat Tiger. After the Duel Asana helped Tiger up and told her it was a fun Duel, Tiger vowing not to lose their next Duel. Luke then called her "Harucchi", so Tiger angrily yelled him into the wall, shattering the stone and revealing the supposed main server Goha 66 had been after, only for Kaizo to reveal that the server was too small to be the main server.[6]
Tiger, Asana, Galian, Schubel, Pidgetrap and Caterpillio all attended the finals of the Goha Rush Duel Team Battle Royal the next day, watching Romin's victory against Roa and Gavin's Duel against Nail, where Tiger was shocked by his new "Gakuting" persona. Faced with "Yggdrago the Sky Emperor", Gavin eventually returned to his normal persona after a power outage in the stadium and forced a DRAW, leaving Yuga and Luke to have a final Duel.[13][14]
Tiger watched Yuga and Luke's Rush Duel and was surprised by Yuga's nervous reaction during his first turn, eventually realizing after Yuga changed his hand with "Amazing Dealer" and only Summoned "Sevens Road Magician" that he'd started with a bad had. She was impressed by Yuga's Maximum Summon of "Hyper Engine Vast Vulcan". To Tiger's shock the power in the stadium began to fail again, revealed to be due to the Goha Duel Server being hacked, and Tiger witnessed the revelation of the Goha Duel Server on the moon and the Rush Duel Program contained within, under attack by Goha Enterprises Drones. Asana realized that the Drones were uninstalling it and had been all tournament, likely under the orders of Otes.[15] Galian, Schubel, Pidgetrap and Caterpillio destroyed The Relic that Otes had apparently been using to hack the server and reported back to Tiger and Asana, though the uninstallation continued. Despite knowing their Duel would complete the uninstallation, Yuga and Luke continued to Duel, Asana noting to Tiger that Yuga was that kind of man. Luke eventually won, much to Yugas dismay, and Tiger observed from his tantrum that he really wanted to beat Luke this time. As Tiger applauded her brother's victory, Rush Dueling was uninstalled, but Yuga and Nail were able to reinstall the program and install it in the Super Rush Robot to protect it from another attack. Tiger then watched her brother's coronation as King of Duels.[16]
Goha 6 Siblings
[
edit
]
After being crowned King of Duels, Luke began abusing his power around the school by bossing the other children around. After Tiger yelled her fellow Music Club members away for not using her nickname again, Romin and Gavin came to her for aid in checking Luke's ego. Tiger asked if they weren't also recognized as King of Duels and Gavin explained they had declined the title as they didn't like being associated with a tournament Otes had set up to destroy Rush Dueling, so Tiger agreed to help them, noting she had been out of practice.[17] Rather than physically intimidate her brother, Tiger found his childhood manga "The☆Lukeman" and tried to submit it for the Saikyo Duelist Monthly, hoping to embarrass him with its widespread publication. However her inexperience with their fax machine let to her karate chopping it in frustration, so instead she leaked it to the Goha #7 Elementary Newspaper Club, succeeding in cowing Luke.[17][18] Tiger was later approached for training by Goha 7th's Kendo Club, but before she could agree to assist them they called her by her name rather than Tiger, resulting in her yelling the entire club away and rendering them too injured to participate in that weekend's kendo tournament.[19]
A few days later Kaizo came to Tiger for aid, as Yuga, Luke, Romin and Gavin had boarded the Goha Siblings' Super Mobile Fortress Sixross so Yuga could speak to Yuo Goha. Tiger and her club members boarded the ship just in time, finding that Yuo and his puppets had surrounded Yuga, Luke, Romin and Gavin, but when her club members called her "president" again, Tiger unleashed her wrath on the entire room. Yuo attempted to trap Tiger in his iron maiden and launch her into space, but Tiger easily swatted it away with her bassoon, trapping Kaizo instead. Afterwards Yuro Goha gave them a lift off the ship on his Speed Loader, dropping Tiger and her club members off before taking Yuga and his friends to the Road Laboratory.[20]
Luke came home after being out with his friends to watch for the Goha Meteor Shower one night, but instead of joining Tiger and the rest of their family for curry, he made his own "Bunker Strike Curry". Afterwards Tiger heard him running outside, screaming about something. Luke didn't return the next morning, resulting in the Kallisters sending helicopters out after him, and Tiger called Yuga, Romin, Gavin and Swirly to the Music Clubroom and informed them of Luke's disappearance. Yuga suggested using his "Last Night's Dinner" Road to find Luke based on his meal, but simply entering "curry" into the Road electrocuted Tiger until she told Yuga about Luke's Bunker Strike Curry, which Yuga was able to track to the outskirts of Goha City. Tiger accompanied the Rush Duel Club in search of her brother, exasperated by being dragged into the affair, but not denying to Yuga she was worried about Luke. They arrived at the Goha Sixth Quarry, where Nail provided two platforms for Yuo Goha to Duel someone on, and to Tiger's shock and anger Luke emerged from the forest wearing a draconian helmet and calling himself "The☆Lukeman", and he accepted Yuo's challenge. Although Luke played well, Yuo soon activated a Spell Card, "Fusion" and fused two of his monsters together into "Metallion Vritrastar", an anti-Dragon Fusion Monster that pushed Luke into a corner, though he was barely able to survive. On his next turn Luke played his own "Fusion", Fusion Summoning "Superstrike Dragon Dragiastar F", which to Tiger's joy was immune to Yuo's anti-Dragon Trap due to being a High Dragon monster, and he defeated Yuo, who retreated to Sixross. After the Rush Duel Luke awoke with no memory of what had happened, and Tiger then witnessed Yuran Goha's unsuccessful attempt to remove Yuo as Goha President, as Yuo had the sixth Goha Sibling's badge and he removed Yuran from his position for conspiring with his already-removed siblings, leaving Yuo the sole president of Goha Enterprises.[18]
Luke later appeared on holoscreens across Goha City, claiming to be the sixth Goha Sibling and a Goha President. After he defeated Roa in a Duel, Tiger went to the Road Laboratory where she found Yuro, Yujin, Yuka and Yuran Goha asking for Yuga's help in stopping Luke and Yuo. Tiger confirmed Luke wasn't a Goha Sibling and brought Yuga, Romin, Gavin and Swirly to her mansion to speak with her great-grandfather, though she had to get him on track after he enthusiastically greeted the kids. Gavan reaffirmed that Luke wasn't a Goha Sibling, but then they heard Luke calling for his and Tiger's mother, and Tiger furiously confronted her brother and the President Drone and yelled him into the courtyard, angrily asking him why he'd come back after betraying his family. Unimpressed by Luke's explanation of returning for his spare underwear she challenged him to a Rush Duel. As she set up her field, Tiger angrily asked Luke why he'd claimed to be a Goha Sibling, and eventually learned Luke didn't want to inherit the Kallister Gear Company, but she was angered by his complaining and told him to be quiet until he was mature enough to understand. She easily blocked his attacks and Summoned "Trumpetiger the Music Fiend" and "Digisoon the Music Fiend", attempting to defeat Luke with a One Turn Kill, but to her shock Luke emerged from the smoke with the draconian helmet again, calling himself "The☆Lukeman" and her "Majin Tiger". He Fusion Summoned "Superstrike Dragon Dragiastar F" and used its other Multi-Choice Effect to increase the ATK of "Dragiastar F" and allow it to attack twice, destroying both of Tiger's monsters and defeating her with enough force to blow her away. After the Rush Duel The☆Lukeman was taken away by Yuo in Sixross, and Gavan helped Tiger up, proclaiming Luke was definitely a Kallister due to using a card that worked like gears, prompting Tiger to tell him off for trying to end the matter with something deep.[3]
Disheartened by her loss to The☆Lukeman, Tiger went to Maximum Mountain to train, carving a tiger's head in an outcrop until she was exhausted. As she emerged to work on the left nostril she collapsed from fatigue and was caught by Asana, who had brought the Heavy Cavalry Duel Club and Rush Duel Club to stop her from training. When she woke up, Tiger explained to Asana that Luke had joined the enemy trying to destroy Rush Duels and that she had to stop him, but Asana held her down to stop her overexerting herself again. Sixross then arrived, Yuo proclaiming it was time for another Duel, and Tiger tried to volunteer to Duel, but was took weak to stand, so Asana took the challenge instead, Dueling Nail, who Yuo had ordered to Duel for him. Despite lacking her Maximum Monster, Asana was able to defeat Nail and "Yggdrago the Sky Emperor", and Tiger woke up after the Duel, having recovered enough to stand and thanked Asana. Nail resigned from Goha Enterprises after the Duel and left, and Yuga challenged The☆Lukeman to a final Duel to rescue the Super Rush Robot.[21]
Although Yuga's friends were concerned over him challenging The☆Lukeman given the precarious score between them and the Goha Siblings, Tiger and Asana encouraged them to believe in Yuga, having noticed the look in his eyes. However she was shocked when Yuga donned a devil costume and claimed to be "Majin Yuga" after The☆Lukeman was granted a costume as well. The other Goha Siblings then arrived and explained The☆Lukeman's origins; he had been created when Tiger karate-chopped the fax machine she had been sending The☆Lukeman manga through, producing an electronic lifeform that had also created "Fusion" from program cards in satellites. As "Majin Yuga" fended off The☆Lukeman's "Superstrike Dragon Dragiastar F", Yuro explained that The☆Lukeman only wanted to join with Luke and fight evil as the character in Luke's manga had, and Yuga was trying to help The☆Lukeman, something Tiger and Asana agreed was just like him even as Tiger believed they didn't have time for this. Yuga then assumed a new costume; The☆Yugaman, and the Goha Siblings and Proprietress provided costumes for everyone else, much to Tiger's shock.[18] Tiger took on the costume of The☆Jushin Tiger, and rallied with The☆Yugaman to convince The☆Lukeman they weren't his enemies, while the Goha Siblings dressed as aliens and took "The☆Beauty Romin" hostage to force the Duel to continue, something Tiger and "The☆Princess Asana" both claimed to be shocked by. Yuga was able to destroy "Dragiastar F" with "Ultimate Flag Mech Ace Breaker", but The☆Lukeman Fusion Summoned "Full Moon Dragon Umbrlancer F" and used its effect to revive "Dragiastar F", almost defeating Yuga. Yuga revived "Sevens Road Magician" on his next turn, but The☆Lukeman returned all the monsters in his Graveyard to his Deck to prevent Yuga from using the effect of "Sevens Road". Undeterred, Yuga returned all the Spells in their Graveyards to their Decks with "1/Infinity" to let them both draw a card, though Yuga would take enough damage to lose if they didn't draw the same cards. However Luke drew his "Fusion", but before Yuga could draw a meteor entered the atmosphere and plummeted towards him; Tiger shielded Asana from the shockwaves and begged Yuga to run, but Yuga instead blocked the meteor with his Duel Disk and the "Fusion" contained within was added to his Deck, which Yuga drew. Yuga Fusion Summoned "Sevens Paladin the Magical Knight", which gained ATK for each Attribute in both Graveyards, and defeated The☆Lukeman, saving Rush Duels. Yuo tried to leave in Sixross and destroy the robot himself, but was stopped by what Tiger recognized as his iron maiden, which released Kaizo and detonated Romin's Prima Guitarna Curry she had left aboard Sixross, crashing the ship. Tiger and Asana watched the Super Rush Robot on Asana's phone as Yuo released the final Forced Gymnastics Armament from it, and she taunted Yuo over his failure as he once had his own siblings, though the President Drone insisted he couldn't resign without a successor. Although Mimi Imimi believed the sixth Goha Sibling to be Swirly, she was apparently proven to be incorrect and Yuga instead allowed Yuo to retain his position if he reinstated his siblings and Yuga also joined Goha Enterprises.[22]
Goha Employee
[
edit
]
At some point, Tiger found a "Fusion" card and added it to her Deck. Tiger learned that Swirly actually was the sixth of the Goha Siblings, Yuga Goha, and that someone planned to release Yuga Goha's memories. When Yuga Ohdo and Luke came to the Nanahoshi Insect Ninja Village to find Nanaho, as they hoped to cure Swirly of her manipulations are were unaware of his true identity, Tiger opposed them. Refusing to rise to Luke's usual omission of her nickname or to explain anything to them, she challenged Yuga to a Rush Duel when he refused to stop helping Swirly, disgusted by his naivety. Yuga Maximum Summoned "Supreme Flagship Magnum Overlord", but Tiger Fusion Summoned "Full Orchestra the Music Fiend" and increased its ATK enough to destroy "Magnum Overlord" and almost defeat Yuga, who continued to refuse to abandon Swirly. Yuga Fusion Summoned "Sevens Paladin the Magical Knight" and reduced the ATK of "Full Orchestra", Tiger remaining calm as she was prepared to counter him, and she successfully reduced the ATK of "Sevens Paladin" to zero with "Music Princess's Requiem Sonata" when he attacked, defeating him. Despite his loss, Yuga insisted on leaving to look for Nanaho and help Swirly, so Tiger decided to punish them further and called in her clubmates. However, Kaizo assumed the form of "God Kaizo" and engaged Tiger and her clubmates in combat, allowing Yuga and Luke to escape.[23] Tiger eventually defeated God Kaizo, who massaged her arms as she lamented her inability to stop Yuga and Luke.[24]
Tiger uses a Music Princess Deck composed of WIND Warrior monsters based on martial arts equipment and wind instruments. Her Deck is described as efficient, and is capable of quickly assembling a field of high-Level monsters through precise manipulation of her own cards and ATK scores. She also has a focus on taking advantage of Defense Position monsters and battle position changes. As a weakness, her strategy holds little in terms of defensive cards.
After the Goha 6 Siblings arc, Tiger finds "Fusion" and adds it to her Deck. Her Fusion Monsters are created by fusing her ace monsters with "Contacton the Music Princess" and they have effects that dramatically increase their ATK.
References
[
edit
]