Toy Magician (Tag Force 1)
Japanese

トイ・マジシャン

Rōmaji

Toi Majishan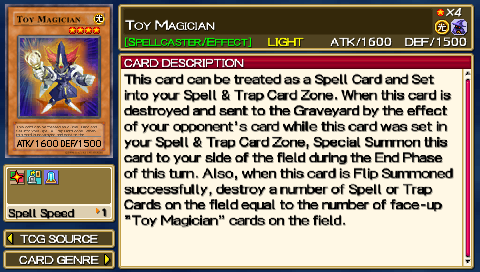 Attribute
LIGHT
Type
Spellcaster / Effect
Level
4
ATK / DEF
1600 / 1500
Rarity
Common
Internal number
6815
Password
58132856

This card can be treated as a Spell Card and Set into your Spell & Trap Card Zone. When this card is destroyed and sent to the Graveyard by the effect of your opponent's card while this card was set in your Spell & Trap Card Zone, Special Summon this card to your side of the field during the End Phase of this turn. Also, when this card is Flip Summoned successfully, destroy a number of Spell or Trap Cards on the field equal to the number of face-up "Toy Magician" cards on the field.
Obtained by
"Toy Magician" is available in the following packs:
"Toy Magician" can be obtained from the card converter by inputting 98 cards.
Related cards
"Toy Magician" is part of the following genres:
Other languages
| | Name | Lore |
| --- | --- | --- |
| French | Magicien Jouet | Cette carte peut-être considérée comme une Carte Magie et Posée dans votre Zone de Carte Magie & Piège. Lorsque cette carte est détruite et envoyée au Cimetière par l'effet d'une carte adverse alors qu'elle est Posée dans votre Zone de Carte Magie & Piège, Invoquez Spécialement cette carte sur votre Terrain pendant la End Phase du même tour. Si vous exécutez avec succès une Invocation Retournement de cette carte, détruisez un nombre de Carte Magie ou Piège sur le Terrain égal au nombre de "Magicien Jouet" face recto sur le Terrain. |
| German | Spielzeugmagier | Diese Karte kann als Zauberkarte behandelt werden und in deine Zauber- & Fallenkartenzone platziert werden. Wenn diese Karte durch den Effekt einer Karte deines Gegners zerstört und auf den Friedhof geschickt wird während sie sich in deiner Zauber- & Fallenkartezone befindet, dann kannst du diese Karte während der End Phase dieser Runde per Spezialbeschwörung auf deine Seite des Spielfeldes bringen. Außerdem wird, wenn diese Karte erfolgreich Flipp-beschworen wird, eine Anzahl von Zauber- oder Fallenkarten auf dem Feld zerstört, die der Anzahl der aufgedeckten "Spielzeugmagier"-Karten auf dem Spielfeld entspricht. |
| Italian | Mago Giocattolo | Questa Carta può essere trattata come una Carta Magia e mandata nella Zona Carte Magia e Trappola. Quando questa Carta, presente nella Zona Carte Magia e Trappola, viene distrutta e mandata al Cimitero per effetto di una Carta dell'avversario, puoi mandarla nella tua parte del Campo, tramite Evocazione Speciale, durante la End Phase di questo turno. Inoltre, quando questa Carta viene mandata in Campo tramite Evocazione per Scoperta, puoi distruggere una quantità di Carte Magia o Carte Trappola pari al numero di Carte "Mago Giocattolo" presenti in Campo. |
| Spanish | Mago de Juguete | Esta carta puede ser tratada como una Carta Mágica y Colocarse en tu Zona de Trampas Mágicas y de Trampa. Cuando esta carta es destruida y enviada al Cementerio por el efecto de la carta de tu oponente mientras esta carta estaba colocada en tu Zona de Cartas Mágicas y de Trampa, Invocación Especial a esta carta desde tu lado del campo durante la End Phase de este turno. También, cuando a esta carta se le hace Invocación de Volteo con éxito, destruye un número de Cartas Mágicas o de Trampa en el campo, iguales al número de cartas "Mago de Juguete" boca arriba en el campo. |
Gallery
ToyMagician-GX02-FR-VG-info.png

ToyMagician-GX02-IT-VG-info.png

ToyMagician-GX02-SP-VG-info.png

ToyMagician-GX02-JP-VG-info.png