Trishula, the Dragon of Icy Imprisonment
Trishula, the Dragon of Icy Imprisonment
Japanese

氷獄龍 トリシューラ

Base

氷獄龍 トリシューラ

Kana

ひょうごくりゅう トリシューラ

Rōmaji

Hyōgokuryū Torishūra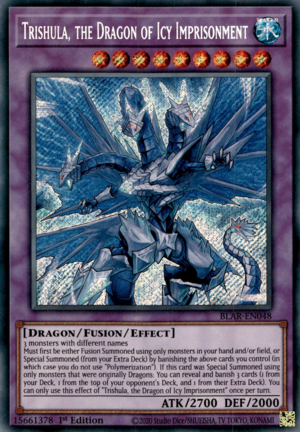 Card type
Monster
Attribute
WATER
Types
Dragon / Fusion / Effect
Level
9
ATK / DEF
2700 / 2000
Password
15661378
Effect types

Status

3 monsters with different names
Must first be either Fusion Summoned using only monsters in your hand and/or field, or Special Summoned (from your Extra Deck) by banishing the above cards you control (in which case you do not use "Polymerization"). If this card was Special Summoned using only monsters that were originally Dragons: You can reveal and banish 3 cards (1 from your Deck, 1 from the top of your opponent's Deck, and 1 from their Extra Deck). You can only use this effect of "Trishula, the Dragon of Icy Imprisonment" once per turn.
English sets
Worldwide
North America
Search categories
Other languages
Language
Name
Lore
French

Trishula, le Dragon de l'Emprisonnement Glacial

3 monstres de noms différents
Doit d'abord être soit Invoquée par Fusion en utilisant des monstres dans votre main et/ou sur votre Terrain, soit Invoquée Spécialement (depuis votre Extra Deck) en bannissant les cartes ci-dessus que vous contrôlez (auquel cas vous n'utilisez pas "Polymérisation"). Si cette carte a été Invoquée Spécialement en utilisant uniquement des monstres qui étaient Dragon à l'origine : vous pouvez révéler et bannir 3 cartes (1 depuis votre Deck, 1 du dessus du Deck de votre adversaire et 1 depuis son Extra Deck). Vous ne pouvez utiliser cet effet de "Trishula, le Dragon de l'Emprisonnement Glacial" qu'une fois par tour.

German

Trishula, Drache des Eisgefängnisses

3 Monster mit unterschiedlichen Namen
Muss erst entweder nur mit Monstern in deiner Hand und/oder auf deiner Spielfeldseite als Fusionsbeschwörung beschworen werden oder als Spezialbeschwörung (von deinem Extra Deck) beschworen werden, indem du die oben aufgeführten Karten verbannst, die du kontrollierst (in diesem Fall wird "Polymerisation" nicht benötigt). Falls diese Karte nur mit Monstern, die ursprünglich Drachen waren, als Spezialbeschwörung beschworen wurde: Du kannst 3 Karten vorzeigen und verbannen (1 von deinem Deck, die 1 oberste Karte des Decks deines Gegners und 1 von seinem Extra Deck). Du kannst diesen Effekt von "Trishula, Drache des Eisgefängnisses" nur einmal pro Spielzug verwenden.

Italian

Trishula, il Drago dell'Imprigionamento Ghiacciato

3 mostri con nomi diversi
Deve prima essere Evocato tramite Fusione utilizzando solo mostri nella tua mano e/o Terreno, oppure Evocato Specialmente (dal tuo Extra Deck) bandendo le carte sopra indicate che controlli (nel qual caso non utilizzi "Polimerizzazione"). Se questa carta è stata Evocata Specialmente utilizzando solo mostri che erano originariamente Draghi: puoi rivelare e bandire 3 carte (1 dal tuo Deck, 1 dalla cima del Deck del tuo avversario e 1 dal suo Extra Deck). Puoi utilizzare questo effetto di "Trishula, il Drago dell'Imprigionamento Ghiacciato" una sola volta per turno.

Portuguese

Trishula, o Dragão do Aprisionamento Gélido

3 monstros com nomes diferentes
Primeiro deve ser Invocado por Invocação-Fusão seja usando apenas monstros na sua mão e/ou no campo ou Invocando-o por Invocação-Especial (do seu Deck Adicional) ao banir os cards acima que você controla (e nesse caso, você não usa "Polimerização"). Se este card foi Invocado por Invocação-Especial usando apenas monstros que eram originalmente monstros Dragão: você pode revelar e banir 3 cards (1 do seu Deck, 1 do topo do Deck do seu oponente e 1 do Deck Adicional dele). Você só pode usar este efeito de "Trishula, o Dragão do Aprisionamento Gélido" uma vez por turno.

Spanish

Trishula, el Dragón de la Prisión Helada

3 monstruos con nombres diferentes
Primero debe ser ya sea Invocado por Fusión usando sólo monstruos en tu mano y/o Campo, o Invocado de Modo Especial (desde tu Deck Extra) desterrando las cartas listadas arriba que tú controlas (en cuyo caso no usas "Polimerización"). Si esta carta fue Invocada de Modo Especial usando sólo monstruos que originalmente fueran Dragón: puedes mostrar y desterrar 3 cartas (1 de tu Deck, 1 de la parte superior del Deck de tu adversario, y 1 de su Deck Extra). Sólo puedes usar este efecto de "Trishula, el Dragón de la Prisión Helada" una vez por turno.

Japanese
氷獄龍 トリシューラ

カード名が異なるモンスター×3
このカードは自分の手札・フィールドのモンスターのみを素材とした融合召喚及び以下の方法でのみEXデッキから特殊召喚できる。●自分フィールドの上記カードを除外した場合にEXデッキから特殊召喚できる(「融合」は必要としない)。①:元々の種族がドラゴン族のモンスターのみを素材としてこのカードが特殊召喚に成功した場合に発動できる。自分のデッキ・相手のデッキの一番上・相手のEXデッキの順に確認してそれぞれ1枚ずつ除外する。このカード名のこの効果は1ターンに1度しか使用できない。

Hyōgokuryū Torishūra
Korean

빙옥룡 트리슈라

카드명이 다른 몬스터 × 3
이 카드는 자신의 패 / 필드의 몬스터만을 소재로 한 융합 소환 및 이하의 방법으로만 엑스트라 덱에서 특수 소환할 수 있다. ●자신 필드의 상기 카드를 제외했을 경우에 엑스트라 덱에서 특수 소환할 수 있다("융합"은 필요로 하지 않는다). ①: 원래의 종족이 드래곤족인 몬스터만을 소재로서 이 카드가 특수 소환에 성공했을 경우에 발동할 수 있다. 자신의 덱 / 상대의 덱 맨 위 / 상대의 엑스트라 덱의 순으로 확인하여 각각 1장씩 제외한다. 이 카드명의 이 효과는 1턴에 1번밖에 사용할 수 없다.

Bing-ongnyong Teurisyura
Sets in other languages
French
German
Italian
Portuguese
Spanish
Japanese
Korean
In other media