Tsutomu
Tsutomu is a young Duelist from Domino City, who gets pulled into the World of Darkness by Trueman.
Biography
[
edit
]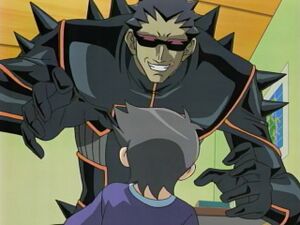 Tsutomu complains after being made fun of by his peers for being a weak Duelist. Trueman appears before him and takes him to the World of Darkness. Afterwards, Trueman took on Tsutomu's form, scaring the boy's parents.[1] Trueman used his form to trick Axel Brodie in Domino City when the latter went there in search of clues.[2]
Though he is not shown Dueling, the following cards can be seen on his desk before he meets Trueman, or on the floor after Trueman appears. He apparently uses a Water Deck.
References
[
edit
]