It is with heavy hearts that we mourn the passing of our game's creator, Kazuki Takahashi.
Tyrant Wing
Japanese

タイラント・ウィング

Rōmaji

Tairanto Wingu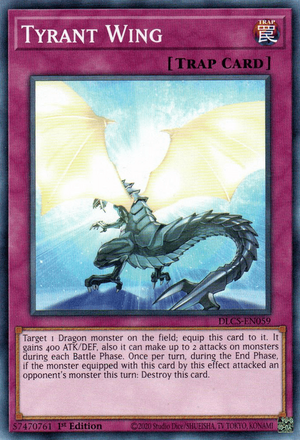 English sets
Worldwide
Search categories
Other languages
Language
Name
Lore
French

Aile Tyran

Ciblez 1 monstre Dragon sur le Terrain ; équipez-lui cette carte. Il gagne 400 ATK/DEF, et aussi, il peut faire max. 2 attaques sur des monstres durant chaque Battle Phase. Une fois par tour, durant la End Phase, si le monstre équipé avec cette carte par cet effet a attaqué un monstre de l'adversaire ce tour : détruisez cette carte.

German

Tyrannenflügel

Wähle 1 Drache-Monster auf dem Spielfeld; rüste es mit dieser Karte aus. Es erhält 400 ATK/DEF, zusätzlich kann es während jeder Battle Phase bis zu 2 Angriffe gegen Monster durchführen. Einmal pro Spielzug, während der End Phase, falls das mit dieser Karte durch diesen Effekt ausgerüstete Monster in diesem Spielzug ein Monster eines Gegners angegriffen hat: Zerstöre diese Karte.

Italian

Ala Tiranna

Scegli come bersaglio 1 mostro Drago sul Terreno; equipaggia questa carta ad esso. Esso guadagna 400 ATK/DEF, inoltre può effettuare fino a 2 attacchi su mostri durante ogni Battle Phase. Una volta per turno, durante la End Phase, se il mostro equipaggiato con questa carta da questo effetto ha attaccato un mostro dell'avversario in questo turno: distruggi questa carta.

Portuguese

Asa Tirana

Escolha 1 monstro Dragão no campo; equipe este card a ele. Ele ganha 400 de ATK/DEF e, além disso, ele pode realizar até 2 ataques contra monstros durante cada Fase de Batalha. Uma vez por turno, durante a Fase Final, se o monstro equipado com este card por este efeito atacou um monstro do oponente neste turno: destrua este card.

Spanish

Tirano Alas

Selecciona 1 monstruo Dragón en el Campo; equípale esta carta. Éste gana 400 ATK/DEF, y además puede hacer hasta 2 ataques a monstruos durante cada Battle Phase. Una vez por turno, durante la End Phase, si este turno el monstruo equipado con esta carta por este efecto atacó a un monstruo del adversario: destruye esta carta.

Japanese

タイラント・ウィング

①:フィールドのドラゴン族モンスター1体を対象としてこのカードを発動できる。このカードを攻撃力・守備力400アップの装備カード扱いとして、そのモンスターに装備する。②:このカードの効果でこのカードを装備したモンスターは、1度のバトルフェイズ中に2回までモンスターに攻撃できる。③:このカードの効果でこのカードを装備したモンスターが相手モンスターを攻撃したターンのエンドフェイズに発動する。このカードを破壊する。

Tairanto Wingu
Korean

타이란트 윙

①: 필드의 드래곤족 몬스터 1장을 대상으로 하고 이 카드를 발동할 수 있다. 이 카드를 공격력 / 수비력 400 올리는 장착 카드로 취급하여, 그 몬스터에 장착한다. ②: 이 카드의 효과로 이 카드를 장착한 몬스터는, 1번의 배틀 페이즈 중에 2회까지 몬스터에 공격할 수 있다. ③: 이 카드의 효과로 이 카드를 장착한 몬스터가 상대 몬스터를 공격한 턴의 엔드 페이즈에 발동한다. 이 카드를 파괴한다.
Sets in other languages
French
German
Italian
Portuguese
Spanish
Japanese
Korean
In other media