It is with heavy hearts that we mourn the passing of our game's creator, Kazuki Takahashi.
Venom Shot
Japanese

ヴェノム・ショット

Rōmaji

Venomu Shotto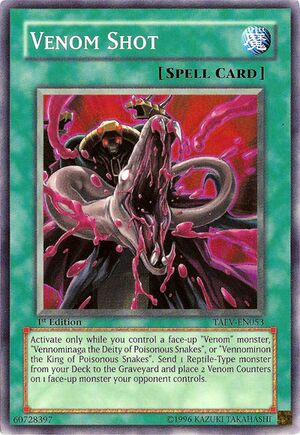 English sets
Worldwide
Search categories
Other languages
Language
Name
Lore
French

Salve Venin

Activable uniquement tant que vous contrôlez un monstre "Venin", "Vénominaga, Déesse des Serpents Venimeux" ou "Vénominon, Roi des Serpents Venimeux" face recto. Envoyez 1 monstre de type Reptile depuis votre Deck au Cimetière et placez 2 Compteurs Venin sur 1 monstre face recto contrôlé par votre adversaire.

German

Giftschuß

Aktiviere diese Karte nur, solange du ein offenes "Gift"-Monster, "Vennominaga die Gottheit der giftigen Schlangen" oder "Vennominon der König der giftigen Schlangen" kontrollierst. Lege 1 Monster vom Typ Reptil von deinem Deck auf den Friedhof und lege 2 Gift-Zählmarken auf 1 offenes Monster, das dein Gegner kontrolliert.

Italian

Colpo Veleno

Attiva solo quando controlli un mostro scoperto "Veleno", "Vennominaga, la Divinità dei Serpenti Velenosi" o "Vennominon, il Re dei Serpenti Velenosi". Manda 1 mostro di Tipo Rettile dal tuo Deck al Cimitero e metti 2 Segnalini Veleno su 1 mostro scoperto controllato dal tuo avversario.

Portuguese

Tiro de Peçonha

Ative somente enquanto você controlar um monstro "Peçonha", "Vennominaga, a Divindade das Serpentes Venenosas" ou "Vennominon, o Rei das Serpentes Venenosas" com a face para cima. Envie 1 monstro do Tipo Réptil do seu Deck para o Cemitério e coloque 2 Marcadores de Veneno em 1 monstro com a face para cima que seu oponente controla.

Spanish

Tiro Venenoso

Activa esta carta sólo cuando controles un monstruo "Venenoso/a" boca arriba, a "Vennominaga, Dios de las Serpientes Venenosas" o a "Vennominon, Rey de las Serpientes Venenosas". Manda 1 monstruo de Tipo Reptil de tu Deck al Cementerio y pon 2 Contadores de Veneno en 1 monstruo boca arriba que controle tu adversario.

Japanese

ヴェノム・ショット

自分フィールド上に「毒蛇王ヴェノミノン」、「毒蛇神ヴェノミナーガ」または「ヴェノム」と名のついたモンスターが表側表示で存在する時に発動する事ができる。自分のデッキから爬虫類族モンスター1体を墓地に送り、相手フィールド上に表側表示で存在するモンスター1体にヴェノムカウンターを2つ置く。

Venomu Shotto
Korean

베놈 샷

자신 필드 위에 "독사왕 베노미논", "독사신 베노미너거" 또는 "베놈"이라는 이름이 붙은 몬스터가 앞면 표시로 존재할 때 발동할 수 있다. 자신의 덱에서 파충류족 몬스터 1장을 묘지로 보내고, 상대 필드 위에 앞면 표시로 존재하는 몬스터 1장에 베놈 카운터를 2개 놓는다.
Sets in other languages
French
German
Italian
Spanish
Japanese
Korean
In other media