| | |
| --- | --- |
| | Help support Yugipedia by installing our new Chrome extension. This extension automatically redirects any links to the old Wikia/Fandom site to Yugipedia to ensure that you're always viewing the most up-to-date information available. You can enable the extension by clicking "Add to Chrome" on the app's webstore entry. For those of you using Firefox, don't worry—a Firefox add-on to do the same thing will be out soon. If you have any issues with the extension or you come across any bugs, be sure to let us know on Discord! |
Yoroizaka
Yoroizaka
Names
English
Personal
Gender
Occupation
Bounty hunter[1]
Anime Deck
Gouki[2]
Appearances
Anime debut
Yu-Gi-Oh! VRAINS episode 47: "Playmaker Returns"
Voice actors
Japanese
Ryota Suzuki
Yoroizaka
Yoroizaka is a character in the Yu-Gi-Oh! VRAINS anime. He works alongside George Gore and Kenmochi as a Bounty Hunter for SOL Technologies, attempting to capture Playmaker.
Appearance
[
edit
]
Yoroizaka is a fair-skinned young man with brown eyes and spiky brown hair. He wears the same uniform as Gore and Kenmochi; he wears a green visor with a thin black lens. He wears a form-fitting forest green leotard with blue shoulderpads that is belted at the cuffs under teal torso armor fastened with straps over the shoulders and the SOL Technologies logo over his heart, which is decorated at the torso with a blue plate. He also wears sand green leggings, and olive green boots and gloves with grey soles and hands that are lined by red.
Biography
[
edit
]
Yoroizaka formed a bounty hunting team with George Gore and Kenmochi. They were hired by SOL Technologies to hunt Playmaker. They were briefed by Akira Zaizen and awaited the arrival of the final hunter, Blood Shepherd.[1] When Shepherd arrived, he argued with Gore. The team tracked down Playmaker, with Gore aiming to Duel him.[3] Gore had Kenmochi and Yoroizaka flank Playmaker to prevent his escape. They were both hit by a trap ordered by Akira, which Playmaker and his ally Soulburner avoided, leaving Gore on his own.[4]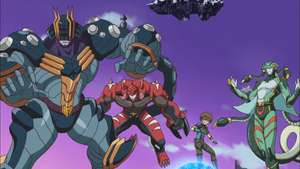 Yoroizaka plays a "Gouki" Deck.
References
[
edit
]