Yu-Gi-Oh! VRAINS - Episode 094
"Raging Soul" is the ninety-fourth episode of the Yu-Gi-Oh! VRAINS anime. It first aired in Japan on March 20, 2019.
In order to protect Playmaker, who has fell unconscious due to his battle with Kolter, Soulburner begins a Duel against Bohman. Against Soulburner, who's enraged by Lightning's underhanded tactics, Bohman sports a sinister smile on his face...!?
Featured Duel: Soulburner vs. Bohman
[
edit
]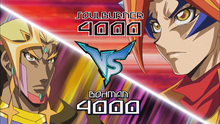 This Duel is conducted as a Master Duel.
Featured cards
[
edit
]
The following cards appeared in this episode. Cards in italics debuted here.
Soulburner (Takeru Homura)

| | |
| --- | --- |
| | |