It is with heavy hearts that we mourn the passing of our game's creator, Kazuki Takahashi.
Vylon Element
Japanese

ヴァイロン・エレメント

Rōmaji

Vairon Eremento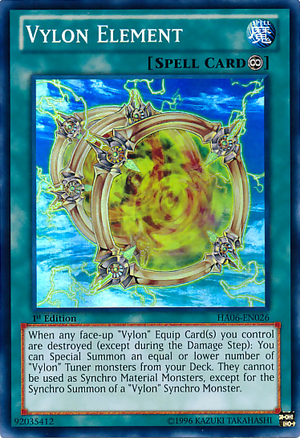 English sets
Worldwide
North America
Search categories
Other languages
Language
Name
Lore
French

Élément Vylon

Lorsqu'une ou plusieurs Cartes d'Équipement "Vylon" face recto que vous contrôlez sont détruites (sauf durant la Damage Step) : vous pouvez Invoquer Spécialement un nombre inférieur ou égal de monstres Syntoniseur "Vylon" depuis votre Deck. Ils ne peuvent pas être utilisés comme Monstres-Matériels de Synchro, sauf pour l'Invocation Synchro d'un Monstre Synchro "Vylon".

German

Vylon-Element

Wenn offene "Vylon"-Ausrüstungskarten, die du kontrollierst, zerstört werden (außer während des Damage Steps): Du kannst die gleiche oder eine kleinere Anzahl "Vylon"-Empfänger-Monster als Spezialbeschwörung von deinem Deck beschwören. Sie können nicht als Synchromaterialmonster verwendet werden, außer für die Synchrobeschwörung eines "Vylon"-Synchromonsters.

Italian

Elemento Vylon

Quando una o più Carte Equipaggiamento "Vylon" scoperte che controlli vengono distrutte (eccetto durante il Damage Step): puoi Evocare Specialmente un numero pari o inferiore di mostri Tuner "Vylon" dal tuo Deck. Essi non possono essere utilizzati come Mostri Materiale Synchro, eccetto per la Synchro Evocazione di un Mostro Synchro "Vylon".

Spanish

Elemento Vylon

Cuando una o más Cartas de Equipo "Vylon" boca arriba que controlas son destruidas (excepto durante el Damage Step): puedes Invocar de Modo Especial, desde tu Deck, una cantidad igual o menor de monstruos "Vylon" Cantantes. Estos no pueden ser utilizados como Monstruos Material de Sincronía, excepto para la Invocación por Sincronía de un Monstruo de Sincronía "Vylon".

Japanese

ヴァイロン・エレメント

自分フィールド上に表側表示で存在する「ヴァイロン」と名のついた装備カードが破壊された時、破壊された数と同じ数まで自分のデッキから「ヴァイロン」と名のついたチューナーを自分フィールド上に特殊召喚する事ができる。この効果で特殊召喚したモンスターをシンクロ素材とする場合、「ヴァイロン」と名のついたモンスターのシンクロ召喚にしか使用できない。

Vairon Eremento
Korean

바이론 엘리멘트

자신 필드 위에 앞면 표시로 존재하는 "바이론"이라는 이름이 붙은 장착 카드가 파괴되었을 때, 파괴된 수와 같은 수까지 자신의 덱에서 "바이론"이라는 이름이 붙은 튜너를 자신 필드 위에 특수 소환할 수 있다. 이 효과로 특수 소환한 몬스터를 싱크로 소재로 할 경우, "바이론"이라는 이름이 붙은 몬스터의 싱크로 소환으로밖에 사용할 수 없다.
Sets in other languages
French
German
Italian
Spanish
Japanese
Korean
In other media