Cynet Universe
Japanese

サイバネット・ユニバース

Rōmaji

Saibanetto Yunibāsu

Translated

Cybenet Universe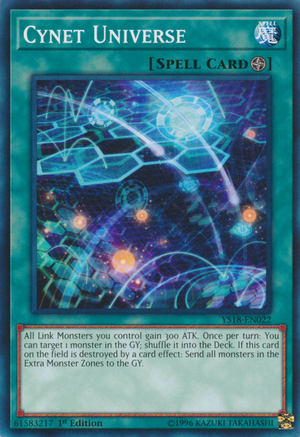 English sets
Worldwide
Search categories
Other languages
Language
Name
Card text
French

Cynet Univers

Tous les Monstres Lien que vous contrôlez gagnent 300 ATK. Une fois par tour : vous pouvez cibler 1 monstre dans le Cimetière ; mélangez-le dans le Deck. Si cette carte sur le Terrain est détruite par un effet de carte : envoyez tous les monstres dans les Zones Monstre Extra au Cimetière.

German

Cynet-Universum

Alle Linkmonster, die du kontrollierst, erhalten 300 ATK. Einmal pro Spielzug: Du kannst 1 Monster im Friedhof wählen; mische es ins Deck. Falls diese Karte auf dem Spielfeld durch einen Karteneffekt zerstört wird: Lege alle Monster in den Extra-Monsterzonen auf den Friedhof.

Italian

Cynet Universo

Tutti i Mostri Link che controlli guadagnano 300 ATK. Una volta per turno: puoi scegliere come bersaglio 1 mostro nel Cimitero; mischialo nel Deck. Se questa carta sul Terreno viene distrutta dall'effetto di una carta: manda al Cimitero tutti i mostri nelle Zone Mostri Extra.

Portuguese

Cinet Universo

Todos os Monstros Link que você controla ganham 300 de ATK. Uma vez por turno: você pode escolher 1 monstro no Cemitério; embaralhe-o no Deck. Se este card no campo for destruído por um efeito de card: envie para o Cemitério todos os monstros nas Zonas de Monstros Adicionais.

Spanish

Cinet-Universo

Todos los Monstruos de Enlace que controles ganan 300 ATK. Una vez por turno: puedes seleccionar 1 monstruo en el Cementerio; barájalo al Deck. Si esta carta en el Campo es destruida por efecto de una carta: manda al Cementerio a todos los monstruos en las Zonas de Monstruos Extra.

Japanese

サイバネット・ユニバース

①:自分フィールドのリンクモンスターの攻撃力は300アップする。②:1ターンに1度、自分または相手の墓地のモンスター1体を対象として発動できる。そのモンスターを持ち主のデッキに戻す。③:フィールドのこのカードが効果で破壊された場合に発動する。EXモンスターゾーンのモンスターを全て墓地へ送る。

Saibanetto Yunibāsu
Cybenet Universe
Korean

사이바넷 유니버스

①: 자신 필드의 링크 몬스터의 공격력은 300 올린다. ②: 1턴에 1번, 자신 또는 상대 묘지의 몬스터 1장을 대상으로 하고 발동할 수 있다. 그 몬스터를 주인의 덱으로 되돌린다. ③: 필드의 이 카드가 효과로 파괴되었을 경우에 발동한다. 엑스트라 몬스터 존의 몬스터를 전부 묘지로 보낸다.

Saibanet Yunibeoseu
Simplified Chinese

电脑网宇宙

①:自己场上的连接怪兽的攻击力上升300。②:1回合1次,以自己或对手墓地的1只怪兽为对象可以发动。将该怪兽放回持有者的牌组。③:场上的此卡因效果被破坏的情况下发动。将额外怪兽区域的怪兽全部送至墓地。Property "Simplified Chinese lore" (as page type) with input value "①:自己场上的连接怪兽的攻击力上升300。②:1回合1次,以自己或对手墓地的1只怪兽为对象可以发动。将该怪兽放回持有者的牌组。③:场上的此卡因效果被破坏的情况下发动。将额外怪兽区域的怪兽全部送至墓地。" contains invalid characters or is incomplete and therefore can cause unexpected results during a query or annotation process.
Sets in other languages
French
German
Italian
Portuguese
Spanish
Japanese
Korean
Simplified Chinese
In other media