It is with heavy hearts that we mourn the passing of our game's creator, Kazuki Takahashi.
Form Change
Japanese

フォーム・チェンジ

Rōmaji

Fōmu Chenji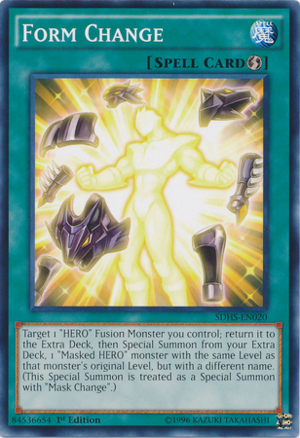 English sets
Worldwide
Search categories
Other languages
Language
Name
Lore
French

Changement de Forme

Ciblez 1 Monstre de Fusion "HÉROS" que vous contrôlez ; renvoyez-le à l'Extra Deck, puis Invoquez Spécialement 1 monstre "HÉROS Masqué" du même Niveau que le Niveau d'origine du monstre mais de nom différent, depuis votre Extra Deck. (Cette Invocation Spéciale est traitée comme une Invocation Spéciale avec "Changement de Masque".)

German

Gestaltwechsel

Wähle 1 "HELD"-Fusionsmonster, das du kontrollierst; lege es ins Extra Deck zurück, dann beschwöre 1 "Maskierter HELD"-Monster mit derselben Stufe wie die Grundstufe des Monsters, aber einem unterschiedlichen Namen als Spezialbeschwörung von deinem Extra Deck. (Diese Spezialbeschwörung wird als Spezialbeschwörung mit "Maskenwechsel" behandelt.)

Italian

Cambio di Forma

Scegli come bersaglio 1 Mostro Fusione "EROE" che controlli; fallo ritornare nell'Extra Deck, poi Evoca Specialmente dal tuo Extra Deck, 1 mostro "EROE Mascherato" con Livello pari al Livello originale di quel mostro, ma con un nome diverso. (Questa Evocazione Speciale viene considerata come un'Evocazione Speciale con "Cambio di Maschera".)

Portuguese

Mudar a Forma

Escolha 1 Monstro de Fusão "HERÓI" que você controla; devolva-o para o Deck Adicional e, depois, Invoque por Invocação-Especial do seu Deck Adicional, 1 monstro "HERÓI Mascarado" com o mesmo Nível que o Nível original deste monstro, mas com um nome diferente. (Esta Invocação-Especial é considerada uma Invocação-Especial com "Mudar a Máscara".)

Spanish

Cambio de Forma

Selecciona 1 Monstruo de Fusión "HÉROE" que controles; devuélvelo al Deck Extra, y después Invoca de Modo Especial, desde tu Deck Extra, 1 monstruo "HÉROE Enmascarado" con el mismo Nivel que el Nivel original de ese monstruo, pero con nombre diferente. (Esta Invocación Especial se trata como una Invocación Especial con "Cambio de Máscara").

Japanese

フォーム・チェンジ

①:自分フィールドの「HERO」融合モンスター1体を対象として発動できる。そのモンスターをエクストラデッキへ戻し、そのモンスターの元々のレベルと同じレベルでカード名が異なる「M・HERO」モンスター1体を、「マスク・チェンジ」による特殊召喚扱いとしてエクストラデッキから特殊召喚する。

Fōmu Chenji
Korean

폼 체인지

① : 자신 필드의 "히어로" 융합 몬스터 1장을 대상으로 하고 발동할 수 있다. 그 몬스터를 엑스트라 덱으로 되돌리고, 그 몬스터의 원래 레벨과 같은 레벨로 카드명이 다른 "마스크드 히어로" 몬스터 1장을, "마스크 체인지" 에 의한 특수 소환으로 취급하여 엑스트라 덱에서 특수 소환한다.
Sets in other languages
French
German
Italian
Portuguese
Spanish
Japanese
Japanese Asian
Korean
In other media