It is with heavy hearts that we mourn the passing of our game's creator, Kazuki Takahashi.
Gishki Vanity
Japanese

リチュア・ヴァニティ

Rōmaji

Richua Vaniti

Translated

Ritua Vanity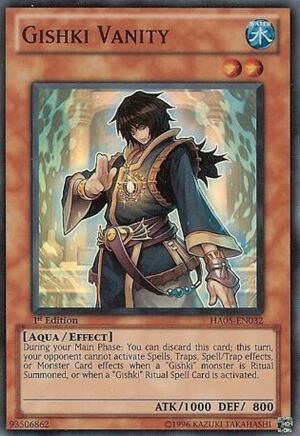 English sets
Worldwide
North America
Search categories
Other languages
Language
Name
Lore
French

Vanité Gishki

Durant votre Main Phase : vous pouvez défausser cette carte ; ce tour, votre adversaire ne peut pas activer de Magies, Pièges, effets de Magie/Piège ou effets de Carte Monstre lorsqu'un monstre "Gishki" est Invoqué Rituellement ou lorsqu'une Carte Magie Rituelle "Gishki" est activée.

German

Gishki-Eitelkeit

Während deiner Main Phase: Du kannst diese Karte abwerfen; in diesem Spielzug kann dein Gegner keine Zauber, Fallen, Effekte von Zaubern/Fallen oder Monsterkarten aktiviert, wenn ein "Gishki"-Monster als Ritualbeschwörung beschworen wird oder wenn eine "Gishki"-Ritualzauberkarte aktiviert wird.

Italian

Vanità Gishki

Durante la tua Main Phase: puoi scartare questa carta; in questo turno, il tuo avversario non può attivare Magie, Trappole, effetti di Magie/Trappole o effetti di Carte Mostro quando viene Evocato tramite Rituale un mostro "Gishki" o quando viene attivata una Carta Magia Rituale "Gishki".

Portuguese

Vaidade Gishki

Durante a sua Main Phase: Você pode descartar esta carta; neste turno, seu oponente não pode ativar Cartas Mágicas, Armadilhas, efeitos de Cartas Mágicas/Armadilhas, ou efeito de Cartas de Monstro quando um monstro "Gishki" é invocado por Invocação-Ritual, ou quando uma Carta Mágica de Ritual "Gishki" é ativada.

Spanish

Vanidad Gishki

Durante tu Main Phase: puedes descartar esta carta; este turno, tu adversario no puede activar Cartas Mágicas/de Trampa, efectos de Cartas Mágicas/de Trampa o efectos de Cartas de Monstruo cuando un monstruo "Gishki" es Invocado por Ritual o cuando es activada una Carta Mágica de Ritual "Gishki".

Japanese

リチュア・ヴァニティ

自分のメインフェイズ時に、このカードを手札から捨てて発動する事ができる。このターン、相手は「リチュア」と名のついた儀式魔法カードの発動に対して魔法・罠・効果モンスターの効果を発動する事ができず、「リチュア」と名のついた儀式モンスターが儀式召喚に成功した時、相手は魔法・罠・効果モンスターの効果を発動する事ができない。

Richua Vaniti
Ritua Vanity
Korean

리추어 배너티

자신의 메인 페이스시에, 이 카드를 패에서 버리고 발동할 수 있다. 이 턴에, 상대는 '리추어' 라는 이름이 붙은 의식 마법 카드의 발동에 대하여 마법 / 함정 / 효과 몬스터의 효과를 발동할 수 없으며, '리추어' 라는 이름이 붙은 의식 몬스터가 의식 소환에 성공했을 때, 상대는 마법 / 함정 / 효과 몬스터의 효과를 발동할 수 없다.
Sets in other languages
French
German
Italian
Spanish
Japanese
Korean
In other media