| | |
| --- | --- |
| | Help support Yugipedia by using our Chrome extension, which redirects links to the old Wikia/Fandom site to Yugipedia, ensuring you see the most up-to-date information. If you have any issues or find any bugs, be sure to let us know on Discord! |
Isaac
Isaac
Names
English

Japanese
Japanese

アイザック

Rōmaji
Aizakku

Personal
Gender
Manga Deck
Mirror Imagine
Appearances
Manga debut
Yu-Gi-Oh! ARC-V Scale 18: "An Unknown Enemy!"
Isaac
Isaac is a character appearing in the Yu-Gi-Oh! ARC-V manga. He is a member of Eve's faction.
Appearance
[
edit
]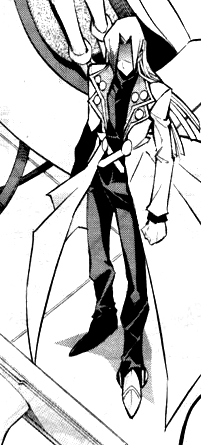 Isaac wears glasses and has long light hair with a jacket. The left side of his face bears a scar similar to Eve's.
Personality
[
edit
]
Isaac is a scientist with an avid interest in Solid Vision technology, expressing a devotion to Adam and Eve. He also has a spiteful streak as seen when he provoked Reiji by revealing that his father was not acting on his own will when he developed the Solid Vision technology.
Biography
[
edit
]
Originating from a distant future, Isaac was a researcher in Solid Vision who became an assistant to Adam and Eve. After their dabbling in the unknown energies they uncovered Genesis Omega Dragon and scattered Adam's being across time and space. Isaac then joined Eve to find their friend and restore him.[1] Rendered an ageless being by the weakened G.O.D. card, Isaac became a thrall to its will as he aids Eve in seeking Adam's scattered essence: the Adam Factor.[2]
Isaac first appeared taking care of Sora Shiunin after his Duel with Yuya Sakaki. As Sora woke up, Isaac explained to him that he was there because of his injuries sustained in said Duel.[3] While tending to Eve, he expresses being adamant on helping her achieve their goals with the power of Genesis Omega Dragon.[4]
Two weeks after Yuya and Reiji Akaba dropped off the grid after their duel, Isaac hunted the latter to the orbital space station where his quarry hid himself in. While expressing interest in the station's technology, Isaac proceeds to business by first revealing how the Adam Factor can be extracted from its holder. Isaac also provokes Reiji by revealing the true events of how the G.O.D. card came into his father's possession, warning the eager young man of the consequences should he lose and become the G.O.D. card's thrall.[5]
Isaac uses a "Mirror Imagine" Deck. His main strategy is to use swarm the field with Mirror Imagine monsters that he can tribute to boost up the ATK of his ace, Mirror Image Catadioptricker 7. To help with this, he uses the Spell Additional Mirror Level 7, which he can recycle with Catadioptricker's effect. His second strategy is to use multiple copies of his Mirror Imagine Reflector monsters in order to redirect and block his opponent's attacks.
Image
Information
"Mirror Imagine Catadioptricker 7" (「ミラーイマジン・カタディオプトリッカー7」 Mirā Imajin Katadioputorikkā Sebun)

Level

 8 ★ ★ ★ ★ ★ ★ ★ ★

Pendulum Scale

 7

Types

 ??? / Pendulum / Effect

ATK

 0

DEF

 0

"Mirror Imagine Magnifier 4" (「ミラーイマジン・マグニファイアー4」 Mirā Imajin Magunifaiā Fō)

Level

 7 ★ ★ ★ ★ ★ ★ ★

Types

 ??? / Pendulum / Effect

ATK

 0

DEF

 1200

"Mirror Imagine Magnifier 4" (「ミラーイマジン・マグニファイアー4」 Mirā Imajin Magunifaiā Fō)

Level

 7 ★ ★ ★ ★ ★ ★ ★

Types

 ??? / Pendulum / Effect

ATK

 0

DEF

 1200

"Mirror Imagine Magnifier 4" (「ミラーイマジン・マグニファイアー4」 Mirā Imajin Magunifaiā Fō)

Level

 7 ★ ★ ★ ★ ★ ★ ★

Types

 ??? / Pendulum / Effect

ATK

 0

DEF

 1200

"Mirror Imagine Primary 6" (「ミラーイマジン・プライマリー6」 Mirā Imajin Puraimarī Shikkusu)

Level

 9 ★ ★ ★ ★ ★ ★ ★ ★ ★

Pendulum Scale

 6

Types

 ??? / Pendulum

ATK

 1000

DEF

 3000

"Mirror Imagine Prism Coat 8" (「ミラーイマジン・プリズムコート8」 Mirā Imajin Purizumu Kōto Eito)

Level

 7 ★ ★ ★ ★ ★ ★ ★

Types

 ??? / Pendulum / Effect

ATK

 0

DEF

 2600

"Mirror Imagine Prism Coat 8" (「ミラーイマジン・プリズムコート8」 Mirā Imajin Purizumu Kōto Eito)

Level

 7 ★ ★ ★ ★ ★ ★ ★

Types

 ??? / Pendulum / Effect

ATK

 0

DEF

 2600

"Mirror Imagine Prism Coat 8" (「ミラーイマジン・プリズムコート8」 Mirā Imajin Purizumu Kōto Eito)

Level

 7 ★ ★ ★ ★ ★ ★ ★

Types

 ??? / Pendulum / Effect

ATK

 0

DEF

 2600

"Mirror Imagine Ray 5" (「ミラーイマジン・レイ5」 Mirā Imajin Rei Faibu)

Level

 7 ★ ★ ★ ★ ★ ★ ★

Types

 ??? / Pendulum / Effect

ATK

 0

DEF

 2000

"Mirror Imagine Ray 5" (「ミラーイマジン・レイ5」 Mirā Imajin Rei Faibu)

Level

 7 ★ ★ ★ ★ ★ ★ ★

Types

 ??? / Pendulum / Effect

ATK

 0

DEF

 2000

"Mirror Imagine Ray 5" (「ミラーイマジン・レイ5」 Mirā Imajin Rei Faibu)

Level

 7 ★ ★ ★ ★ ★ ★ ★

Types

 ??? / Pendulum / Effect

ATK

 0

DEF

 2000

"Mirror Imagine Reflector 1" (「ミラーイマジン・リフレクター1」 Mirā Imajin Rifurekutā Wan)

Level

 7 ★ ★ ★ ★ ★ ★ ★

Types

 ??? / Pendulum / Effect

ATK

 0

DEF

 2000

"Mirror Imagine Reflector 1" (「ミラーイマジン・リフレクター1」 Mirā Imajin Rifurekutā Wan)

Level

 7 ★ ★ ★ ★ ★ ★ ★

Types

 ??? / Pendulum / Effect

ATK

 0

DEF

 2000

"Mirror Imagine Reflector 1" (「ミラーイマジン・リフレクター1」 Mirā Imajin Rifurekutā Wan)

Level

 7 ★ ★ ★ ★ ★ ★ ★

Types

 ??? / Pendulum / Effect

ATK

 0

DEF

 2000

"Mirror Imagine Reflector 2" (「ミラーイマジン・リフレクター2」 Mirā Imajin Rifurekutā Tsū)

Level

 7 ★ ★ ★ ★ ★ ★ ★

Types

 ??? / Pendulum / Effect

ATK

 0

"Mirror Imagine Reflector 2" (「ミラーイマジン・リフレクター2」 Mirā Imajin Rifurekutā Tsū)

Level

 7 ★ ★ ★ ★ ★ ★ ★

Types

 ??? / Pendulum / Effect

ATK

 0

"Mirror Imagine Reflector 2" (「ミラーイマジン・リフレクター2」 Mirā Imajin Rifurekutā Tsū)

Level

 7 ★ ★ ★ ★ ★ ★ ★

Types

 ??? / Pendulum / Effect

ATK

 0

"Mirror Imagine Reflector 3" (「ミラーイマジン・リフレクター3」 Mirā Imajin Rifurekutā Surī)

Level

 7 ★ ★ ★ ★ ★ ★ ★

Types

 ??? / Pendulum / Effect

ATK

 0

"Mirror Imagine Reflector 3" (「ミラーイマジン・リフレクター3」 Mirā Imajin Rifurekutā Surī)

Level

 7 ★ ★ ★ ★ ★ ★ ★

Types

 ??? / Pendulum / Effect

ATK

 0

"Mirror Imagine Reflector 3" (「ミラーイマジン・リフレクター3」 Mirā Imajin Rifurekutā Surī)

Level

 7 ★ ★ ★ ★ ★ ★ ★

Types

 ??? / Pendulum / Effect

ATK

 0

"Mirror Imagine Secondary 9" (「ミラーイマジン・セカンダリー9」 Mirā Imajin Sekandarī Nain)

Level

 6 ★ ★ ★ ★ ★ ★

Pendulum Scale

 9

Types

 ??? / Pendulum

ATK

 100

DEF

 2000

"Additional Mirror Level 7" (「アディショナル・ミラー・レベル7」 Adishonaru Mirā Reberu Sebun)

Card type

 Spell Card

Property

 Quick-Play

"Additional Mirror Level 7" (「アディショナル・ミラー・レベル7」 Adishonaru Mirā Reberu Sebun)

Card type

 Spell Card

Property

 Quick-Play

"Additional Mirror Level 7" (「アディショナル・ミラー・レベル7」 Adishonaru Mirā Reberu Sebun)

Card type

 Spell Card

Property

 Quick-Play

"Devil Mirage" (「魔鏡の呪い」 Debiru Mirāju)

Card type

 Trap Card

"Exchange of the Mirror World" | "Reversal of the Present World and Mirror World" (「現世と鏡界の逆転」 Gense to Kyōkai no Gyakuten)

Card type

 Trap Card

Property

 Counter

"Kaleidoscope Gate" (「カレイドスコープゲート」 Kareidosukōpu Gēto)

Card type

 Trap Card

"Mirror World Break" (「鏡界断絶」 Kyōkai Danzetsu)

Card type

 Trap Card

Property

 Continuous
References
[
edit
]