| | |
| --- | --- |
| | Help support Yugipedia by using our Chrome extension, which redirects links to the old Wikia/Fandom site to Yugipedia, ensuring you see the most up-to-date information. If you have any issues or find any bugs, be sure to let us know on Discord! |
Eve
Eve
Names
English

Japanese
Japanese
EVE
Base

EVE

Furigana

イヴ

Rōmaji
Ivu

Personal
Gender
Organization
Servants of G.O.D.
Manga Deck
Mystic
Appearances
Manga debut
Yu-Gi-Oh! ARC-V Scale 10: "The Entertainment Ends!"
Eve
Eve is a mysterious character appearing in the Yu-Gi-Oh! ARC-V manga, serving as the manga's main antagonist. However it was revealed she was only a mere pawn being manipulate, and the true antagonist was G.O.D. Itself. She wields the powerful "Genesis Omega Dragon".
Appearance
[
edit
]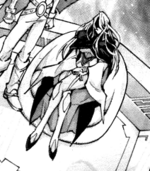 Eve appears as a tall, fair-skinned young woman, though she is far older than her physical age. She has long, blonde hair that extends to her waist, which she uses to cover the left side of her face, which is badly discolored down to the cheek as a consequence of using the power of Genesis Omega Dragon. Her left eye is almost constantly closed and her left eyebrow is non-existent, but this eye is revealed to be blank during her Duel with Yuya; her right eye is green. Eve wears a long, black mantle over a sleeveless, white jumpsuit, patterned in a similar manner to armor, with a high collar, and boots of the same color with thick, black heels and soles. The "V" symbol in the title of Yu-Gi-Oh! ARC-V appears prominently in her design; the chest and navel of her jumpsuit both feature it in black and green, as does the clasp of her mantle.[1] After she Summons "Genesis Omega Dragon" during her Duel with Yuya, the discoloration expands to cover her entire body and her clothing is destroyed. Her eyes become dark pits, and her torso merges with the G.O.D.'s head.[2]
When she was younger, Eve's hair was shorter, reaching down to her shoulders, with a bang between her eyes. She wore the uniform of her university; a long cape with a clasp similar to that of a Duel Academy jacket over light clothing.[3]
Etymology
[
edit
]
In the Hebrew Bible, Eve was the first woman, who lived in paradise, the Garden of Eden, together with Adam.
Biography
[
edit
]
Originating from a distant future, Eve is the lover of the scientist Adam and shared his desire to make the world a better place. But dabbling in the unknown energies, they uncovered and created Genesis Omega Dragon, with Adam sacrificing himself by absorbing most of the energy, with his soul scattered across time and space.[3] Rendered an ageless being by the weakened G.O.D. card, Eve became a thrall to its will, as she seeks the scattered essence of her lover: the Adam Factor.[4] In her travels, Eve recruited Ren after the G.O.D. card gave him a second chance at life.[5]
Eve was first seen at an unknown place, watching Sora's Duel with "Phantom", alongside Ren. Once the Duel ended, Eve requested that Ren retrieve Sora, as well as to search Yuya's memories, to which Ren obeyed.[6]
Later, when Yuya and Reiji Akaba Dueled, Eve and Ren watched their Duel in order to find out whether Reiji possessed the Adam Factor as well or not.[7] Upon the end of the Duel, Ren revealed that their true objective was to truly awaken the Genesis Omega Dragon card, which Eve was shown to currently possess.[1] Eve was later revealed to be deathly ill, attended to by her physician and oldest companion Isaac. While being tended to, Eve's goal to use G.O.D's power to restore the memories she, Ren and Sora had lost of their former lives, along with immortality at any cost, was revealed.[8]
Relationships
[
edit
]
Not much is known of Eve's relationship with Adam, save that it was founded on love and mutual vision of the world in peace through beneficial science. When Adam first used the G.O.D card, Eve was concerned for her lover before he sacrificed himself to prevent a disaster. With Ren noting she is chasing a dream, Eve is motivated in seeking those who possess the Adam Factor to restore Adam.
Originating from the same time period, Isaac is one of Eve's oldest supporters and shares her desire to restore Adam.
Eve uses a "Mystic" Deck, using Pendulum Summons to summon multiple monsters, so that they can be used as material for Fusion, Synchro, and Xyz Monsters. She describes her Deck as an ultimate Deck that only she can control, due to her time spent crossing time and space; her Fusion, Synchro, and Xyz Monsters all reference "legend-class Duel Monsters" that were used by previous antagonists from the various anime and manga series.
Image
Information
"Mystic Factor Balthazar" | "Mystech Factors Balthazar" (「神科学因子バルタザール」 Misutekku Fakutāzu Barutazāru)

Attribute

 ???

Level

 10 ★ ★ ★ ★ ★ ★ ★ ★ ★ ★

Types

 ??? / Effect

ATK

 0

DEF

 ???

"Mystic Factor Caspar" | "Mystech Factors Caspar" (「神科学因子カスパール」 Misutekku Fakutāzu Kasupāru)

Attribute

 ???

Level

 10 ★ ★ ★ ★ ★ ★ ★ ★ ★ ★

Types

 ??? / Tuner / Effect

ATK

 0

DEF

 ???

"Mystic Factor Melchior" | "Mystech Factors Melchior" (「神科学因子メルキオール」 Misutekku Fakutāzu Merukiōru)

Attribute

 ???

Level

 10 ★ ★ ★ ★ ★ ★ ★ ★ ★ ★

Types

 ??? / Effect

ATK

 0

DEF

 ???

"Genesis Omega Dragon" (「GENESIS・OMEGA・DRAGON」 Jeneshisu Omega Doragon)

Attribute

 ???

Level

 10 ★ ★ ★ ★ ★ ★ ★ ★ ★ ★

Types

 ??? / Pendulum / Effect

ATK

 0

DEF

 0

"Mystic Heaven Gate" | "Mystech Heaven Gate" (「神科学ヘヴン・ゲート」 Misutekku Hevun Gēto)

Level

 1 ★

Pendulum Scale

 12

Types

 ??? / Pendulum

ATK

 0

DEF

 0

"Mystic Hell Gate" | "Mystech Hell Gate" (「神科学ヘル・ゲート」 Misutekku Heru Gēto)

Level

 10 ★ ★ ★ ★ ★ ★ ★ ★ ★ ★

Pendulum Scale

 1

Types

 ??? / Pendulum

ATK

 0

DEF

 0

"Nova Portal" (「ノヴァ・ポータル」 Nova Pōtaru)

Level

 1 ★

Pendulum Scale

 12

Types

 ??? / Pendulum

ATK

 0

DEF

 0

"Nova Portal" (「ノヴァ・ポータル」 Nova Pōtaru)

Level

 1 ★

Pendulum Scale

 12

Types

 ??? / Pendulum

ATK

 0

DEF

 0

"Phantasm Emperor Trilojig" (「幻魔帝トリロジーグ」 Genmatei Torirojīgu)

Attribute

 DARK

Level

 10 ★ ★ ★ ★ ★ ★ ★ ★ ★ ★

Types

 Fiend / Effect / Fusion

ATK

 4000

DEF

 4000

"Timelord Progenitor Vorpgate" | "Time Machine God Progenitor Vulgate" (「時械神祖ヴルガータ」 Jikaishinso Vurugāta)

Attribute

 DARK

Level

 10 ★ ★ ★ ★ ★ ★ ★ ★ ★ ★

Types

 Fairy / Synchro / Effect

ATK

 0

DEF

 0

"No. XX Infinity Dark Hope" | "Numbers XX: Infinity Dark Hope" (「No.XX インフィニティ・ダークホープ」 Nanbāzu Daburu Ekkusu Infiniti Dāku Hōpu)

Attribute

 DARK

Rank

 10 ☆ ☆ ☆ ☆ ☆ ☆ ☆ ☆ ☆ ☆

Types

 Warrior / Xyz / Effect

ATK

 4000

DEF

 4000
References
[
edit
]