It is with heavy hearts that we mourn the passing of our game's creator, Kazuki Takahashi.
King's Synchro
Japanese

王者の調和

Base

王者の調和

Kana

キングス・シンクロ

Rōmaji

Kingusu Shinkuro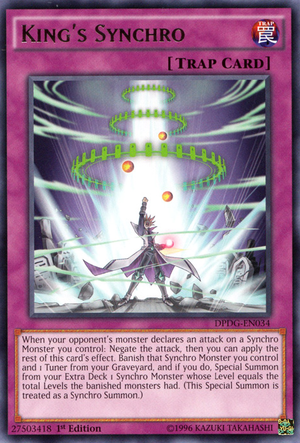 English sets
Worldwide
Search categories
Other languages
Language
Name
Lore
French

Synchro du Roi

Lorsqu'un monstre de votre adversaire déclare une attaque sur un Monstre Synchro que vous contrôlez : annulez l'attaque, puis vous pouvez appliquer le reste de l'effet de cette carte. Bannissez le Monstre Synchro que vous contrôlez et 1 Syntoniseur depuis votre Cimetière, et si vous le faites, Invoquez Spécialement 1 Monstre Synchro depuis votre Extra Deck, dont le Niveau est égal à la somme des Niveaux que les monstres bannis avaient. (Cette Invocation Spéciale est traitée comme une Invocation Synchro.)

German

Synchro des Königs

Wenn ein Monster deines Gegners einen Angriff gegen ein Synchromonster deklariert, das du kontrollierst: Annulliere den Angriff, dann kannst du den Rest des Effekts dieser Karte ausführen. Verbanne das Synchromonster, das du kontrollierst, und 1 Empfänger von deinem Friedhof und falls du dies tust, beschwöre 1 Synchromonster, dessen Stufe der Summe der Stufe entspricht, welche die verbannten Monster hatten, als Spezialbeschwörung von deinem Extra Deck. (Diese Spezialbeschwörung wird als Synchrobeschwörung behandelt.)

Italian

Synchro del Re

Quando un mostro del tuo avversario dichiara un attacco su un Mostro Synchro che controlli: annulla l'attacco, poi puoi applicare il resto dell'effetto di questa carta. Bandisci quel Mostro Synchro che controlli e 1 Tuner dal tuo Cimitero e, se lo fai, Evoca Specialmente dal tuo Extra Deck 1 Mostro Synchro con Livello pari alla somma dei Livelli che avevano i mostri banditi. (Questa Evocazione Speciale viene considerata come una Synchro Evocazione.)

Portuguese

Sincro do Rei

Quando um monstro do seu oponente declarar um ataque contra um Monstro Sincro que você controla: negue o ataque e, depois, você pode aplicar o resto dos efeitos deste card. Bana esse Monstro Sincro que você controla e 1 Regulador do seu Cemitério e, se isso acontecer, Invoque por Invocação-Especial do seu Deck Adicional 1 Monstro Sincro cujo Nível seja igual à soma dos Níveis que os monstros banidos tinham. (Esta Invocação-Especial é considerada uma Invocação-Sincro.)

Spanish

Sincronía del Rey

Cuando un monstruo de tu adversario declara un ataque a un Monstruo de Sincronía que controles: niega el ataque, y después puedes aplicar el resto del efecto de esta carta. Destierra ese Monstruo de Sincronía que controles y 1 Cantante de tu Cementerio y, si lo haces, Invoca de Modo Especial, desde tu Deck Extra, 1 Monstruo de Sincronía cuyo Nivel sea igual a los Niveles totales que tenían los monstruos desterrados. (Esta Invocación Especial se trata como una Invocación por Sincronía).

Japanese
王者の調和

①:相手モンスターが自分のSモンスターに攻撃宣言した時に発動できる。その攻撃を無効にする。その後、以下の効果を適用できる。●その自分のSモンスターと自分の墓地のチューナー1体を除外し、除外したモンスターのレベルの合計と同じレベルを持つSモンスター1体を、エクストラデッキからS召喚扱いで特殊召喚する。

Kingusu Shinkuro
Korean

킹스 싱크로

① : 상대 몬스터가 자신의 싱크로 몬스터에 공격 선언했을 때에 발동할 수 있다. 그 공격을 무효로 한다. 그 후, 이하의 효과를 적용할 수 있다. ●그 자신의 싱크로 몬스터와 자신 묘지의 튜너 1장을 제외하고, 제외한 몬스터의 레벨의 합계와 같은 레벨을 가지는 싱크로 몬스터 1장을, 엑스트라 덱에서 싱크로 소환으로 취급하여 특수 소환한다.
Sets in other languages
French
German
Italian
Portuguese
Spanish
Japanese
Korean
In other media