It is with heavy hearts that we mourn the passing of our game's creator, Kazuki Takahashi.
Metaphys Dimension
Japanese

メタファイズ・ディメンション

Rōmaji

Metafaizu Dimenshon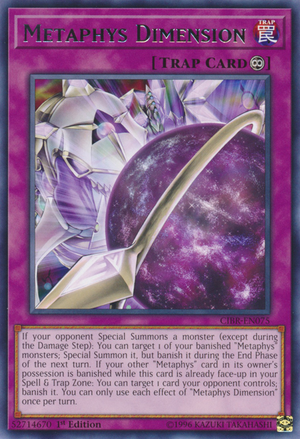 English sets
Worldwide
Search categories
Other languages
Language
Name
Lore
French

Dimension Métaphysique

Si votre adversaire Invoque Spécialement un monstre (sauf durant la Damage Step) : vous pouvez cibler 1 de vos monstres "Métaphysique" bannis ; Invoquez-le Spécialement, mais bannissez-le durant la End Phase du prochain tour. Si votre autre carte "Métaphysique" en possession de son propriétaire est bannie tant que cette carte est déjà face recto dans votre Zone Magie & Piège : vous pouvez cibler 1 carte contrôlée par votre adversaire ; bannissez-la. Vous ne pouvez utiliser chaque effet de "Dimension Métaphysique" qu'une fois par tour.

German

Metaphysische Dimension

Falls dein Gegner ein Monster als Spezialbeschwörung beschwört (außer während des Damage Steps): Du kannst 1 deiner verbannten "Metaphys"-Monster wählen; beschwöre es als Spezialbeschwörung, aber verbanne es während der End Phase des nächsten Spielzugs. Falls deine andere "Metaphys"-Karte, die ihrem Besitzer gehört, verbannt wird, solange sich diese Karte bereits offen in deiner Zauber- & Fallenzone befindet: Du kannst 1 Karte wählen, die dein Gegner kontrolliert; verbanne sie. Du kannst jeden Effekt von "Metaphysische Dimension" nur einmal pro Spielzug verwenden.

Italian

Dimensione Metafisica

Se il tuo avversario Evoca Specialmente un mostro (eccetto durante il Damage Step): puoi scegliere come bersaglio 1 dei tuoi mostri "Metafisico" banditi; Evocalo Specialmente, ma bandiscilo durante la End Phase del prossimo turno. Se una tua altra carta "Metafisico" sotto il comando del suo proprietario viene bandita mentre questa carta è già scoperta nella tua Zona Magie & Trappole: puoi scegliere come bersaglio 1 carta controllata dal tuo avversario; bandiscila. Puoi utilizzare ogni effetto di "Dimensione Metafisica" una sola volta per turno.

Portuguese

Dimensão Metafis

Se seu oponente Invocar um monstro por Invocação-Especial (exceto durante a Etapa de Dano): você pode escolher 1 dos seus monstros "Metafis" banidos; Invoque-o por Invocação-Especial, mas bana-o durante a Fase Final do próximo turno. Se outro card "Metafis" seu em posse do seu dono for banido enquanto este card já estiver com a face para cima na sua Zona de Magias & Armadilhas: você pode escolher 1 card que seu oponente controla; bana-o. Você só pode usar cada efeito de "Dimensão Metafis" uma vez por turno.

Spanish

Dimensión Metafis

Si tu adversario Invoca un monstruo de Modo Especial (excepto durante el Damage Step): puedes seleccionar 1 de tus monstruos "Metaf" desterrados; Invócalo de Modo Especial, pero destiérralo durante la End Phase del próximo turno. Si otra carta "Metaf" en posesión de su dueño es desterrada mientras esta carta ya está boca arriba en tu Zona de Magia y Trampas: puedes seleccionar 1 carta que controle tu adversario; destiérrala. Sólo puedes usar cada efecto de "Dimensión Metafis" una vez por turno.

Japanese

メタファイズ・ディメンション

このカード名の①②の効果はそれぞれ1ターンに1度しか使用できない。①:相手がモンスターの特殊召喚に成功した場合、除外されている自分の「メタファイズ」モンスター1体を対象としてこの効果を発動できる。そのモンスターを特殊召喚する。この効果で特殊召喚したモンスターは次のターンのエンドフェイズに除外される。②:このカードが既に魔法&罠ゾーンに存在する状態で、このカード以外の自分の「メタファイズ」カードが除外された場合、相手フィールドのカード1枚を対象として発動できる。そのカードを除外する。

Metafaizu Dimenshon
Korean

메타파이즈 디멘션

이 카드명의 ①②의 효과는 각각 1턴에 1번밖에 사용할 수 없다. ① : 상대가 몬스터의 특수 소환에 성공했을 경우, 제외되어 있는 자신의 "메타파이즈" 몬스터 1장을 대상으로 하고 이 효과를 발동 할 수 있다. 그 몬스터를 특수 소환한다. 이 효과로 특수 소환한 몬스터는 다음 턴의 엔드 페이즈에 제외된다. ② : 이 카드가 이미 마법 & 함정 존에 존재하는 상태에서, 이 카드 이외의 자신의 "메타파이즈" 카드가 제외되었을 경우, 상대 필드의 카드 1장을 대상으로 하고 발동할 수 있다. 그 카드를 제외한다.
Sets in other languages
French
German
Italian
Portuguese
Spanish
Japanese
Korean
In other media