Venom Swamp
Japanese

ヴェノム・スワンプ

Rōmaji

Venomu Suwanpu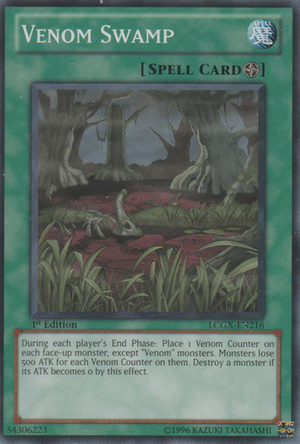 English sets
Worldwide
Search categories
Other languages
Language
Name
Lore
French

Marais Venin

Les monstres perdent 500 points d'ATK pour chaque Compteur Venin placé sur eux. Détruisez un monstre si son ATK devient 0 par cet effet. Durant la End Phase de chaque joueur, placez 1 Compteur Venin sur chaque monstre face recto, excepté les monstres "Venin".

German

Giftsumpf

Während der End Phase jedes Spielers: Lege 1 Gift-Zählmarke auf jedes offene Monster, außer "Gift"-Monstern. Monster verlieren 500 ATK für jede Gift-Zählmarke auf ihnen. Zerstöre ein Monster, falls seine ATK durch diesen Effekt zu 0 werden.

Italian

Palude Veleno

Durante ogni End Phase: metti 1 Segnalino Veleno su ogni mostro scoperto, eccetto i mostri "Veleno". I mostri perdono 500 ATK per ogni Segnalino Veleno su di essi. Distruggi i mostri se il loro ATK diventa 0 per questo effetto.

Portuguese

Pântano Peçonha

Spanish

Pantano Venenoso

Los Monstruos pierden 500 ATK por cada Contador de Veneno que tengan. Destruye al monstruo si su ATK se convierte en 0 por este efecto. Durante la End Phase de cada jugador, pon 1 Contador de Veneno en cada monstruo boca arriba, excepto monstruos "Venenoso/a".

Japanese

ヴェノム・スワンプ

お互いのターンのエンドフェイズ毎に、フィールド上に表側表示で存在する「ヴェノム」と名のついたモンスター以外の表側表示で存在する全てのモンスターにヴェノムカウンターを1つ置く。ヴェノムカウンター1つにつき、攻撃力は500ポイントダウンする。この効果で攻撃力が0になったモンスターは破壊される。

Venomu Suwanpu

During each player's End Phase: Place 1 Venom Counter on each face-up monster, except "Venom" monsters. Monsters lose 500 ATK for each Venom Counter on them. If a Venom Counter is placed on a monster(s), and its ATK becomes 0 as a result: Destroy that monster(s).

Korean

베놈 스왐프

서로의 턴의 엔드 페이즈마다, 필드상에 겉표시로 존재하는 「베놈」이라고 이름이 붙은 몬스터 이외의 겉표시로 존재하는 모든 몬스터에게 베놈카운터를 1개둔다. 베놈카운터 1개에 대해, 공격력은 500포인트 다운한다. 이 효과로 공격력이 0이 된 몬스터는 파괴된다.
Sets in other languages
French
German
Italian
Spanish
Japanese
Korean
In other media