It is with heavy hearts that we mourn the passing of our game's creator, Kazuki Takahashi.
Amazoness Willpower
Japanese

アマゾネスの意地

Base

アマゾネスの意地

Kana

アマゾネスのいじ

Rōmaji

Amazonesu no Iji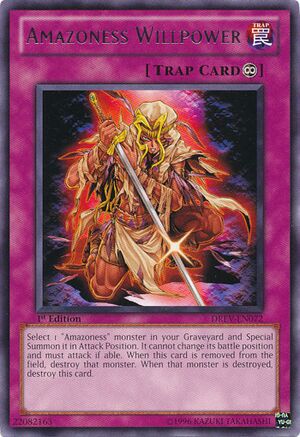 English sets
Worldwide
Search categories
Other languages
Language
Name
Lore
French

Volonté Amazonesse

Sélectionnez 1 monstre "Amazonesse" dans votre Cimetière et Invoquez-le Spécialement en Position d'Attaque. Il ne peut pas changer sa position de combat et doit attaquer lorsque c'est possible. Lorsque cette carte est retirée du Terrain, détruisez ce monstre. Lorsque ce monstre est détruit, détruisez cette carte.

German

Amazonische Willenskraft

Wähle 1 "Amazonisch"-Monster in deinem Friedhof und beschwöre es als Spezialbeschwörung in die Angriffsposition. Es kann seine Kampfposition nicht ändern und muss angreifen, falls möglich. Wenn diese Karte vom Spielfeld entfernt wird, zerstöre das Monster. Wenn das Monster zerstört wird, zerstöre diese Karte.

Italian

Forza di Volontà Amazoness

Scegli 1 mostro "Amazoness" nel tuo Cimitero ed Evocalo Specialmente in Posizione di Attacco. Esso non può cambiare Posizione e deve attaccare se possibile. Quando questa carta viene rimossa dal Terreno, distruggi quel mostro. Quando quel mostro viene distrutto, distruggi questa carta.

Spanish

Voluntad Amazoness

Selecciona 1 monstruo "Amazoness" en tu Cementerio e Invócalo de Modo Especial en Posición de Ataque. No puede cambiar su posición de batalla y debe atacar si puede. Cuando esta carta es retirada del Campo, destruye ese monstruo. Cuando el monstruo es destruido, destruye esta carta.

Japanese
アマゾネスの意地

自分の墓地から「アマゾネス」と名のついたモンスター1体を選択し、攻撃表示で特殊召喚する。この効果で特殊召喚したモンスターは表示形式を変更する事ができず、攻撃可能な場合には攻撃しなければならない。このカードがフィールド上に存在しなくなった時、そのモンスターを破壊する。そのモンスターが破壊された時このカードを破壊する。

Amazonesu no Iji
Korean

아마조네스의 의지

자신의 묘지에서 "아마조네스" 라는 이름이 붙은 몬스터 1장을 선택하고, 공격 표시로 특수 소환한다. 이 효과로 특수 소환된 몬스터는 표시 형식을 변경할 수 없으며, 공격이 가능한 경우에는 공격해야 한다. 이 카드가 필드 위에 존재하지 않게 되었을 때, 그 몬스터를 파괴한다. 그 몬스터가 파괴되었을 때, 이 카드를 파괴한다.
Sets in other languages
French
German
Italian
Spanish
Japanese
Korean
In other media