It is with heavy hearts that we mourn the passing of our game's creator, Kazuki Takahashi.
Converging Wishes
Japanese

集いし願い

Base

集いし願い

Kana

つどいしねがい

Rōmaji

Tsudoishi Negai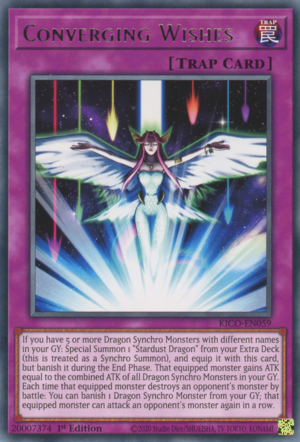 English sets
Worldwide
Search categories
Other languages
Language
Name
Lore
French

Vœux de Convergence

Si vous avez min. 5 Monstres Synchro Dragon de noms différents dans votre Cimetière : Invoquez Spécialement 1 "Dragon Poussière d'Étoile" depuis votre Extra Deck (ceci est traité comme une Invocation Synchro), et équipez-le avec cette carte, mais bannissez-le durant la End Phase. Le monstre équipé gagne une ATK égale à la somme des ATK de tous les Monstres Synchro Dragon dans votre Cimetière. Chaque fois que le monstre équipé détruit un monstre de l'adversaire au combat : vous pouvez bannir 1 Monstre Synchro Dragon depuis votre Cimetière ; le monstre équipé peut attaquer un monstre de l'adversaire une nouvelle fois à la suite.

German

Aufeinandertreffende Wünsche

Falls du 5 oder mehr Drache-Synchromonster mit unterschiedlichen Namen in deinem Friedhof hast: Beschwöre 1 "Sternenstaubdrache" als Spezialbeschwörung von deinem Extra Deck (dies wird als Synchrobeschwörung behandelt) und rüste ihn mit dieser Karte aus, aber verbanne ihn während der End Phase. Das ausgerüstete Monster erhält ATK in Höhe der Summe der ATK aller Drache-Synchromonster in deinem Friedhof. Jedes Mal, wenn das ausgerüstete Monster ein Monster eines Gegners durch Kampf zerstört: Du kannst 1 Drache-Synchromonster von deinem Friedhof verbannen; das ausgerüstete Monster kann sofort noch einmal ein Monster eines Gegners angreifen.

Italian

Desideri Convergenti

Se hai 5 o più Mostri Synchro Drago con nomi diversi nel tuo Cimitero: Evoca Specialmente 1 "Drago Polvere di Stelle" dal tuo Extra Deck (questa viene considerata come una Synchro Evocazione), ed equipaggialo con questa carta, ma bandiscilo durante la End Phase. Quel mostro equipaggiato guadagna ATK pari alla somma degli ATK di tutti i Mostri Synchro Drago nel tuo Cimitero. Ogni volta che quel mostro equipaggiato distrugge un mostro dell'avversario in battaglia: puoi bandire 1 Mostro Synchro Drago dal tuo Cimitero; quel mostro equipaggiato può attaccare di nuovo un mostro dell'avversario di seguito.

Portuguese

Desejos Convergentes

Se você tiver 5 ou mais Monstros Sincro Dragão com nomes diferentes no seu Cemitério: Invoque por Invocação-Especial 1 "Dragão da Poeira Estelar" do seu Deck Adicional (isso é considerado uma Invocação-Sincro) e equipe-o com este card, mas bana-o durante a Fase Final. Esse monstro equipado ganha ATK igual ao ATK combinado de todos os Monstros Sincro Dragão no seu Cemitério. Sempre que o monstro equipado destruir um monstro do oponente em batalha: você pode banir 1 Monstro Sincro Dragão do seu Cemitério; o monstro equipado pode atacar um monstro do oponente novamente em seguida.

Spanish

Deseos Convergentes

Si tienes 5 o más Monstruos de Sincronía Dragón con nombres diferentes en tu Cementerio: Invoca de Modo Especial, desde tu Deck Extra, 1 "Dragón de Polvo de Estrellas" (esto se trata como una Invocación por Sincronía), y equípalo con esta carta, pero destiérralo durante la End Phase. Ese monstruo equipado gana ATK igual al ATK combinado de todos los Monstruos de Sincronía Dragón en tu Cementerio. Cada vez que ese monstruo equipado destruye un monstruo del adversario en batalla: puedes desterrar 1 Monstruo de Sincronía Dragón en tu Cementerio; ese monstruo equipado puede atacar a un monstruo del adversario inmediatamente después.

Japanese
集いし願い

①:自分の墓地にドラゴン族Sモンスターが5種類以上存在する場合に発動できる。エクストラデッキから「スターダスト・ドラゴン」1体をS召喚扱いで特殊召喚し、このカードを装備する。この効果で特殊召喚したモンスターはエンドフェイズに除外される。②:装備モンスターの攻撃力は、自分の墓地のドラゴン族Sモンスターの攻撃力の合計分アップする。③:装備モンスターが戦闘で相手モンスターを破壊する度に、自分の墓地のドラゴン族Sモンスター1体を除外して発動できる。装備モンスターは相手モンスターに続けて攻撃できる。

Tsudoishi Negai
Korean

하나된 소망

① : 자신 묘지에 드래곤족 싱크로 몬스터가 5종류 이상 존재할 경우에 발동할 수 있다. 엑스트라 덱에서 "스타더스트 드래곤" 1장을 싱크로 소환으로 취급하여 특수 소환하고, 이 카드를 장착한다. 이 효과로 특수 소환한 몬스터는 엔드 페이즈에 제외된다. ② : 장착 몬스터의 공격력은, 자신 묘지의 드래곤족 싱크로 몬스터의 공격력의 합계만큼 올린다. ③ : 장착 몬스터가 전투로 상대 몬스터를 파괴할 때마다, 자신 묘지의 드래곤족 싱크로 몬스터 1장을 제외하고 발동할 수 있다. 장착 몬스터는 상대 몬스터에 이어서 공격할 수 있다.
Sets in other languages
French
German
Italian
Portuguese
Spanish
Japanese
Korean
In other media