It is with heavy hearts that we mourn the passing of our game's creator, Kazuki Takahashi.
Cross-Dimensional Duel
Japanese

競闘-クロス・ディメンション

Base

競闘-クロス・ディメンション

Kana

きょうとう-クロス・ディメンション

Rōmaji

Kyōtō - Kurosu Dimenshon

Translated

Competition - Cross Dimension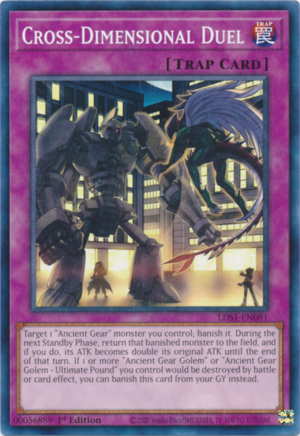 English sets
Worldwide
Search categories
Other languages
Language
Name
Lore
French

Duel Transdimensionnel

Ciblez 1 monstre "Rouages Ancients" que vous contrôlez ; bannissez-le. Durant la prochaine Standby Phase, renvoyez le monstre banni sur le Terrain, et si vous le faites, son ATK devient le double de son ATK d'origine jusqu'à la fin de ce tour. Si min. 1 "Golem Rouages Ancients" ou "Golem Rouages Ancients - Frappe Ultime" que vous contrôlez va être détruit au combat ou par un effet de carte, vous pouvez bannir cette carte depuis votre Cimetière à la place.

German

Duell quer durch die Dimensionen

Wähle 1 "Antike/r/s Antrieb"-Monster, das du kontrollierst; verbanne es. Während der nächsten Standby Phase, lege das verbannte Monster aufs Spielfeld zurück und falls du dies tust, werden seine ATK bis zum Ende dieses Spielzugs zum Doppelten seiner Grund-ATK. Falls 1 oder mehr "Antiker Antriebsgolem" oder "Antiker Antriebsgolem - Ultimatives Pfund", die du kontrollierst, durch Kampf oder einen Karteneffekt zerstört würden, kannst du stattdessen diese Karte von deinem Friedhof verbannen.

Italian

Duello Inter-Dimensionale

Scegli come bersaglio 1 mostro "Ingranaggio Antico" che controlli; bandiscilo. Durante la prossima Standby Phase, fai ritornare sul Terreno quel mostro bandito e, se lo fai, il suo ATK diventa il doppio del suo ATK originale fino alla fine di quel turno. Se 1 o più "Golem-Ingranaggio Antico" o "Golem-Ingranaggio Antico - Picchiatore Finale" che controlli stanno per essere distrutti in battaglia o dall'effetto di una carta, puoi invece bandire questa carta dal tuo Cimitero.

Portuguese

Duelo Entre Dimensões

Escolha 1 monstro "Mecanismo Antigo" que você controla; bana-o. Durante a próxima Fase de Apoio, devolva esse monstro banido para o campo e, se isso acontecer, até o final desse turno, o ATK dele se torna o dobro do seu ATK original. Se 1 ou mais "Golem do Mecanismo Antigo" ou "Golem do Mecanismo Antigo - Murro Definitivo" que você controla seriam destruídos em batalha ou por um efeito de card, em vez disso, você pode banir este card do seu Cemitério.

Spanish

Duelo Interdimensional

Selecciona 1 monstruo "Mecanismo Antiguo" que controles; destiérralo. Durante la próxima Standby Phase, devuelve al Campo ese monstruo desterrado y, si lo haces, hasta el final de ese turno su ATK se convierte en el doble de su ATK original. Si 1 o más "Golem de Mecanismo Antiguo" o "Golem de Mecanismo Antiguo - Golpe Definitivo" que controlas fueran a ser destruidos en batalla o por efecto de una carta, puedes desterrar esta carta en tu Cementerio en su lugar.

Japanese
競闘-クロス・ディメンション

①:自分フィールドの「アンティーク・ギア」モンスター1体を対象として発動できる。そのモンスターを除外する。この効果で除外したモンスターは次のスタンバイフェイズにフィールドに戻り、その攻撃力はそのターンの終了時まで元々の攻撃力の倍になる。②:自分フィールドの、「古代の機械巨人」または「古代の機械巨人-アルティメット・パウンド」が戦闘・効果で破壊される場合、代わりに墓地のこのカードを除外できる。

Kyōtō - Kurosu Dimenshon
Competition - Cross Dimension
Korean

경투-크로스 디멘션

① : 자신 필드의 "앤틱 기어" 몬스터 1장을 대상으로 하고 발동할 수 있다. 그 몬스터를 제외한다. 이 효과로 제외한 몬스터는 다음 스탠바이 페이즈에 필드로 되돌리고, 그 공격력은 그 턴의 종료시까지 원래의 공격력이 배가 된다. ② : 자신 필드의, "앤틱 기어 골렘" 또는 "앤틱 기어 골렘-얼티미트 파운드"가 전투 / 효과로 파괴될 경우, 대신에 묘지의 이 카드를 제외할 수 있다.
Sets in other languages
French
German
Italian
Portuguese
Spanish
Japanese
Korean