It is with heavy hearts that we mourn the passing of our game's creator, Kazuki Takahashi.
Toon Ancient Gear Golem
Japanese

トゥーン・アンティーク・ギアゴーレム

Rōmaji

Tūn Antīku Giagōremu

Translated

Toon Antique Gear Golem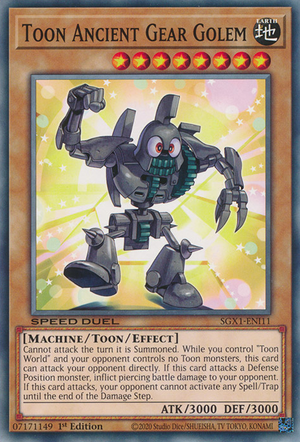 Card type
Monster
Attribute
EARTH
Types
Machine / Toon / Effect
Level
8
ATK / DEF
3000 / 3000
Password
07171149
Effect types

Status
English sets
Worldwide
Search categories
Other languages
Language
Name
Lore
French

Golem Rouages Ancients Toon

Ne peut pas attaquer le tour où elle est Invoquée. Tant que vous contrôlez "Monde des Toons" et que votre adversaire ne contrôle aucun monstre Toon, cette carte peut attaquer directement votre adversaire. Si cette carte attaque un monstre en Position de Défense, infligez des dommages de combat perçants à votre adversaire. Si cette carte attaque, votre adversaire ne peut pas activer de Magies/Pièges jusqu'à la fin de la Damage Step.

German

Toon-Antiker Antriebsgolem

Diese Karte kann nicht in dem Spielzug angreifen, in dem sie beschworen wurde. Solange du "Toon-Welt" kontrollierst und dein Gegner keine Toon-Monster kontrolliert, kann diese Karte deinen Gegner direkt angreifen. Falls diese Karte ein Monster in Verteidigungsposition angreift, füge deinem Gegner durchschlagenden Kampfschaden zu. Falls diese Karte angreift, kann dein Gegner bis zum Ende des Damage Steps keine Zauber/Fallen aktivieren.

Italian

Golem-Ingranaggio Antico Toon

Non può attaccare nel turno in cui viene Evocato. Mentre tu controlli "Mondo Toon" e il tuo avversario non controlla nessun mostro Toon, questa carta può attaccare il tuo avversario direttamente. Se questa carta attacca un mostro in Posizione di Difesa, infliggi danno da combattimento perforante al tuo avversario. Se questa carta attacca, il tuo avversario non può attivare nessuna Magia/Trappola fino alla fine del Damage Step.

Portuguese

Golem do Mecanismo Antigo Toon

Não pode atacar no turno em que for Invocado. Enquanto você controlar "Mundo Toon" e seu oponente não controlar nenhum monstro Toon, este card pode atacar diretamente seu oponente. Se este card atacar um monstro em Posição de Defesa, cause dano de batalha perfurante ao seu oponente. Se este card atacar, seu oponente não pode ativar quaisquer Magias/Armadilhas até o final da Etapa de Dano.

Spanish

Golem de Mecanismo Antiguo Toon

No puede atacar en el turno en el que es Invocado. Mientras controles "Mundo Toon" y tu adversario no controle monstruos Toon, esta carta puede atacar a tu adversario directamente. Si esta carta ataca a un monstruo en Posición de Defensa, inflige daño de batalla de penetración a tu adversario. Si esta carta ataca, hasta el final del Damage Step tu adversario no puede activar ninguna Mágica/Trampa.

Japanese

トゥーン・アンティーク・ギアゴーレム

①:このカードは召喚・反転召喚・特殊召喚したターンには攻撃できない。②:自分フィールドに「トゥーン・ワールド」が存在し、相手フィールドにトゥーンモンスターが存在しない場合、このカードは直接攻撃できる。③:このカードが攻撃する場合、相手はダメージステップ終了時まで魔法・罠カードを発動できない。④:このカードが守備表示モンスターを攻撃した場合、その守備力を攻撃力が超えた分だけ戦闘ダメージを与える。

Tūn Antīku Giagōremu
Toon Antique Gear Golem
Korean

툰 앤틱 기어 골렘

① : 이 카드는 일반 소환 / 반전 소환 / 특수 소환한 턴에는 공격할 수 없다. ② : 자신 필드에 "툰 월드"가 존재하고, 상대 필드에 툰 몬스터가 존재하지 않을 경우, 이 카드는 직접 공격할 수 있다. ③ : 이 카드가 공격할 경우, 상대는 데미지 스텝 종료시까지 마법 / 함정 카드를 발동할 수 없다. ③ : 이 카드가 수비 표시 몬스터를 공격했을 경우, 그 수비력을 공격력이 넘은 만큼만 전투 데미지를 준다.
Sets in other languages
French
German
Italian
Portuguese
Spanish
Japanese
Korean
In other media