It is with heavy hearts that we mourn the passing of our game's creator, Kazuki Takahashi.
Toon Defense
Japanese

トゥーン・ディフェンス

Rōmaji

Tūn Difensu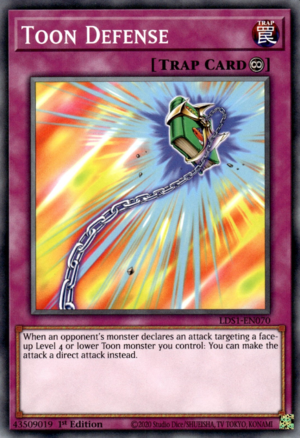 English sets
Worldwide
Search categories
Other languages
Language
Name
Lore
French

Défense Toon

Lorsqu'un monstre de l'adversaire déclare une attaque ciblant un monstre Toon de max. Niveau 4 face recto que vous contrôlez : vous pouvez changer l'attaque en attaque directe à la place.

German

Toon-Abwehr

Wenn ein Monster eines Gegners einen Angriff deklariert, der ein offenes Toon-Monster der Stufe 4 oder niedriger, das du kontrollierst, als Ziel wählt: Du kannst den Angriff stattdessen zu einem direkten Angriff machen.

Italian

Difesa Toon

Quando un mostro dell'avversario dichiara un attacco scegliendo come bersaglio un mostro Toon scoperto di Livello 4 o inferiore che controlli: puoi invece rendere l'attacco un attacco diretto.

Portuguese

Defesa Toon

Quando um monstro do oponente declarar um ataque que escolha como alvo um monstro Toon de Nível 4 ou menos com a face para cima que você controla: em vez disso, você pode fazer com que o ataque seja um ataque direto.

Spanish

Defensa Toon

Cuando un monstruo del adversario declara un ataque que selecciona un monstruo Toon boca arriba de Nivel 4 o menor que controlas: puedes hacer que el ataque sea un ataque directo en su lugar.

Japanese

トゥーン・ディフェンス

①:相手モンスターが自分のレベル4以下のトゥーンモンスターに攻撃宣言した時にこの効果を発動できる。その相手モンスターの攻撃を自分への直接攻撃にする。

Tūn Difensu
Korean

툰 디펜스

자신 필드 위에 앞면 표시로 존재하는 레벨 4 이하의 툰 몬스터가 공격 선언을 받았을 때, 이 공격을 플레이어에게로의 직접 공격으로 취급할 수 있다.
Sets in other languages
French
German
Italian
Portuguese
Spanish
Japanese
Korean
In other media
Video games
Lores and sets