It is with heavy hearts that we mourn the passing of our game's creator, Kazuki Takahashi.
Toon Cannon Soldier
Japanese

トゥーン・キャノン・ソルジャー

Rōmaji

Tūn Kyanon Sorujā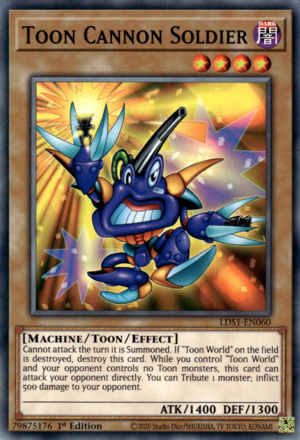 Card type
Monster
Attribute
DARK
Types
Machine / Toon / Effect
Level
4
ATK / DEF
1400 / 1300
Password
79875176
Effect types

Status
English sets
Worldwide
Search categories
Other languages
Language
Name
Lore
French

Soldat Canon Toon

Ne peut pas attaquer le tour où elle est Invoquée. Si "Monde des Toons" sur le Terrain est détruit, détruisez cette carte. Tant que vous contrôlez "Monde des Toons" et que votre adversaire ne contrôle aucun monstre Toon, cette carte peut attaquer directement votre adversaire. Vous pouvez Sacrifier 1 monstre ; infligez 500 points de dommages à votre adversaire.

German

Toon-Kanonensoldat

Diese Karte kann nicht in dem Spielzug angreifen, in dem sie beschworen wurde. Falls "Toon-Welt" auf dem Spielfeld zerstört wird, zerstöre diese Karte. Solange du "Toon-Welt" kontrollierst und dein Gegner keine Toon-Monster kontrolliert, kann diese Karte deinen Gegner direkt angreifen. Du kannst 1 Monster als Tribut anbieten; füge deinem Gegner 500 Schaden zu.

Italian

Soldato Cannone Toon

Non può attaccare nel turno in cui viene Evocato. Se "Mondo Toon" sul Terreno viene distrutto, distruggi questa carta. Mentre tu controlli "Mondo Toon" e il tuo avversario non controlla nessun mostro Toon, questa carta può attaccare il tuo avversario direttamente. Puoi offrire come Tributo 1 mostro; infliggi 500 danni al tuo avversario.

Portuguese

Soldado Canhão Toon

Não pode atacar no turno em que for Invocado. Se "Mundo Toon", no campo, for destruído, destrua este card. Enquanto você controlar "Mundo Toon" e seu oponente não controlar nenhum monstro Toon, este card pode atacar diretamente seu oponente. Você pode oferecer 1 monstro como Tributo; cause 500 de dano ao seu oponente.

Spanish

Soldado Cañón Toon

No puede atacar en el turno en el que es Invocado. Si "Mundo Toon" en el Campo es destruido, destruye esta carta. Mientras controles "Mundo Toon" y tu adversario no controle monstruos Toon, esta carta puede atacar a tu adversario directamente. Puedes Sacrificar 1 monstruo; inflige 500 puntos de daño a tu adversario.

Japanese

トゥーン・キャノン・ソルジャー

このカードは召喚・反転召喚・特殊召喚したターンには攻撃する事ができない。自分フィールド上に「トゥーン・ワールド」が存在し、相手フィールド上にトゥーンモンスターが存在しない場合、このカードは相手プレイヤーに直接攻撃する事ができる。フィールド上の「トゥーン・ワールド」が破壊された時、このカードを破壊する。また、自分フィールド上に存在するモンスター1体をリリースする事で、相手ライフに500ポイントダメージを与える。

Tūn Kyanon Sorujā
Korean

툰 캐논 솔저

일반 소환 / 반전 소환 / 특수 소환한 턴에는 공격할 수 없다. 필드 위의 "툰 월드"가 파괴되었을 때 이 카드도 파괴한다. 자신의 필드 위에 "툰 월드"가 있고 상대가 툰을 컨트롤하고 있지 않을 경우, 이 카드는 상대 플레이어를 직접 공격할 수 있다. 자신의 필드 위에 존재하는 몬스터 1장을 제물로 바칠 때마다, 상대 라이프에 500 포인트 데미지를 준다.
Sets in other languages
French
German
Italian
Portuguese
Spanish
Japanese
Korean
In other media
Video games
Lores and sets