It is with heavy hearts that we mourn the passing of our game's creator, Kazuki Takahashi.
Mecha Phantom Beast Concoruda
Mecha Phantom Beast Concoruda
Japanese

幻獣機コンコルーダ

Base

幻獣機コンコルーダ

Kana

げんじゅうきコンコルーダ

Rōmaji

Genjūki Konkorūda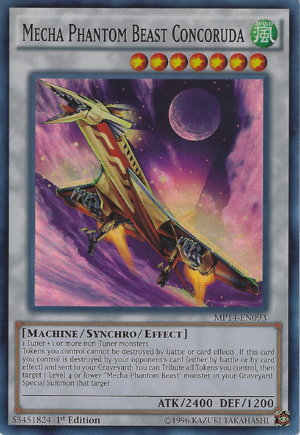 Card type
Monster
Attribute
WIND
Types
Machine / Synchro / Effect
Level
7
ATK / DEF
2400 / 1200
Password
53451824
Effect types

Status
English sets
Worldwide
Search categories
Other languages
Language
Name
Lore
French

Bête Fantôme Méca Concoruda

1 Syntoniseur + 1 monstre non-Syntoniseur ou plus
Les Jetons que vous contrôlez ne peuvent être détruits ni au combat ni par des effets de carte. Si cette carte que vous contrôlez est détruite par une carte de votre adversaire (au combat ou par un effet de carte) et envoyée à votre Cimetière : vous pouvez Sacrifier tous les Jetons que vous contrôlez, puis ciblez 1 monstre "Bête Fantôme Méca" de max. Niveau 4 dans votre Cimetière ; Invoquez Spécialement la cible.

German

Mecha-Phantomungeheuer Concoruda

1 Empfänger- + 1 oder mehr Nicht-Empfänger-Monster
Spielmarken, die du kontrollierst, können weder durch Kampf noch durch Karteneffekte zerstört werden. Falls diese Karte, die du kontrollierst, durch eine Karte deines Gegners (entweder durch Kampf oder durch einen Karteneffekt) zerstört und auf deinen Friedhof gelegt wird: Du kannst alle Spielmarken, die du kontrollierst, als Tribut anbieten und dann 1 "Mecha-Phantomungeheuer"-Monster der Stufe 4 oder niedriger in deinem Friedhof wählen; beschwöre das gewählte Ziel als Spezialbeschwörung.

Italian

Bestia Fantasma Meccanica Concoruda

1 Tuner + 1 o più mostri non-Tuner
I Segna-Mostro che controlli non possono essere distrutti in battaglia o dagli effetti delle carte. Se questa carta che controlli viene distrutta da una carta del tuo avversario (in battaglia o dall'effetto di una carta) e mandata al tuo Cimitero: puoi offrire come Tributo tutti i Segna-Mostro che controlli, poi scegliere come bersaglio 1 mostro "Bestia Fantasma Meccanica" di Livello 4 o inferiore nel tuo Cimitero; Evoca Specialmente quel bersaglio.

Portuguese

Besta Fantasma Mecha Concoruda

1 Regulador + 1 ou mais monstros não-Reguladores
As Fichas que você controla não podem ser destruídas em batalha ou por efeitos de card. Se este card que você controla for destruído por um card do seu oponente (seja em batalha ou por um efeito de card) e enviado para o seu Cemitério: você pode oferecer como Tributo todas as Fichas que você controla e, depois, escolher 1 monstro "Besta Fantasma Mecha" de Nível 4 ou menos no seu Cemitério; Invoque o alvo por Invocação-Especial.

Spanish

Mecha Bestia Fantasma Concoruda

1 Cantante + 1 o más monstruos que no sean Cantantes
Las Fichas que controles no pueden ser destruidas en batalla o por efectos de cartas. Si esta carta que controlas es destruida por una carta de tu adversario (ya sea en batalla o por el efecto de una carta) y mandada a tu Cementerio: puedes Sacrificar todas las Fichas que controles, y después seleccionar 1 monstruo "Mecha Bestia Fantasma" de Nivel 4 o menor en tu Cementerio; Invoca ese objetivo de Modo Especial.

Japanese
幻獣機コンコルーダ

チューナー+チューナー以外のモンスター1体以上
このカードがフィールド上に表側表示で存在する限り、自分フィールド上のトークンは戦闘及び効果では破壊されない。フィールド上のこのカードが相手によって破壊され墓地へ送られた場合、自分フィールド上のトークンを全てリリースして発動できる。自分の墓地からレベル4以下の「幻獣機」と名のついたモンスター1体を選択して特殊召喚する。

Genjūki Konkorūda
Korean

환상수기 콩코르다

튜너 + 튜너 이외의 몬스터 1장 이상
이 카드가 필드 위에 앞면 표시로 존재하는 한, 자신 필드 위의 토큰은 전투 및 효과로는 파괴되지 않는다. 필드 위의 이 카드가 상대에 의해서 파괴되어 묘지로 보내졌을 경우, 자신 필드 위의 토큰을 전부 릴리스하고 발동할 수 있다. 자신의 묘지에서 레벨 4 이하의 "환상수기" 라는 이름이 붙은 몬스터 1장을 선택하고 특수 소환한다.
Sets in other languages
French
German
Italian
Portuguese
Spanish
Japanese
Korean
In other media