It is with heavy hearts that we mourn the passing of our game's creator, Kazuki Takahashi.
D/D/D Contract Change
Japanese

DDDの契約変更

Base

DDDの契約変更

Kana

ディーディーディーのけいやくへんこう

Rōmaji

Dīdīdī no Keiyaku Henkō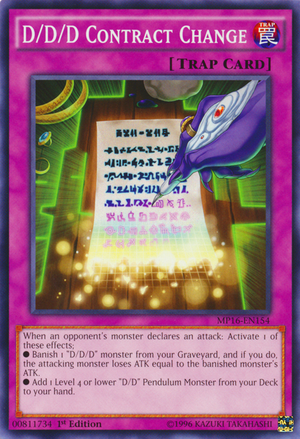 English sets
Worldwide
Search categories
Other languages
Language
Name
Lore
French

D/D/D Changement de Contrat

Lorsqu'un monstre de votre adversaire déclare une attaque : activez 1 de ces effets ;
●Bannissez 1 monstre "D/D/D" depuis votre Cimetière, et si vous le faites, le monstre attaquant perd une ATK égale à l'ATK du monstre banni.
●Ajoutez 1 Monstre Pendule "D/D" de max. Niveau 4 depuis votre Deck à votre main.

German

D/D/D-Vertragsänderung

Wenn ein Monster deines Gegners einen Angriff deklariert: Aktiviere 1 dieser Effekte;
●Verbanne 1 "D/D/D"-Monster von deinem Friedhof und falls du dies tust, verliert das angreifende Monster ATK in Höhe der ATK des verbannten Monsters.
●Füge deiner Hand 1 "D/D"-Pendelmonster der Stufe 4 oder niedriger von deinem Deck hinzu.

Italian

D/D/D Cambio di Contratto

Quando un mostro dell'avversario dichiara un attacco: attiva 1 di questi effetti;
●Bandisci 1 mostro "D/D/D" dal tuo Cimitero e, se lo fai, il mostro attaccante perde ATK pari all'ATK del mostro bandito.
●Aggiungi 1 Mostro Pendulum "D/D" di Livello 4 o inferiore dal tuo Deck alla tua mano.

Portuguese

D/D/D Alteração do Pacto

Quando um monstro do oponente declarar um ataque: ative 1 desses efeitos;
● Bana 1 monstro "D/D/D" do seu Cemitério e, se isso acontecer, o monstro atacante perde ATK igual ao ATK do monstro banido.
● Adicione 1 Monstro Pêndulo "D/D" de Nível 4 ou menos do seu Deck à sua mão.

Spanish

D/D/D Cambio de Contrato

Cuando un monstruo de tu adversario declara un ataque: activa 1 de estos efectos;
●Destierra 1 monstruo "D/D/D" en tu Cementerio y, si lo haces, el monstruo atacante pierde ATK igual al ATK del monstruo desterrado.
●Añade a tu mano 1 Monstruo de Péndulo "D/D" de Nivel 4 o menor en tu Deck.

Japanese
DDDの契約変更

①:相手モンスターの攻撃宣言時に以下の効果から1つを選択して発動できる。
●自分の墓地の「DDD」モンスター1体を選んで除外する。攻撃モンスターの攻撃力は、この効果で除外したモンスターの攻撃力分ダウンする。
●デッキからレベル4以下の「DD」Pモンスター1体を手札に加える。

Dīdīdī no Keiyaku Henkō
Korean
DDD의 계약변경

① : 상대 몬스터의 공격 선언시에 이하의 효과에서 1개를 선택하고 발동할 수 있다.
● 자신의 묘지의 "DDD" 몬스터 1장을 고르고 제외한다. 공격 몬스터의 공격력은, 이 효과로 제외한 몬스터의 공격력 만큼 내린다.
● 덱에서 레벨 4 이하의 "DD" 펜듈럼 몬스터 1장을 패에 넣는다.
Sets in other languages
French
German
Italian
Portuguese
Spanish
Japanese
Korean
In other media