It is with heavy hearts that we mourn the passing of our game's creator, Kazuki Takahashi.
D/D/D Dragon King Pendragon
D/D/D Dragon King Pendragon
Japanese

DDD覇龍王ペンドラゴン

Base

DDD覇龍王ペンドラゴン

Kana

ディーディーディーはりゅうおうペンドラゴン

Rōmaji

Dīdīdī Haryūō Pendoragon

Translated

D/D/D Supreme Dragon King Pendragon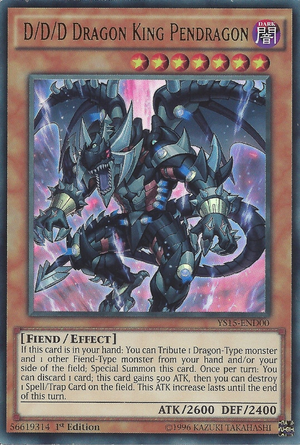 Card type
Monster
Attribute
DARK
Types
Fiend / Effect
Level
7
ATK / DEF
2600 / 2400
Password
56619314
Effect types

Status
English sets
North America
Europe
Search categories
Other languages
Language
Name
Lore
French

D/D/D Pendragon, le Roi Dragon

Si cette carte est dans votre main : vous pouvez Sacrifier1 monstre de Type Dragon et 1 autre monstre de Type Démon depuis votre main et/ou votre Terrain ; Invoquez Spécialement cette carte. Une fois par tour : vous pouvez défausser 1 carte ; cette carte gagne 500 ATK, puis vous pouvez détruire 1 Carte Magie/Piège sur le Terrain. Cette augmentation d'ATK dure jusqu'à la fin de ce tour.

German

D/D/D-Drachenkönig Pendragon

Falls sich diese Karte in deiner Hand befindet: Du kannst 1 Monster vom Typ Drache und 1 anderes Monster vom Typ Unterweltler von deiner Hand und/oder deiner Spielfeldseite als Tribut anbieten; beschwöre diese Karte als Spezialbeschwörung. Einmal pro Spielzug: Du kannst 1 Karte abwerfen; diese Karte erhält 500 ATK, dann kannst du 1 Zauber-/Fallenkarte auf dem Spielfeld zerstören. Diese ATK-Steigerung dauert bis zum Ende dieses Spielzugs an.

Italian

D/D/D Pendragon Re del Drago

Se questa carta è nella tua mano: puoi offrire come Tributo 1 mostro di Tipo Drago e 1 altro mostro di Tipo Demone dalla tua mano e/o dal tuo Terreno; Evoca Specialmente questa carta. Una volta per turno: puoi scartare 1 carta; questa carta guadagna 500 ATK, poi puoi distruggere 1 Carta Magia/Trappola sul Terreno. Questo aumento di ATK dura fino alla fine di questo turno.

Portuguese

D/D/D Pendragon, o Rei dos Dragões

Se este card estiver na sua mão: você pode oferecer como Tributo 1 monstro do Tipo Dragão e 1 outro monstro do Tipo Demônio da sua mão e/ou do seu lado do campo; Invoque este card por Invocação-Especial. Uma vez por turno: você pode descartar 1 card; este card ganha 500 de ATK e, depois, você pode destruir 1 Card de Magia/Armadilha no campo. Esse aumento de ATK dura até o final deste turno.

Spanish

D/D/D Pendragón, Rey de los Dragones

Si esta carta está en tu mano: puedes Sacrificar 1 monstruo de Tipo Dragón y otro monstruo de Tipo Demonio en tu mano y/o en tu lado del Campo; Invoca esta carta de Modo Especial. Una vez por turno: puedes descartar 1 carta; esta carta gana 500 ATK, y después puedes destruir 1 Carta Mágica/de Trampa en el Campo. Este aumento de ATK dura hasta el final de este turno.

Japanese
DDD覇龍王ペンドラゴン

①:このカードが手札にある場合、自分メインフェイズに自分の手札・フィールドからドラゴン族モンスターと悪魔族モンスターを1体ずつリリースして発動できる。このカードを手札から特殊召喚する。②:1ターンに1度、自分メインフェイズに手札を1枚捨てて発動できる。このカードの攻撃力はターン終了時まで500アップする。その後、フィールドの魔法・罠カード1枚を選んで破壊できる。

Dīdīdī Haryūō Pendoragon
D/D/D Supreme Dragon King Pendragon
Korean
DDD 패룡왕 펜드래곤

①: 이 카드가 패에 있을 경우, 자신 메인 페이즈에 자신의 패 / 필드에서 드래곤족 몬스터와 악마족 몬스터를 1장씩 릴리스하고 발동할 수 있다. 이 카드를 패에서 특수 소환한다. ②: 1턴에 1번, 자신 메인 페이즈에 패를 1장 버리고 발동할 수 있다. 이 카드의 공격력은 턴 종료시까지 500 올린다. 그 후, 필드의 마법 / 함정 카드 1장을 고르고 파괴할 수 있다.
Sets in other languages
French
German
Italian
Portuguese
Spanish
Japanese
Korean
In other media