It is with heavy hearts that we mourn the passing of our game's creator, Kazuki Takahashi.
Dark Contract with the Eternal Darkness
Dark Contract with the Eternal Darkness
Japanese

常闇の契約書

Base

常闇の契約書

Kana

とこやみのけいやくしょ

Rōmaji

Tokoyami no Keiyakusho

Translated

Contract with the Eternal Darkness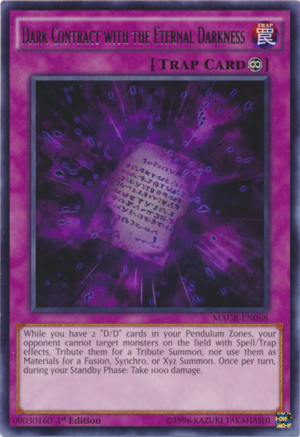 English sets
Worldwide
Search categories
Other languages
Language
Name
Lore
French

Contrat des Ténèbres avec l'Obscurité Éternelle

Tant que vous avez 2 cartes "D/D" dans vos Zones Pendule, votre adversaire ne peut ni cibler de monstres sur le Terrain avec des effets de Magie/Piège, ni les Sacrifier pour une Invocation Sacrifice, ni les utiliser comme Matériels pour une Invocation Fusion, Synchro ou Xyz. Une fois par tour, durant votre Standby Phase : recevez 1000 points de dommages.

German

Dunkler Vertrag mit der ewigen Finsternis

Solange du 2 "D/D"-Karten in deinen Pendelzonen hast, kann dein Gegner Monster auf dem Spielfeld weder als Ziel für Zauber-/Falleneffekte wählen, als Tribut für eine Tributbeschwörung anbieten noch als Material für eine Fusions-, Synchro- oder Xyz-Beschwörung verwenden. Einmal pro Spielzug, während deiner Standby Phase: Du erhältst 1000 Schaden.

Italian

Contratto Oscuro con l'Oscurità Eterna

Mentre hai 2 carte "D/D" nelle tue Zone Pendulum, il tuo avversario non può scegliere come bersaglio mostri sul Terreno con gli effetti di Magie/Trappole, offrirli come Tributo per un'Evocazione tramite Tributo, né utilizzarli come Materiali per un'Evocazione tramite Fusione, Synchro o Xyz. Una volta per turno, durante la tua Standby Phase: subisci 1000 danni.

Portuguese

Pacto Obscuro com a Escuridão Eterna

Enquanto você tiver 2 cards "D/D" nas suas Zonas de Pêndulo, seu oponente não pode escolher monstros no campo como alvo de efeitos de Magia/Armadilha, oferecê-los como Tributo para uma Invocação-Tributo, nem usá-los como Matérias para uma Invocação-Fusão, Sincro ou Xyz. Uma vez por turno, durante sua Fase de Apoio: sofra 1000 de dano.

Spanish

Contrato Oscuro con la Oscuridad Eterna

Mientras tengas 2 cartas "D/D" en tus Zonas del Péndulo, tu adversario no puede seleccionar monstruos en el Campo con efectos de Magia/Trampas, Sacrificarlos para una Invocación por Sacrificio o usarlos como Materiales para una Invocación por Fusión, Sincronía o Xyz. Una vez por turno, durante tu Standby Phase: tú recibes 1000 puntos de daño.

Japanese
常闇の契約書

①:自分のPゾーンに「DD」カードが2枚存在する場合、相手はフィールドのモンスターを魔法・罠カードの効果の対象にできず、アドバンス召喚のリリースにできず、融合・S・X召喚の素材にもできない。②:自分スタンバイフェイズに発動する。自分は1000ダメージを受ける。

Tokoyami no Keiyakusho
Contract with the Eternal Darkness
Korean

상암의 계약서

①: 자신의 펜듈럼 존에 "DD(디디)" 카드가 2장 존재할 경우, 상대는 필드의 몬스터를 마법 / 함정 카드 효과의 대상으로 할 수 없으며, 어드밴스 소환의 릴리스로 할 수 없고, 융합 / 싱크로 / 엑시즈 소환의 소재로도 할 수 없다. ②: 자신 스탠바이 페이즈에 발동한다. 자신은 1000 데미지를 받는다.
Sets in other languages
French
German
Italian
Portuguese
Spanish
Japanese
Korean
In other media