It is with heavy hearts that we mourn the passing of our game's creator, Kazuki Takahashi.
D/D/D Wave King Caesar
Japanese

DDD怒濤王シーザー

Base

DDD怒濤王シーザー

Kana

ディーディーディーどとうおうシーザー

Rōmaji

Dīdīdī Dotōō Shīzā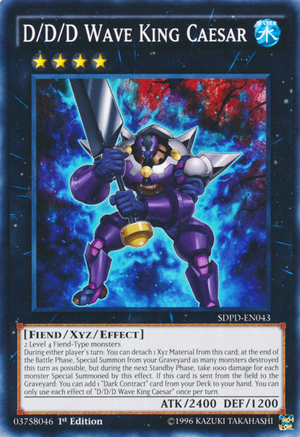 Card type
Monster
Attribute
WATER
Types
Fiend / Xyz / Effect
Rank
4
ATK / DEF
2400 / 1200
Password
03758046
Effect types

Status
English sets
Worldwide
Search categories
Other languages
Language
Name
Lore
French

D/D/D César, Roi des Vagues

2 monstres de Type Démon de Niveau 4
Durant le tour de chaque joueur : vous pouvez détacher 1 Matériel Xyz de cette carte ; à la fin de la Battle Phase, Invoquez Spécialement autant de monstres détruits ce tour que possible depuis votre Cimetière, mais durant la prochaine Standby Phase, recevez 1000 points de dommages pour chaque monstre Invoqué Spécialement par cet effet. Si cette carte est envoyée depuis le Terrain au Cimetière : vous pouvez ajouter 1 carte "Contrat des Ténèbres" depuis votre Deck à votre main. Vous ne pouvez utiliser chaque effet de "D/D/D César, Roi des Vagues" qu'une fois par tour.

German

D/D/D-Wellenkönig Cäsar

2 Monster vom Typ Unterweltler der Stufe 4
Während des Spielzugs eines beliebigen Spielers: Du kannst 1 Xyz-Material von dieser Karte abhängen; beschwöre am Ende der Battle Phase so viele Monster, die in diesem Spielzug zerstört wurden, wie möglich als Spezialbeschwörung von deinem Friedhof, aber du erhältst während der nächsten Standby Phase 1000 Schaden für jedes durch diesen Effekt als Spezialbeschwörung beschworene Monster. Falls diese Karte vom Spielfeld auf den Friedhof gelegt wird: Du kannst deiner Hand 1 "Dunkler Vertrag"-Karte von deinem Deck hinzufügen. Du kannst jeden Effekt von "D/D/D-Wellenkönig Cäsar" nur einmal pro Spielzug verwenden.

Italian

D/D/D Caesar Re delle Onde

2 mostri di Tipo Demone di Livello 4
Durante il turno di qualsiasi giocatore: puoi staccare 1 Materiale Xyz da questa carta; alla fine della Battle Phase, Evoca Specialmente dal tuo Cimitero tanti mostri distrutti in questo turno quanti possibile, ma durante la prossima Standby Phase, subisci 1000 danni per ogni mostro Evocato Specialmente da questo effetto. Se questa carta viene mandata dal Terreno al Cimitero: puoi aggiungere 1 carta "Contratto Oscuro" dal tuo Deck alla tua mano. Puoi utilizzare ogni effetto di "D/D/D Caesar Re delle Onde" una sola volta per turno.

Portuguese

D/D/D César, o Rei das Ondas

2 monstros do Tipo Demônio de Nível 4
Durante o turno de qualquer duelista: você pode desassociar 1 Matéria Xyz deste card; no final da Fase de Batalha, Invoque por Invocação-Especial do seu Cemitério tantos monstros destruídos neste turno quanto possível, mas durante a próxima Fase de Apoio, sofra 1000 de dano para cada monstro Invocado por Invocação-Especial por este efeito. Se este card for enviado do campo para o Cemitério: você pode adicionar 1 card "Pacto Obscuro" do seu Deck à sua mão. Você só pode usar cada efeito de "D/D/D César, o Rei das Ondas" uma vez por turno.

Spanish

D/D/D César, Rey de las Olas

2 monstruos de Tipo Demonio de Nivel 4
Durante el turno de cualquier jugador: puedes desacoplar 1 Material Xyz de esta carta; al final de la Battle Phase, Invoca de Modo Especial, desde tu Cementerio, tantos monstruos como sea posible que hayan sido destruidos este turno, pero durante la próxima Standby Phase, tú recibes 1000 puntos de daño por cada monstruo Invocado de Modo Especial por este efecto. Si esta carta es mandada del Campo al Cementerio: puedes añadir a tu mano 1 carta "Contrato Oscuro" en tu Deck. Sólo puedes usar cada efecto de "D/D/D César, Rey de las Olas" una vez por turno.

Japanese
DDD怒濤王シーザー

悪魔族レベル4モンスター×2
「DDD怒涛王シーザー」の①②の効果はそれぞれ1ターンに1度しか使用できない。①:このカードのX素材を1つ取り除いて発動できる。このターンに破壊されたモンスターをバトルフェイズ終了時に、自分の墓地から可能な限り特殊召喚する。次のスタンバイフェイズ時に自分はこの効果で特殊召喚したモンスターの数×1000ダメージを受ける。この効果は相手ターンでも発動できる。②:このカードがフィールドから墓地へ送られた場合に発動できる。デッキから「契約書」カード1枚を手札に加える。

Dīdīdī Dotōō Shīzā
Korean
DDD 노도왕 시져

악마족 레벨 4 몬스터 2
"DDD(디디디) 노도왕 시져" 의 ①②의 효과는 각각 1턴에 1번밖에 사용할 수 없다. ①: 이 카드의 엑시즈 소재를 1개 제거하고 발동할 수 있다. 이 턴에 파괴된 몬스터를 배틀페이즈 종료시에, 자신 묘지에서 가능한 만큼 특수 소환한다. 다음 스탠바이 페이즈에 자신은 이 효과로 특수 소환한 몬스터의 수 × 1000 데미지를 받는다. 이 효과는 상대 턴에도 발동할 수 있다. ②: 이 카드가 필드에서 묘지로 보내졌을 경우에 발동할 수 있다. 덱에서 "계약서" 카드 1장을 패에 넣는다.
Sets in other languages
French
German
Italian
Portuguese
Spanish
Japanese
Korean
In other media