It is with heavy hearts that we mourn the passing of our game's creator, Kazuki Takahashi.
Dinomist Ceratops
Japanese

ダイナミスト・ケラトプス

Rōmaji

Dainamisuto Keratopusu

Translated

Dynamist Ceratops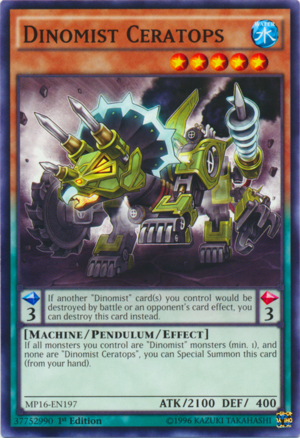 English sets
Worldwide
Search categories
Other languages
Language
Name
Lore
French

Cératops Dinobrume

Effet Pendule

Si une ou plusieurs autres cartes "Dinobrume" que vous contrôlez vont être détruites au combat ou par un effet de carte de votre adversaire, vous pouvez détruire cette carte à la place.

Effet de Monstre

Si tous les monstres que vous contrôlez sont des monstres "Dinobrume" (min. 1) et qu'aucun d'eux n'est "Cératops Dinobrume", vous pouvez Invoquer Spécialement cette carte (depuis votre main).

German

Dinonebel Ceratops

Pendeleffekt

Falls eine oder mehr andere "Dinonebel"-Karten, die du kontrollierst, durch Kampf oder einen Karteneffekt deines Gegners zerstört würden, kannst du stattdessen diese Karte zerstören.

Monstereffekt

Falls alle Monster, die du kontrollierst, "Dinonebel"-Monster sind (min. 1) und keins "Dinonebel Ceratops" ist, kannst du diese Karte als Spezialbeschwörung (von deiner Hand) beschwören.

Italian

Dinofoschia Ceratops

Effetto Pendulum

Se una o più altre carte "Dinofoschia" che controlli stanno per essere distrutte in battaglia o dall'effetto di una carta dell'avversario, puoi invece distruggere questa carta.

Effetto Mostro

Se tutti i mostri che controlli sono mostri "Dinofoschia" (minimo 1) e nessun è "Dinofoschia Ceratops", puoi Evocare Specialmente questa carta (dalla tua mano).

Portuguese

Dinonévoa Cerátopo

Efeito de Pêndulo

Se outro(s) card(s) "Dinonévoa" que você controla seria(m) destruído(s) em batalha ou por um efeito de card do oponente, em vez disso, você pode destruir este card.

Efeito de Monstro

Se todos os monstros que você controla forem monstros "Dinonévoa" (mín. 1) e nenhum for "Dinonévoa Cerátopo", você pode Invocar este card por Invocação-Especial (da sua mão).

Spanish

Dinoniebla Ceratops

Efecto de Péndulo

Si otra u otras cartas "Dinoniebla" que controlas fueran a ser destruidas en batalla o por efecto de una carta de tu adversario, puedes destruir esta carta en su lugar.

Efecto de Monstruo

Si todos los monstruos que controlas son monstruos "Dinoniebla" (min. 1), y ninguno es "Dinoniebla Ceratops", puedes Invocar esta carta de Modo Especial (desde tu mano).

Japanese

ダイナミスト・ケラトプス

P効果

①:このカード以外の自分フィールドの「ダイナミスト」カードが戦闘または相手の効果で破壊される場合、代わりにこのカードを破壊できる。

モンスターの効果

①:自分フィールドのモンスターが「ダイナミスト・ケラトプス」以外の「ダイナミスト」モンスターのみの場合、このカードは手札から特殊召喚できる。

Dainamisuto Keratopusu
Dynamist Ceratops
Korean

다이너미스트 케라톱스

펜듈럼 효과

① : 이 카드 이외의 자신 필드의 "다이너미스트" 카드가 전투 또는 상대의 효과로 파괴될 경우, 대신 이 카드를 파괴할 수 있다.

몬스터의 효과

① : 자신의 필드의 몬스터가 "다이너미스트 케라톱스" 이외의 "다이너미스트" 몬스터뿐일 경우, 이 카드는 패에서 특수 소환할 수 있다.
Sets in other languages
French
German
Italian
Portuguese
Spanish
Japanese
Korean
In other media