It is with heavy hearts that we mourn the passing of our game's creator, Kazuki Takahashi.
Mirror Gate
Japanese

異次元トンネル-ミラーゲート-

Base

異次元トンネル-ミラーゲート-

Kana

いじげんトンネル-ミラーゲート-

Rōmaji

Ijigen Tonneru - Mirā Gēto -

Translated

Dimensional Tunnel -Mirror Gate-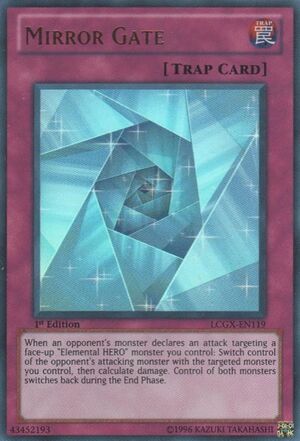 English sets
Worldwide
Search categories
Other languages
Language
Name
Lore
French

Porte du Tunnel Miroir Extra-Dimensionel

Activable uniquement lorsque le monstre de votre adversaire déclare une attaque ciblant un monstre "HÉROS Élémentaire" face recto que vous contrôlez. Échangez le contrôle du monstre adverse attaquant avec le monstre ciblé que vous contrôlez, puis calculez les dommages. Rendez le contrôle des monstres à leur propriétaire durant la End Phase de ce tour.

German

Spiegeltor

Wenn ein Monster deines Gegners einen Angriff deklariert, der ein offenes "Elementar-HELD"-Monster als Ziel wählt, das du kontrollierst: Vertauscht die Kontrolle über das angreifende Monster deines Gegners mit dem gewählten Monster, das du kontrollierst, und berechnet dann den Schaden. Die Kontrolle über die beiden Monster wird während der End Phase zurückgetauscht.

Italian

Portale Riflesso

Quando un mostro del tuo avversario dichiara un attacco scegliendo come bersaglio un mostro "EROE Elementale" scoperto che controlli: scambia il controllo del mostro attaccante del tuo avversario con il mostro scelto come bersaglio che controlli, quindi procedi al calcolo dei danni. Il controllo di entrambi i mostri ritorna allo stato originario durante la End Phase.

Portuguese

Portal do Espelho

Ative somente durante uma declaração de ataque de um monstro do seu oponente quando um monstro "Elemental Hero" no seu lado do campo for alvo do ataque. Antes do Cálculo de Dano, mude o controle do monstro atacado e do monstro atacante do seu oponente. Retorne o controle dos monstros aos seus donos durante a End Phase.

Spanish

Espejo Puerta

Activa esta carta sólo cuando un monstruo de tu adversario declare un ataque que tenga como objetivo un monstruo "HÉROE Elemental" boca arriba que controles. Intercambia el control del monstruo atacante y del monstruo atacado, y luego calcula el daño. El control de los monstruos se intercambia de nuevo durante la End Phase de este turno.

Japanese
異次元トンネル-ミラーゲート-

自分フィールド上に表側表示で存在する「E・HERO」と名のついたモンスターを攻撃対象にした相手モンスターの攻撃宣言時に発動する事ができる。相手の攻撃モンスターと攻撃対象となった自分モンスターのコントロールを入れ替えてダメージ計算を行う。このターンのエンドフェイズ時までコントロールを入れ替えたモンスターのコントロールを得る。

Ijigen Tonneru - Mirā Gēto -
Dimensional Tunnel -Mirror Gate-
Korean

이차원 터널 미러 게이트

자신 필드상에 겉표시로 존재하는 「E·HERO」라고 이름이 붙은 몬스터를 공격 대상으로 한 상대 몬스터의 공격 선언시에 발동할 수가 있다. 상대의 공격 몬스터와 공격 대상이 된 자신 몬스터의 컨트롤을 바꿔 넣어 데미지 계산을 실시한다. 이 턴의 엔드 페이즈시까지 컨트롤을 바꿔 넣은 몬스터의 컨트롤을 얻는다.
Sets in other languages
French
German
Italian
Spanish
Japanese
Korean
In other media