It is with heavy hearts that we mourn the passing of our game's creator, Kazuki Takahashi.
Mystic Swordsman LV2
Japanese

ミスティック・ソードマン LV2

Base

ミスティック・ソードマン LV2

Kana

ミスティック・ソードマン レベル2

Rōmaji

Misutikku Sōdoman Reberu Tsu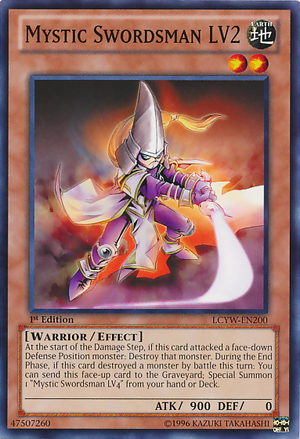 English sets
Worldwide
Search categories
Other languages
Language
Name
Lore
French

Spadassin Mystique LV2

Au début de la Damage Step, si cette carte a attaqué un monstre en Position de Défense face verso : détruisez le monstre. Durant la End Phase, si cette carte a détruit un monstre au combat ce tour : vous pouvez envoyer cette carte face recto au Cimetière ; Invoquez Spécialement 1 "Spadassin Mystique LV4" depuis votre main ou Deck.

German

Mystischer Schwertkämpfer LV2

Falls diese Karte ein Monster angreift, das sich verdeckt in Verteidigungsposition befindet, zerstöre das Monster durch den Effekt dieser Karte, ohne die Karte auf zu decken oder eine Schadensberechnung. Während der End Phase des Spielzugs, in dem diese Karte ein Monster als Ergebnis eines Kampfes zerstört hat, lege diese Karte auf den Friedhof, um eine "Mystischer Schwertkämpfer LV4"-Karte als Spezialbeschwörung aus deiner Hand oder deinem Deck zu beschwören.

Italian

Spadaccino Mistico LV2

All'inizio del Damage Step, se questa carta ha attaccato un mostro coperto in Posizione di Difesa: distruggi quel mostro. Durante la End Phase, se questa carta ha distrutto un mostro in battaglia in questo turno: puoi mandare questa carta scoperta al Cimitero; Evoca Specialmente 1 "Spadaccino Mistico LV4" dalla tua mano o Deck.

Portuguese

Homem das Espadas Místicas LV2

Se este card atacar um monstro em Posição de Defesa com a face para baixo, destrua o monstro com o efeito deste card, sem aplicar o cálculo de dano. Durante a End Phase do turno em que este card destrua um monstro como resultado de um combate, envie este card para o Cemitério para Invocar, por Invocação-Especial, "Homem das Espadas Místicas LV4" da sua mão ou do seu Deck.

Spanish

Espadachín Místico LV2

Al comienzo del Damage Step, si esta carta atacó a un monstruo en Posición de Defensa boca abajo: destruye ese monstruo. Durante la End Phase, si este turno esta carta destruyó un monstruo en batalla: puedes mandar al Cementerio esta carta boca arriba; Invoca de Modo Especial, desde tu mano o Deck, 1 "Espadachín Místico LV4".

Japanese
ミスティック・ソードマン LV2

裏側守備表示のモンスターを攻撃した場合、ダメージ計算を行わず裏側守備表示のままそのモンスターを破壊する。このカードがモンスターを戦闘によって破壊したターンのエンドフェイズ時、このカードを墓地に送る事で「ミスティック・ソードマン LV4」1体を手札またはデッキから特殊召喚する。

Misutikku Sōdoman Reberu Tsu
Korean

미스틱 스워드맨 LV2

뒷면 수비 표시의 몬스터를 공격했을 경우, 데미지 계산을 실행하지 않고 뒷면 수비 표시인 채로 그 몬스터를 파괴한다. 이 카드가 몬스터를 전투에 의해서 파괴한 턴의 엔드 페이즈시, 이 카드를 묘지로 보내는 것으로 "미스틱 스워드맨 LV4" 1장을 패 또는 덱에서 특수 소환한다.
Sets in other languages
French
German
Italian
Portuguese
Spanish
Japanese
Korean
Asian-English
In other media