It is with heavy hearts that we mourn the passing of our game's creator, Kazuki Takahashi.
Invoked Elysium
Japanese

召喚獣エリュシオン

Base

召喚獣エリュシオン

Kana

しょうかんじゅうエリュシオン

Rōmaji

Shōkanjū Eryushion

Translated

Invoked Beast Elysion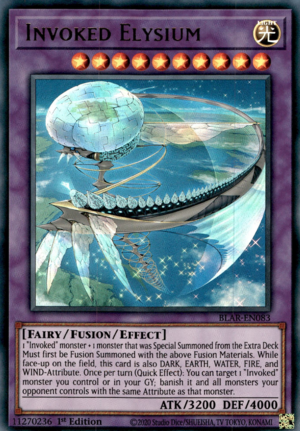 Card type
Monster
Attribute
LIGHT
Types
Fairy / Fusion / Effect
Level
10
ATK / DEF
3200 / 4000
Password
11270236
Effect types

Status
English sets
Worldwide
Search categories
Other languages
Language
Name
Lore
French

Elysium l'Invokhé

1 monstre "Invokhé" + 1 monstre qui a été Invoqué Spécialement depuis l'Extra Deck
Doit d'abord être Invoquée par Fusion avec les Matériels Fusion ci-dessus. Tant que cette carte est face recto sur le Terrain, elle est aussi TÉNÈBRES, TERRE, EAU, FEU et VENT. Une fois par tour (Effet Rapide) : vous pouvez cibler 1 monstre "Invokhé" que vous contrôlez ou dans votre Cimetière ; bannissez-le ainsi que tous les monstres contrôlés par votre adversaire du même Attribut que le monstre.

German

Beschworener Elysium

1 "Beschworen"-Monster + 1 Monster, das als Spezialbeschwörung vom Extra Deck beschworen wurde
Muss erst als Fusionsbeschwörung mit dem oben aufgeführten Fusionsmaterial beschworen werden. Solange diese Karte offen auf dem Spielfeld liegt, hat sie zusätzlich die Eigenschaften FINSTERNIS, ERDE, WASSER, FEUER und WIND. Einmal pro Spielzug (Schnelleffekt): Du kannst 1 "Beschworen"-Monster, das du kontrollierst oder in deinem Friedhof wählen; verbanne es und alle Monster, die dein Gegner kontrolliert und die dieselbe Eigenschaft wie das Monster haben.

Italian

Elysium Invokato

1 mostro "Invokato" + 1 mostro che è stato Evocato Specialmente dall'Extra Deck
Deve prima essere Evocato tramite Fusione con i Materiali da Fusione sopra indicati. Mentre è scoperta sul Terreno, questa carta ha anche Attributo OSCURITÀ, TERRA, ACQUA, FUOCO e VENTO. Una volta per turno (Effetto Rapido): puoi scegliere come bersaglio 1 mostro "Invokato" che controlli o nel tuo Cimitero; bandisci quello e tutti i mostri controllati dal tuo avversario con lo stesso Attributo di quel mostro.

Portuguese

Elísio, o Invokado

1 monstro "Invokado(a)" + 1 monstro Invocado por Invocação-Especial do Deck Adicional
Primeiro deve ser Invocado por Invocação-Fusão com as Matérias de Fusão acima. Enquanto estiver com a face para cima no campo, este card também é de Atributo TREVAS, TERRA, ÁGUA, FOGO e VENTO. Uma vez por turno (Efeito Rápido): você pode escolher 1 monstro "Invokado(a)" que você controla ou no seu Cemitério; bana-o e todos os monstros que seu oponente controla com o mesmo Atributo que esse monstro.

Spanish

Elíseo Invokado

1 monstruo "Invokado/a" + 1 monstruo que fue Invocado de Modo Especial desde el Deck Extra
Debe ser primero Invocado por Fusión con los Materiales de Fusión listados arriba. Mientras esté boca arriba en el Campo, el Atributo de esta carta también se trata como de OSCURIDAD, TIERRA, AGUA, FUEGO y VIENTO. Una vez por turno (Efecto Rápido): puedes seleccionar 1 monstruo "Invokado/a" que controles o en tu Cementerio; destiérralo y también a todos los monstruos con ese Atributo que controle tu adversario.

Japanese
召喚獣エリュシオン

「召喚獣」モンスター+エクストラデッキから特殊召喚されたモンスター
このカードは上記のカードを融合素材にした融合召喚でのみエクストラデッキから特殊召喚できる。①:このカードがモンスターゾーンに存在する限り、このカードの属性は「闇」「地」「水」「炎」「風」としても扱う。②:1ターンに1度、自分のフィールド・墓地の「召喚獣」モンスター1体を対象として発動できる。そのモンスター及びそのモンスターと同じ属性を持つ相手フィールドのモンスターを全て除外する。この効果は相手ターンでも発動できる。

Shōkanjū Eryushion
Invoked Beast Elysion
Korean

소환수 엘리시온

"소환수" 몬스터 + 엑스트라 덱에서 특수 소환된 몬스터
이 카드는 상기의 카드를 융합 소재로 한 융합 소환으로만 엑스트라 덱에서 특수 소환할 수 있다. ①: 이 카드가 몬스터 존에 존재하는 한, 이 카드의 속성은 "어둠" "땅" "물" "화염" "바람"으로도 취급한다. ②: 1턴에 1번, 자신의 필드 / 묘지의 "소환수" 몬스터 1장을 대상으로 하고 발동할 수 있다. 그 몬스터 및 그 몬스터와 같은 속성을 가지는 상대 필드의 몬스터를 전부 제외한다. 이 효과는 상대 턴에도 발동할 수 있다.
Sets in other languages
French
German
Italian
Portuguese
Spanish
Japanese
Korean