It is with heavy hearts that we mourn the passing of our game's creator, Kazuki Takahashi.
Armed Dragon Catapult Cannon
Armed Dragon Catapult Cannon
Japanese

アームド・ドラゴン・カタパルトキャノン

Rōmaji

Āmudo Doragon Kataparutokyanon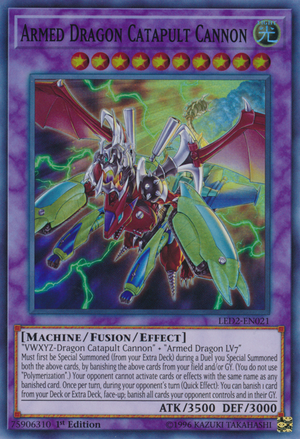 Card type
Monster
Attribute
LIGHT
Types
Machine / Fusion / Effect
Level
10
ATK / DEF
3500 / 3000
Password
75906310
Effect types

Status
English sets
Worldwide
Search categories
Other languages
Language
Name
Lore
French

Canon Catapulte Dragon Armé

"Canon Dragon Catapulte VWXYZ" + "Dragon Armé LV7"
Doit d'abord être Invoquée Spécialement (depuis votre Extra Deck) durant un Duel où vous Invoquez Spécialement les deux cartes ci-dessus, en bannissant les cartes ci-dessus depuis votre Terrain et/ou Cimetière. (N'utilisez pas "Polymérisation".) Votre adversaire ne peut ni activer de cartes ni d'effets du même nom que les cartes bannies. Une fois par tour, durant le tour de votre adversaire (Effet Rapide) : vous pouvez bannir face recto 1 carte depuis votre Deck ou Extra Deck ; bannissez toutes les cartes contrôlées par votre adversaire et dans son Cimetière.

German

Bewaffnete Drachenkatapultkanone

"VWXYZ-Drachenkatapultkanone" + "Bewaffneter Drache LV7"
Muss erst während eines Duells, in dem du die beiden oben aufgeführten Karten als Spezialbeschwörung beschworen hast, als Spezialbeschwörung (von deinem Extra Deck) beschworen werden, indem du die oben aufgeführten Karten von deiner Spielfeldseite und/oder deinem Friedhof verbannst. ("Polymerisation" wird nicht verwendet.) Dein Gegner kann weder Karten noch Effekte mit demselben Namen wie eine verbannte Karte aktivieren. Einmal pro Spielzug, während des Spielzugs deines Gegners (Schnelleffekt): Du kannst 1 Karte von deinem Deck oder Extra Deck offen verbannen; verbanne alle Karten, die dein Gegner kontrolliert und in seinem Friedhof.

Italian

Drago Armato Cannone Catapulta

"VWXYZ-Cannone Drago Catapulta" + "Drago Armato LV7"
Deve prima essere Evocato Specialmente (dal tuo Extra Deck) durante un Duello in cui hai Evocato Specialmente entrambe le carte sopra indicate, bandendo le carte sopra indicate dal tuo Terreno e/o Cimitero. (Non utilizzi "Polimerizzazione".) Il tuo avversario non può attivare carte o effetti con lo stesso nome di qualsiasi carta bandita. Una volta per turno, durante il turno del tuo avversario (Effetto Rapido): puoi bandire 1 carta dal tuo Deck o Extra Deck, scoperta; bandisci tutte le carte controllate dal tuo avversario e nel suo Cimitero.

Portuguese

Dragão Armado da Catapulta Canhão

"VWXYZ-Dragão Catapulta Canhão" + "Dragão Armado LV7"
Primeiro deve ser Invocado por Invocação-Especial (do seu Deck Adicional), durante um Duelo em que você tenha Invocado os dois cards acima por Invocação-Especial, ao banir os cards acima do seu campo e/ou Cemitério. (Você não usa "Polimerização".) Seu oponente não pode ativar cards ou efeitos com o mesmo nome de qualquer card banido. Uma vez por turno, durante o turno do seu oponente (Efeito Rápido): você pode banir, com a face para cima, 1 card do seu Deck ou Deck Adicional; bana todos os cards que seu oponente controla e no Cemitério dele.

Spanish

Dragón Armado Catapulta Cañón

"VWXYZ-Dragón Catapulta Cañón" + "Dragón Armado LV7"
Debe ser primero Invocada de Modo Especial (desde tu Deck Extra) durante un Duelo en el que hayas Invocado de Modo Especial las dos cartas mencionadas arriba, desterrando de tu Campo y/o Cementerio las cartas mencionadas arriba. (No usas "Polimerización"). Tu adversario no puede activar cartas o efectos con el mismo nombre de cualquiera de las cartas desterradas. Una vez por turno, durante el turno de tu adversario (Efecto Rápido): puedes desterrar 1 carta en tu Deck o Deck Extra, boca arriba; destierra todas las cartas que tu adversario controla y en su Cementerio.

Japanese

アームド・ドラゴン・カタパルトキャノン

「VWXYZ-ドラゴン・カタパルトキャノン」+「アームド・ドラゴン LV7」
自分が上記のカード全ての特殊召喚に成功しているデュエル中に、自分のフィールド・墓地の上記のカードを除外した場合のみ、EXデッキから特殊召喚できる(「融合」は必要としない)。①:このカードがモンスターゾーンに存在する限り、相手は除外されている自分・相手のカードと同名カードの効果を発動できない。②:相手ターンに1度、デッキ・EXデッキからカード1枚を除外して発動できる。相手のフィールド・墓地のカードを全て除外する。

Āmudo Doragon Kataparutokyanon
Korean

암드 드래곤 캐터펄트 캐논

"VWXYZ-드래곤 캐터펄트 캐논" + "암드 드래곤 LV7"
자신이 상기의 카드를 전부 특수 소환에 성공하고 있는 듀얼 중에, 자신 필드 / 묘지의 상기의 카드를 제외했을 경우에만, 엑스트라 덱에서 특수 소환할 수 있다("융합"은 필요로 하지 않는다). ① : 이 카드가 몬스터 존에 존재하는 한, 상대는 제외되어 있는 자신 / 상대의 카드와 동명 카드의 효과를 발동할 수 없다. ② : 상대 턴에 1번, 덱 / 엑스트라 덱에서 카드 1장을 제외하고 발동할 수 있다. 상대 필드 / 묘지의 카드를 전부 제외한다.
Sets in other languages
French
German
Italian
Portuguese
Spanish
Japanese
Korean
In other media