VW-Tiger Catapult
Japanese

VW-タイガー・カタパルト

Base

VW-タイガー・カタパルト

Kana

ヴィダブル-タイガー・カタパルト

Rōmaji

Vi Daburu - Taigā Kataparuto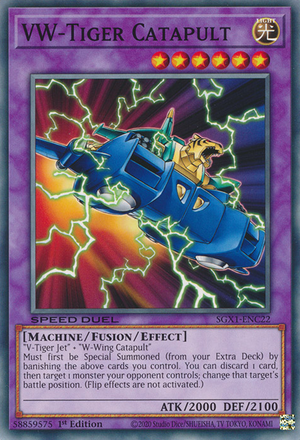 Card type
Monster
Attribute
LIGHT
Types
Machine / Fusion / Effect
Level
6
ATK / DEF
2000 / 2100
Password
58859575
Effect types

Status
English sets
Worldwide
North America
Search categories
Other languages
Language
Name
Lore
French

Tigre Catapulte VW

"Tigre Jet V" + "Catapulte à Vent W"
Doit d'abord être Invoquée Spécialement (depuis votre Extra Deck) en bannissant les cartes ci-dessus que vous contrôlez. Vous pouvez défausser 1 carte, puis ciblez 1 monstre contrôlé par votre adversaire ; changez la position de combat de la cible. (Les effets Flip ne sont pas activés.)

German

VW-Tigerkatapult

"V-Tigerflieger" + "W-Flügelkatapult"
Muss erst als Spezialbeschwörung (von deinem Extra Deck) beschworen werden, indem du die oben erwähnten Karten verbannst, die du kontrollierst. Du kannst 1 Karte abwerfen und dann 1 Monster wählen, das dein Gegner kontrolliert; ändere die Kampfposition des gewählten Ziels. (Flippeffekte werden dabei nicht aktiviert.)

Italian

VW-Catapulta Tigre

"V-Tigre Jet" + "W-Catapulta Ala"
Deve prima essere Evocato Specialmente (dal tuo Extra Deck) bandendo le carte sopra indicate che controlli. Puoi scartare 1 carta, poi scegliere come bersaglio 1 mostro controllato dal tuo avversario; cambia la posizione di quel bersaglio. (Gli effetti Scoperta non vengono attivati.)

Portuguese

VW-Catapulta Tigre

"V-Jato Tigre" + "W-Catapulta de Asa"
Primeiro deve ser Invocado por Invocação-Especial (do seu Deck Adicional) ao banir os cards acima que você controla. Você pode descartar 1 card e, depois, escolha 1 monstro que seu oponente controla; mude a posição de batalha do alvo. (Efeitos de Virar não são ativados.)

Spanish

VW-Tigre Catapulta

"V-Jet Tigre" + "W-Ala Catapulta"
Debe ser primero Invocado de Modo Especial (desde tu Deck Extra) desterrando las cartas mencionadas arriba que tú controles. Puedes descartar 1 carta, y después seleccionar 1 monstruo que controle tu adversario; cambia la posición de batalla de ese objetivo. (Los efectos de Volteo no son activados).

Japanese
VW-タイガー・カタパルト

「V-タイガー・ジェット」+「W-ウィング・カタパルト」
自分フィールドの上記カードを除外した場合のみ、エクストラデッキから特殊召喚できる(「融合」は必要としない)。①:手札を1枚捨て、相手フィールドのモンスター1体を対象として発動できる。その相手モンスターの表示形式を変更する。この時、リバースモンスターの効果は発動しない。

Vi Daburu - Taigā Kataparuto

"V-Tiger Jet" + "W-Wing Catapult"
Must first be Special Summoned (from your Extra Deck) by banishing the above cards you control. You can discard 1 card, then target 1 monster your opponent controls; change that target's battle position. (Flip monsters' effects are not activated.)

Korean

VW-타이거 캐터펄트

"V-타이거 제트" + "W-윙 캐터펄트"
자신 필드 위에 존재하는 상기의 카드를 게임에서 제외했을 경우에만, 융합 덱에서 특수 소환이 가능합니다.("융합" 마법 카드는 필요로 하지 않는다. 패를 1장 버리는 것으로, 상대 필드 위의 몬스터 1장의 표시 형식을 변경한다(이때, 리버스 효과 몬스터의 효과는 발동하지 않는다.
Sets in other languages
French
German
Italian
Portuguese
Spanish
Japanese
Korean
Asian-English
In other media