It is with heavy hearts that we mourn the passing of our game's creator, Kazuki Takahashi.
Deskbot 009
Japanese

ブンボーグ009

Base

ブンボーグ009

Kana

ブンボーグゼロゼロナイン

Rōmaji

Bunbōgu Zero Zero Nain

Translated

Bunborg 009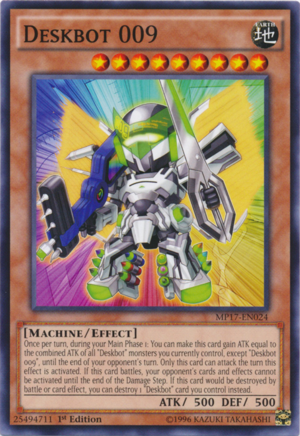 Card type
Monster
Attribute
EARTH
Types
Machine / Effect
Level
9
ATK / DEF
500 / 500
Password
25494711
Effect types

Status
English sets
Worldwide
Search categories
Other languages
Language
Name
Lore
French

Robobureau 009

Une fois par tour, durant votre Main Phase 1 : jusqu'à la fin du tour de votre adversaire, vous pouvez faire gagner à cette carte une ATK égale à la somme des ATK de tous les monstres "Robobureau" que vous contrôlez actuellement ("Robobureau 009" exclu). Uniquement cette carte peut attaquer le tour où cet effet est activé. Si cette carte combat, les cartes et effets de votre adversaire ne peuvent pas être activés jusqu'à la fin de la Damage Step. Si cette carte va être détruite au combat ou par un effet de carte, vous pouvez détruire 1 carte "Robobureau" que vous contrôlez à la place.

German

Büroboter 009

Einmal pro Spielzug, während deiner Main Phase 1: Du kannst diese Karte bis zum Ende des Spielzugs deines Gegners ATK in Höhe der Summe der ATK aller "Büroboter"-Monster, die du derzeit kontrollierst, außer "Büroboter 009", erhalten lassen. Nur diese Karte kann in dem Spielzug angreifen, in dem dieser Effekt aktiviert wird. Falls diese Karte kämpft, können die Karten und Effekte deines Gegners bis zum Ende des Damage Steps nicht aktiviert werden. Falls diese Karte durch Kampf oder einen Karteneffekt zerstört würde, kannst du stattdessen 1 "Büroboter"-Karte zerstören, die du kontrollierst.

Italian

Deskbot 009

Una volta per turno, durante la tua Main Phase 1: puoi far guadagnare a questa carta ATK pari alla somma degli ATK di tutti i mostri "Deskbot" che controlli attualmente, eccetto "Deskbot 009", fino alla fine del turno del tuo avversario. Solo questa carta può attaccare nel turno in cui questo effetto viene attivato. Se questa carta combatte, le carte e gli effetti del tuo avversario non possono essere attivate fino alla fine del Damage Step. Se questa carta sta per essere distrutta in battaglia o dall'effetto di una carta, puoi invece distruggere 1 carta "Deskbot" che controlli.

Portuguese

Robô-secretário 009

Uma vez por turno, durante sua Fase Principal 1: até o final do turno do seu oponente, você pode fazer com que este card ganhe ATK igual ao ATK combinado de todos os monstros "Robô-secretário" que você controla atualmente, exceto "Robô-secretário 009". Somente este card pode atacar no turno em que este efeito for ativado. Se este card batalhar, os cards e efeitos do seu oponente não podem ser ativados até o final da Etapa de Dano. Se este card seria destruído em batalha ou por um efeito de card, em vez disso, você pode destruir 1 card "Robô-secretário" que você controla.

Spanish

Escritoriobot 009

Una vez por turno, durante tu Main Phase 1: hasta el final del turno de tu adversario, puedes hacer que esta carta gane ATK igual al ATK combinado de todos los monstruos "Escritoriobot" que controles en este momento, excepto "Escritoriobot 009". En el turno en el que este efecto es activado, sólo puede atacar esta carta. Si esta carta batalla, las cartas y efectos de tu adversario no pueden ser activados hasta el final del Damage Step. Si esta carta fuera a ser destruida en batalla o por efecto de una carta, puedes destruir 1 carta "Escritoriobot" que controles en su lugar.

Japanese
ブンボーグ009

①:1ターンに1度、自分メインフェイズ1に発動できる。このカードの攻撃力は相手ターン終了時まで、「ブンボーグ009」以外の自分フィールドの「ブンボーグ」モンスターの攻撃力の合計分アップする。この効果を発動するターン、このカードしか攻撃できない。②:このカードが戦闘を行う場合、相手はダメージステップ終了時まで魔法・罠・モンスターの効果を発動できない。③:このカードが戦闘・効果で破壊される場合、代わりに自分フィールドの「ブンボーグ」カード1枚を破壊できる。

Bunbōgu Zero Zero Nain
Bunborg 009
Korean
분보그009

① : 1턴에 1번, 자신 메인 페이즈 1 에 발동할 수 있다. 이 카드의 공격력은 상대 턴 종료시까지, "분보그 009(제로제로나인)" 이외의 자신 필드의 "분보그" 몬스터 공격력의 합계만큼 올린다. 이 효과를 발동하는 턴에, 이 카드밖에 공격할 수 없다. ② : 이 카드가 전투를 실행할 경우, 상대는 데미지 스텝 종료시까지 마법 / 함정 / 몬스터의 효과를 발동할 수 없다. ③ : 이 카드가 전투 / 효과로 파괴되었을 경우, 대신에 자신 필드의 "분보그" 카드 1장을 파괴할 수 있다.
Sets in other languages
French
German
Italian
Portuguese
Spanish
Japanese
Korean
In other media