Dragonroid
Japanese

ドラゴンロイド

Rōmaji

Doragonroido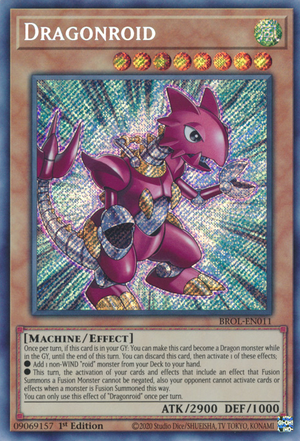 Card type
Monster
Attribute
WIND
Types
Machine / Effect
Level
8
ATK / DEF
2900 / 1000
Password
09069157
Effect types

Status

Once per turn, if this card is in your GY: You can make this card become a Dragon monster while in the GY, until the end of this turn. You can discard this card, then activate 1 of these effects;
● Add 1 non-WIND "roid" monster from your Deck to your hand.
● This turn, the activation of your cards and effects that include an effect that Fusion Summons a Fusion Monster cannot be negated, also your opponent cannot activate cards or effects when a monster is Fusion Summoned this way.
You can only use this effect of "Dragonroid" once per turn.
English sets
Worldwide
Search categories
Other languages
Language
Name
Lore
French

Dragonroid

Une fois par tour, si cette carte est dans votre Cimetière : jusqu'à la fin de ce tour, vous pouvez faire devenir cette carte un monstre Dragon tant qu'elle est dans le Cimetière. Vous pouvez défausser cette carte, puis activez 1 de ces effets ;
● Ajoutez 1 monstre non-VENT "roid" depuis votre Deck à votre main.
● Ce tour, l'activation de vos cartes et effets qui incluent un effet qui Invoque par Fusion un Monstre Fusion ne peut pas être annulée, et aussi, votre adversaire ne peut activer ni de cartes ni d'effets lorsqu'un monstre est Invoqué par Fusion de cette façon.
Vous ne pouvez utiliser cet effet de "Dragonroid" qu'une fois par tour.

German

Dracheroid

Einmal pro Spielzug, falls sich diese Karte in deinem Friedhof befindet: Du kannst diese Karte bis zum Ende dieses Spielzugs zu einem Drache-Monster werden lassen, solange sie sich im Friedhof befindet. Du kannst diese Karte abwerfen und dann 1 dieser Effekte aktivieren;
● Füge deiner Hand 1 Nicht-WIND "roid"-Monster von deinem Deck hinzu.
● In diesem Spielzug kann die Aktivierung deiner Karten und Effekte, die einen Effekt enthalten, der ein Fusionsmonster als Fusionsbeschwörung beschwört, nicht annulliert werden, zusätzlich kann dein Gegner weder Karten noch Effekte aktivieren, wenn ein Monster auf diese Art als Fusionsbeschwörung beschworen wird.
Du kannst diesen Effekt von "Dracheroid" nur einmal pro Spielzug verwenden.

Italian

Dragoroid

Una volta per turno, se questa carta è nel tuo Cimitero: puoi far diventare questa carta un mostro Drago mentre è nel Cimitero, fino alla fine di questo turno. Puoi scartare questa carta, poi attivare 1 di questi effetti;
● Aggiungi 1 mostro "roid" non-VENTO dal tuo Deck alla tua mano.
● In questo turno, l'attivazione delle tue carte ed effetti che comprendono un effetto che Evoca tramite Fusione un Mostro Fusione non possono essere annullati, inoltre il tuo avversario non può attivare carte o effetti quando un mostro viene Evocato tramite Fusione in questo modo.
Puoi utilizzare questo effetto di "Dragoroid" una sola volta per turno.

Portuguese

Dragãoroide

Uma vez por turno, se este card estiver no seu Cemitério: até o final deste turno, você pode fazer com que este card se torne um monstro Dragão enquanto estiver no Cemitério. Você pode descartar este card e, depois, ative 1 desses efeitos;
● Adicione 1 monstro "roide" que não seja de VENTO do seu Deck à sua mão.
● Neste turno, a ativação dos seus cards e efeitos que incluam um efeito que Invoque por Invocação-Fusão um Monstro de Fusão não pode ser negada e, além disso, seu oponente não pode ativar cards ou efeitos quando um monstro for Invocado por Invocação-Fusão desta forma.
Você só pode usar este efeito de "Dragãoroide" uma vez por turno.

Spanish

Dragonroid

Una vez por turno, si esta carta está en tu Cementerio: hasta el final de este turno, puedes hacer que esta carta se convierta en un monstruo Dragón mientras esté en el Cementerio. Puedes descartar esta carta, y después activar 1 de estos efectos;
● Añade a tu mano 1 monstruo "roid" en tu Deck que no sea de VIENTO.
● Este turno, la activación de tus cartas y efectos que incluyan un efecto que Invoque por Fusión un Monstruo de Fusión no puede ser negada, y además tu adversario no puede activar cartas o efectos cuando un monstruo es Invocado por Fusión de esta forma.
Sólo puedes usar este efecto de "Dragonroid" una vez por turno.

Japanese

ドラゴンロイド

このカード名の①の効果は1ターンに1度しか使用できない。①:このカードを手札から捨て、以下の効果から1つを選択して発動できる。●デッキから風属性以外の「ロイド」モンスター1体を手札に加える。●このターン、融合モンスターを融合召喚する効果を含む効果を自分が発動した場合、その発動は無効化されず、その融合召喚成功時に相手は魔法・罠・モンスターの効果を発動できない。②:1ターンに1度、このカードが墓地に存在する場合に発動できる。墓地のこのカードはターン終了時までドラゴン族になる。

Doragonroido
Korean

드래곤로이드

이 카드명의 ①의 효과는 1턴에 1번밖에 사용할 수 없다. ①: 이 카드를 패에서 버리고, 이하의 효과에서 1개를 선택하여 발동할 수 있다. ●덱에서 바람 속성 이외의 "로이드" 몬스터 1장을 패에 넣는다. ●이 턴에, 융합 몬스터를 융합 소환하는 효과를 포함하는 효과를 자신이 발동했을 경우, 그 발동은 무효화되지 않으며, 그 융합 소환 성공시에 상대는 마법 / 함정 / 몬스터의 효과를 발동할 수 없다. ②: 1턴에 1번, 이 카드가 묘지에 존재할 경우에 발동할 수 있다. 묘지의 이 카드는 턴 종료시까지 드래곤족이 된다.

Deuraegon-roideu
Sets in other languages
French
German
Italian
Portuguese
Spanish
Japanese
Korean
In other media