| | |
| --- | --- |
| | Help support Yugipedia by using our Chrome extension, which redirects links to the old Wikia/Fandom site to Yugipedia, ensuring you see the most up-to-date information. If you have any issues or find any bugs, be sure to let us know on Discord! |
Jesse Anderson (manga)
Jesse Anderson
Names
Japanese translated
Johan Andersen

Japanese
Japanese

ヨハン・アンデルセン

Rōmaji
Yohan Anderusen

Personal
Birth
June 11[1]
Height

1.7 m <br />5.577 ft <br />66.929 in <br />

170 cm[1]

Weight

127.868 lb <br />

58 kg[1]

Gender
School
American Duel Academy
Manga Deck
Insect
Appearances
Manga debut
Yu-Gi-Oh! GX Chapter 37: "The Shadow Game Ends!!"
Anderson, Jesse
Jesse Anderson, known as Johan Andersen (ヨハン・アンデルセン, Yohan Anderusen) in the Japanese version, is a character in the Yu-Gi-Oh! GX manga.
Biography
[
edit
]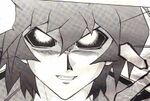 In the manga, he and the rest of the Overseas Champions are from the American Duel Academy. Jesse seems to have an interest in bugs and he first meets Jaden Yuki and Syrus Truesdale when he is chasing a rare beetle. He also plays an Insect Deck to reflect his interest. He's selected to tag with Adrian Gecko in a Duel against Bastion Misawa and Alexis Rhodes. Adrian is annoyed that Jesse is his partner, as he believes Jesse won't take the Duel seriously. Jesse and Adrian ultimately lose the Duel.
Jesse later challenges Syrus, who gains an early upper hand in the Duel. However, Jesse Summons "The Tripper Mercury" and becomes possessed by Tragoedia, defeating Syrus. After this, he appears to not remember his possession by Tragoedia, and is even unsure if he defeated Syrus or not until the latter confirms it. Syrus was going to ask him about "The Tripper Mercury" but Jesse leaves after spotting a red dragonfly flying away causing Syrus to believe he imagined it. Sometime afterwards Tragoedia possesses Jesse once more, and leads him into the warehouse where Tragoedia is waiting. Jesse has all the energy drained from his body and "The Tripper Mercury" taken away from him. Jesse falls into a coma afterwards and would not wake up from it until Tragoedia was defeated. A few years later Jesse can be seen in the stands about to watch Jaden Duel against Koyo Hibiki.
Jesse uses an Insect Deck, including the "Papillon" monsters along with his Legendary Planet, "The Tripper Mercury".
Image
Information
"Butterfly Fairy" (「蝶の妖精」 Chō no Yōsei)

Level

 8 ★ ★ ★ ★ ★ ★ ★ ★

Types

 Effect

ATK

 2900

DEF

 2000

"Lady Beetle" (「レディ・カブト」 Redi Kabuto)

Level

 3 ★ ★ ★

Types

 Insect / Effect

ATK

 700

DEF

 1600

"Needle Honey Bee" (「ニードル・ハニー・ビィ」 Nīdoru Hanī Bī)

Level

 4 ★ ★ ★ ★

Types

 Insect / Effect

ATK

 1500

DEF

 400

"Queen Butterfly Danaus" (「クイーン・バタフライ ダナウス」 Kuīn Batafurai Danausu)

Level

 8 ★ ★ ★ ★ ★ ★ ★ ★

Types

 Insect / Effect

ATK

 2800

DEF

 1900

"Roachie" | "Roach Cock" (「ローチ・コック」 Rōchi Kokku)

Level

 4 ★ ★ ★ ★

Types

 Insect / Effect

ATK

 1300

DEF

 1000

"Rose Papillon" (「ローズ・パピヨン」 Rōzu Papiyon)

Level

 3 ★ ★ ★

Types

 Insect / Effect

ATK

 1400

DEF

 800

"The Tripper Mercury" | "The Tripping Mercury" (「The tripping MERCURY」 Za Torippingu Mākyurī)

Level

 8 ★ ★ ★ ★ ★ ★ ★ ★

Types

 Effect

ATK

 2000

DEF

 2000

"White Papillon" (「ホワイト・パピオン」 Howaito Papion)

Level

 2 ★ ★

Types

 Insect / Normal

ATK

 400

DEF

 200

"Forbidden Substance" | "Forbidden Drug" (「禁止薬物」 Kinshi Yakubutsu)

Card type

 Spell Card

Property

 Normal

"Defensive Instinct" (「防御本能」 Bōgyo Honnō)

Card type

 Trap Card

Property

 Normal

"Evasion Under Fire" (「被弾回避」 Hidan Kaihi)

Card type

 Trap Card

Property

 Normal

"Insect Horde" (「昆虫の大群」 Konchū no Taigun)

Card type

 Trap Card

Property

 Normal

"Mirror Force" | "Holy Barrier - Mirror Force -" (「聖なるバリア -ミラーフォース-」 Seinaru Baria - Mirā Fōsu -)

Card type

 Trap Card

Property

 Normal

"Spider Restraint" (「スパイダー・リストレイント」 Supaidā Risutoreinto)

Card type

 Trap Card

Property

 Normal

"Wingstream" (「ウイング・ストリーム」 Uingu Sutorīmu)

Card type

 Trap Card

Property

 Normal
References
[
edit
]