Bujin Hiruko
Japanese

武神-ヒルコ

Base

武神-ヒルコ

Kana

ぶじん-ヒルコ

Rōmaji

Bujin - Hiruko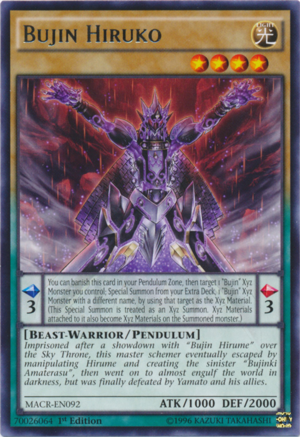 English sets
Worldwide
Search categories
Other languages
Language
Name
Lore
French

Bujin Hiruko

Effet Pendule

Vous pouvez bannir cette carte dans votre Zone Pendule, puis ciblez 1 Monstre Xyz "Bujin" que vous contrôlez ; Invoquez Spécialement 1 Monstre Xyz "Bujin" de nom différent depuis votre Extra Deck, en utilisant la cible comme le Matériel Xyz. (Cette Invocation Spéciale est traitée comme une Invocation Xyz. Les Matériels Xyz attachés au monstre deviennent aussi des Matériels Xyz du monstre Invoqué.)

Effet de Monstre

Emprisonné après un affrontement avec "Bujin Hirume" pour le Trône Céleste, ce maître de la conspiration s'est finalement échappé en manipulant Hirume et créant le sinistre "Bujinki Amaterasu". Il était tout près d'engloutir le monde dans l'obscurité, mais a finalement été vaincu par Yamato et ses alliés.

German

Bujin Hiruko

Pendeleffekt

Du kannst diese Karte in deiner Pendelzone verbannen und dann 1 "Bujin"-Xyz-Monster wählen, das du kontrollierst; beschwöre 1 "Bujin"-Xyz-Monster mit einem unterschiedlichen Namen als Spezialbeschwörung von deinem Extra Deck, indem du das gewählte Ziel als das Xyz-Material verwendest. (Diese Spezialbeschwörung wird als Xyz-Beschwörung behandelt. Daran angehängtes Xyz-Material wird ebenfalls zu Xyz-Material des beschworenen Monsters.)

Monstereffekt

Dieser meisterhafte Ränkeschmied hinterging "Bujin Hirume", um sich den Himmelsthron zu sichern. Er wurde jedoch besiegt und eingekerkert, aber ihm gelang die Flucht, indem er Hirume manipulierte. Mit Hilfe der von ihm erschaffenen "Bujinki Amaterasu" gelang es ihm fast, die Welt in Dunkelheit einzuhüllen, doch Yamato und seine Verbündeten konnten ihn besiegen.

Italian

Bujin Hiruko

Effetto Pendulum

Puoi bandire questa carta nella tua Zona Pendulum, poi scegliere come bersaglio 1 Mostro Xyz "Bujin" che controlli; Evoca Specialmente dal tuo Extra Deck 1 Mostro Xyz "Bujin" con un nome diverso, utilizzando quel bersaglio come Materiale Xyz. (Questa Evocazione Speciale viene considerata un'Evocazione Xyz. I Materiali Xyz attaccati ad esso diventano Materiali Xyz anche sul mostro Evocato.)

Effetto Mostro

Imprigionato dopo il confronto con "Bujin Hirume" per il Trono del Cielo, questo maestro cospiratore infine fuggì manipolando Hirume e creando il sinistro "Bujinki Amaterasu", poi riuscì quasi a avvolgere il mondo nell'oscurità, ma venne finalmente sconfitto da Yamato e i suoi alleati.

Portuguese

Bujin Hiruko

Efeito de Pêndulo

Você pode banir este card na sua Zona de Pêndulo e, depois, escolher 2 Monstro Xyz "Bujin" que você controla; Invoque por Invocação-Especial do seu Deck Adicional, 1 Monstro Xyz "Bujin" com um nome diferente, usando o alvo como uma Matéria Xyz. (Esta Invocação-Especial é considerada uma Invocação-Xyz. Matérias Xyz associadas a ele também se tornam Matérias Xyz no monstro Invocado.)

Efeito de Monstro

Aprisionado após um confronto com "Bujin Hirume" sobre o Trono Celeste, este mestre maquinador escapou ao manipular Hirume e criou o sinistro "Bujinki Amaterasu". Ele posteriormente quase inundou o mundo em trevas, mas foi finalmente derrotado por Yamato e seus aliados.

Spanish

Bujin Hiruko

Efecto de Péndulo

Puedes desterrar esta carta en tu Zona del Péndulo, y después seleccionar 1 Monstruo Xyz "Bujin" que controles; Invoca de Modo Especial, desde tu Deck Extra, 1 Monstruo Xyz "Bujin" con nombre diferente, usando ese objetivo como el Material Xyz. (Esta Invocación Especial se trata como una Invocación Xyz. Los Materiales Xyz acoplados a ese monstruo se convierten en Materiales Xyz en el monstruo Invocado).

Efecto de Monstruo

Tomado prisionero después de una pelea con "Bujin Hirume" por el Trono Celestial, este maestro del complot eventualmente escapó manipulando a Hirume y creando al siniestro "Bujinki Amaterasu", para luego continuar hasta casi envolver al mundo en tinieblas, para ser finalmente derrotado por Yamato y sus aliados.

Japanese
武神-ヒルコ

P効果

①:自分のPゾーンのこのカードを除外し、自分フィールドの「武神」Xモンスター1体を対象として発動できる。その自分のモンスターとカード名が異なる「武神」Xモンスター1体を、対象のモンスターの上に重ねてX召喚扱いとしてエクストラデッキから特殊召喚する。

モンスターの効果

遥か太古の昔に主神の座をかけて「武神-ヒルメ」と戦い、死闘の末に封印されてしまった悪神。自らの封印を解くために「ヒルメ」を操り、禍々しき「アマテラス」を生み出して世界に闇を齎したが、その野望は「ヤマト」たち若き武神の活躍によって潰えた。

Bujin - Hiruko

A wicked god who was sealed away after his deadly showdown with Bujin Hirume over the throne of the Chief God in the distant past. In order to break the seal placed on him, he controlled Hirume, created the sinister Amaterasu, and threatened to engulf the world in darkness. But his ambitions were thwarted by the young Yamato and his allies.

Korean

무사신-히루코

펜듈럼 효과

①: 자신의 펜듈럼 존의 이 카드를 제외하고, 자신 필드의 "무사신" 엑시즈 몬스터 1장을 대상으로 하여 발동할 수 있다. 그 자신의 몬스터와 카드명이 다른 "무사신" 엑시즈 몬스터 1장을, 대상의 몬스터 위에 겹쳐 엑시즈 소환으로 취급하고 엑스트라 덱에서 특수 소환한다.

몬스터의 효과

아득한 태고의 옛적에 주신의 자리를 걸고 "무사신-히루메"와 싸워, 사투 끝에 봉인되 어버린 악신. 자신의 봉인을 풀기 위해 "히루메"를 조종하고, 불길한 "아마테라스"를 낳아 세계에 어둠을 가져왔지만. 그 야망은 "야마토" 젊은 무사신들의 활약에 의해 무너졌다.
Sets in other languages
French
German
Italian
Portuguese
Spanish
Japanese
Korean
In other media