It is with heavy hearts that we mourn the passing of our game's creator, Kazuki Takahashi.
Infernoid Onuncu
Japanese

インフェルノイド・ネヘモス

Rōmaji

Inferunoido Nehemosu

Translated

Infernoid Nehemoth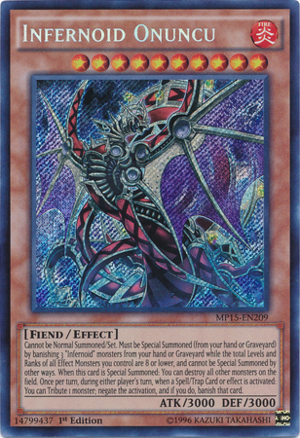 Card type
Monster
Attribute
FIRE
Types
Fiend / Effect
Level
10
ATK / DEF
3000 / 3000
Password
14799437
Effect types

Status
English sets
Worldwide
Search categories
Other languages
Language
Name
Lore
French

Infernoid Onuncu

Ni Invocable Normalement ni Posable Normalement. Uniquement Invocable Spécialement (depuis votre main ou Cimetière) en bannissant 3 monstres "Infernoid" depuis votre main ou Cimetière tant que les Niveaux et Rangs totaux de tous les Monstres à Effet que vous contrôlez sont max. 8, et non Invocable Spécialement autrement. Lorsque cette carte est Invoquée Spécialement : vous pouvez détruire tous les autres monstres sur le Terrain. Une fois par tour, durant le tour de chaque joueur, lorsqu'une Carte Magie/Piège ou un effet est activé : vous pouvez Sacrifier 1 monstre ; annulez l'activation, et si vous le faites, bannissez la carte.

German

Infernoid Onuncu

Kann nicht als Normalbeschwörung beschworen/gesetzt werden. Muss als Spezialbeschwörung (von deiner Hand oder deinem Friedhof) beschworen werden, indem du 3 "Infernoid"-Monster von deiner Hand oder deinem Friedhof verbannst, solange die Summe der Stufen und Ränge aller Effektmonster, die du kontrollierst, 8 oder niedriger ist, und kann nicht auf andere Art als Spezialbeschwörung beschworen werden. Wenn diese Karte als Spezialbeschwörung beschworen wird: Du kannst alle anderen Monster auf dem Spielfeld zerstören. Einmal pro Spielzug, während des Spielzugs eines beliebigen Spielers, wenn eine Zauber-/Fallenkarte oder ein Zauber-/Falleneffekt aktiviert wird: Du kannst 1 Monster als Tribut anbieten; annulliere die Aktivierung und falls du dies tust, verbanne die Karte.

Italian

Infernoid Onuncu

Non può essere Evocato Normalmente/Posizionato. Deve essere Evocato Specialmente (dalla tua mano o Cimitero) bandendo 3 mostri "Infernoid" dalla tua mano o Cimitero mentre la somma dei Livelli e dei Ranghi di tutti i Mostri con Effetto che controlli è pari o inferiore a 8, e non può essere Evocato Specialmente in altri modi. Quando questa carta viene Evocata Specialmente: puoi distruggere tutti gli altri mostri sul Terreno. Una volta per turno, durante il turno di qualsiasi giocatore, quando viene attivata una Carta Magia/Trappola o un effetto: puoi offrire come Tributo 1 mostro; annulla l'attivazione e, se lo fai, bandisci quella carta.

Portuguese

Infernoide Onuncu

Não pode ser Invocado por Invocação-Normal/Baixado. Você deve Invocá-lo por Invocação-Especial (da sua mão ou Cemitério) ao banir 3 monstros "Infernoide" da sua mão ou Cemitério enquanto a soma dos Níveis e Classes de todos os Monstros de Efeito que você controla for 8 ou menos, e não pode Invocá-lo por Invocação-Especial de nenhuma outra forma. Quando este card for Invocado por Invocação-Especial; você pode destruir todos os outros monstros no campo. Uma vez por turno, durante o turno de qualquer duelista, quando um Card de Magia/Armadilha ou efeito for ativado: você pode oferecer 1 monstro como Tributo; negue a ativação e, se isso acontecer, bana esse card.

Spanish

Infiernoid Onuncu

No puede ser Invocado de Modo Normal/Colocado. Debe ser Invocado de Modo Especial (desde tu mano o Cementerio) desterrando 3 monstruos "Infiernoid" en tu mano o Cementerio mientras la suma de los Niveles y Rangos de todos los Monstruos de Efecto que controlas sea 8 o menos, y no puede ser Invocado de Modo Especial de otra forma. Cuando esta carta es Invocada de Modo Especial: puedes destruir todos los demás monstruos en el Campo. Una vez por turno, durante el turno de cualquier jugador, cuando es activada una Carta Mágica/de Trampa o efecto: puedes Sacrificar 1 monstruo; niega la activación y, si lo haces, destierra esa carta.

Japanese

インフェルノイド・ネヘモス

このカードは通常召喚できない。自分フィールドの全ての効果モンスターのレベル・ランクの合計が8以下の時、自分の手札・墓地から「インフェルノイド」モンスター3体を除外した場合のみ手札・墓地から特殊召喚できる。①:このカードが特殊召喚に成功した時に発動できる。このカード以外のフィールドのモンスターを全て破壊する。②:1ターンに1度、魔法・罠カードの効果が発動した時、自分フィールドのモンスター1体をリリースして発動できる。その発動を無効にし除外する。

Inferunoido Nehemosu
Infernoid Nehemoth
Korean

인페르노이드 네헤모스

이 카드는 통상 소환할 수 없다. 자신 필드의 모든 효과 몬스터의 레벨 / 랭크의 합계가 8 이하일 때, 자신의 패 / 묘지에서 "인페르노이드" 몬스터 3장을 제외했을 경우에만 패 / 묘지에서 특수 소환할 수 있다. ①: 이 카드가 특수 소환에 성공했을 때에 발동할 수 있다. 이 카드 이외의 필드의 몬스터를 전부 파괴한다. ②: 1턴에 1번, 마법 / 함정 카드의 효과가 발동했을 때, 자신 필드의 몬스터 1장을 릴리스하고 발동할 수 있다. 그 발동을 무효로 하고 제외한다.
Sets in other languages
French
German
Italian
Portuguese
Spanish
Japanese
Korean