It is with heavy hearts that we mourn the passing of our game's creator, Kazuki Takahashi.
Goddess Bow
Japanese

女神の聖弓-アルテミス

Base

女神の聖弓-アルテミス

Kana

めがみのせいきゅう-アルテミス

Rōmaji

Megami no Seikyū - Arutemisu

Translated

Holy Bow of the Goddess - Artemis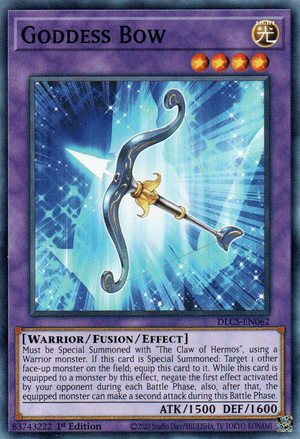 Card type
Monster
Attribute
LIGHT
Types
Warrior / Fusion / Effect
Level
4
ATK / DEF
1500 / 1600
Password
83743222
Effect types

Status
English sets
Worldwide
Search categories
Other languages
Language
Name
Lore
French

La Déesse Archère - Artémis

Uniquement Invocable Spécialement avec "La Griffe d'Hermocrate", en utilisant un monstre Guerrier. Si cette carte est Invoquée Spécialement : ciblez 1 autre monstre face recto sur le Terrain ; équipez-lui cette carte. Tant que cette carte est équipée à un monstre par cet effet, annulez le premier effet activé par votre adversaire durant chaque Battle Phase, et aussi, après ça, le monstre équipé peut faire une seconde attaque durant cette Battle Phase.

German

Bogen der Göttin

Muss mit "Klaue des Hermos" als Spezialbeschwörung beschworen werden, verwende dafür ein Krieger-Monster. Falls diese Karte als Spezialbeschwörung beschworen wird: Wähle 1 anderes offenes Monster auf dem Spielfeld; rüste es mit dieser Karte aus. Solange diese Karte durch diesen Effekt ein Monster ausrüstet, annulliere während jeder Battle Phase den ersten Effekt, den dein Gegner aktiviert, zusätzlich kann das ausgerüstete Monster danach während dieser Battle Phase einen zweiten Angriff durchführen.

Italian

Arco della Dea

Deve essere Evocato Specialmente con "Artiglio di Hermos", utilizzando un mostro Guerriero. Se questa carta viene Evocata Specialmente: scegli come bersaglio 1 altro mostro scoperto sul Terreno; equipaggia questa carta ad esso. Mentre questa carta è equipaggiata a un mostro da questo effetto, annulla il primo effetto attivato dal tuo avversario durante ogni Battle Phase inoltre, dopo aver fatto quello, il mostro equipaggiato può effettuare un secondo attacco durante questa Battle Phase.

Portuguese

Arco da Deusa

Deve ser Invocado por Invocação-Especial com "A Garra de Hermos", usando um monstro Guerreiro. Se este card for Invocado por Invocação-Especial: escolha 1 outro monstro com a face para cima no campo; equipe este card a ele. Enquanto este card estiver equipado a um monstro por este efeito, negue o primeiro efeito ativado pelo seu oponente durante cada Fase de Batalha e, além disso, depois, o monstro equipado pode realizar um segundo ataque durante esta Fase de Batalha.

Spanish

Arco de la Diosa

Debe ser Invocado de Modo Especial con "La Garra de Hermos", usando un monstruo Guerrero. Si esta carta es Invocada de Modo Especial: selecciona otro monstruo boca arriba en el Campo; equípale esta carta. Mientras esta carta esté equipada a un monstruo por este efecto, niega el primer efecto activado por tu adversario durante cada Battle Phase y además, después de eso, el monstruo equipado puede hacer un segundo ataque durante esta Battle Phase.

Japanese
女神の聖弓-アルテミス

このカードは「ヘルモスの爪」の効果で自分の手札・フィールドの戦士族モンスターを墓地へ送った場合のみ特殊召喚できる。①:このカードが特殊召喚に成功した場合、このカード以外のフィールドのモンスター1体を対象として発動する。このカードを装備カード扱いとしてそのモンスターに装備する。②:このカードの効果でこのカードが装備されている場合、自分・相手のバトルフェイズ中に1度だけ、相手が発動した魔法・罠・モンスターの効果を無効にする。この効果を適用したバトルフェイズ中、装備モンスターは2回攻撃できる。

Megami no Seikyū - Arutemisu
Holy Bow of the Goddess - Artemis
Korean

여신의 성궁-아르테미스

이 카드는 "헤르모스의 발톱"의 효과로 자신의 패 / 필드의 전사족 몬스터를 묘지로 보냈을 경우에만 특수 소환할 수 있다. ①: 이 카드가 특수 소환에 성공했을 경우, 이 카드 이외의 필드의 몬스터 1장을 대상으로 하고 발동한다. 이 카드를 장착 카드로 취급하여 그 몬스터에 장착한다. ②: 이 카드의 효과로 이 카드가 장착되었을 경우, 자신 / 상대의 배틀 페이즈 중에 1번만, 상대가 발동한 마법 / 함정 / 몬스터의 효과를 무효로 한다. 이 효과를 적용한 배틀 페이즈 중, 장착 몬스터는 2회 공격할 수 있다.
Sets in other languages
French
German
Italian
Portuguese
Spanish
Japanese
Korean
In other media