It is with heavy hearts that we mourn the passing of our game's creator, Kazuki Takahashi.
The Phantom Knights of Shadow Veil
The Phantom Knights of Shadow Veil
Japanese

幻影騎士団シャドーベイル

Base

幻影騎士団シャドーベイル

Kana

ファントム・ナイツシャドーベイル

Rōmaji

Fantomu Naitsu Shadōbeiru

Translated

Phantom Knights Shadow Veil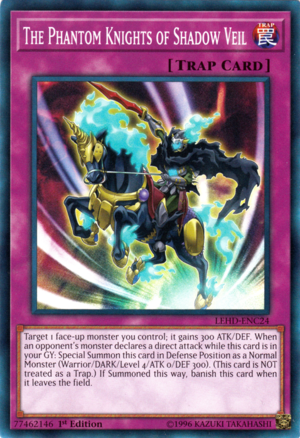 English sets
Worldwide
Search categories
Other languages
Language
Name
Lore
French

Les Chevaliers Fantômes du Voile de l'Ombre

Ciblez 1 monstre face recto que vous contrôlez ; il gagne 300 ATK/DEF. Lorsqu'un monstre de l'adversaire déclare une attaque directe tant que cette carte est dans votre Cimetière : Invoquez Spécialement cette carte en Position de Défense comme un Monstre Normal (Guerrier/TÉNÈBRES/Niveau 4/ATK 0/DEF 300). (Cette carte N'EST PAS traitée comme un Piège.) Si elle est Invoquée de cette façon, bannissez cette carte lorsqu'elle quitte le Terrain.

German

Die Phantomritter des Schattenschleiers

Wähle 1 offenes Monster, das du kontrollierst; es erhält 300 ATK/DEF. Wenn ein Monster eines Gegners einen direkten Angriff deklariert, solange sich diese Karte in deinem Friedhof befindet: Beschwöre diese Karte als Spezialbeschwörung als Normales Monster (Krieger/FINSTERNIS/Stufe 4/ATK 0/DEF 300) in die Verteidigungsposition. (Diese Karte wird NICHT als Falle behandelt.) Falls diese Karte auf diese Art beschworen wird, verbanne sie, wenn sie das Spielfeld verlässt.

Italian

I Cavalieri Fantasma del Velo d'Ombra

Scegli come bersaglio 1 mostro scoperto che controlli; esso guadagna 300 ATK/DEF. Quando un mostro dell'avversario dichiara un attacco diretto mentre questa carta è nel tuo Cimitero: Evoca Specialmente questa carta in Posizione di Difesa come Mostro Normale (Guerriero/OSCURITÀ/Livello 4/ATK 0/DEF 300). (Questa carta NON viene considerata come una Trappola.) Se viene Evocata in questo modo, bandisci questa carta quando lascia il Terreno.

Portuguese

Os Cavaleiros Fantasmas do Véu Sombrio

Escolha 1 monstro com a face para cima que você controla; ele ganha 300 de ATK/DEF. Quando um monstro do oponente declarar um ataque direto enquanto este card estiver no seu Cemitério: Invoque este card por Invocação-Especial em Posição de Defesa como um Monstro Normal (Guerreiro/TREVAS/Nível 4/ATK 0/DEF 300). (Este card NÃO é considerado como uma Armadilha.) Se Invocado desta forma, bana este card quando ele deixar o campo.

Spanish

Los Caballeros Fantasma del Velo de las Sombras

Selecciona 1 monstruo boca arriba que controles; éste gana 300 ATK/DEF. Cuando un monstruo del adversario declare un ataque directo mientras esta carta está en tu Cementerio: Invoca esta carta de Modo Especial en Posición de Defensa como un Monstruo Normal (Guerrero/OSCURIDAD/Nivel 4/ATK 0/DEF 300). (Esta carta NO se trata como una Trampa). Si es Invocada de esta forma, destierra esta carta cuando deje el Campo.

Japanese
幻影騎士団シャドーベイル

①:自分フィールドの表側表示モンスター1体を対象として発動できる。そのモンスターの攻撃力・守備力は300アップする。②:このカードが墓地に存在する場合、相手の直接攻撃宣言時に発動できる。このカードは通常モンスター(戦士族・闇・星4・攻0/守300)となり、モンスターゾーンに守備表示で特殊召喚する(罠カードとしては扱わない)。この効果で特殊召喚したこのカードは、フィールドから離れた場合に除外される。

Fantomu Naitsu Shadōbeiru
Phantom Knights Shadow Veil
Korean

팬텀 나이츠 섀도우베일

① : 자신 필드의 앞면 표시 몬스터 1장을 대상으로 하고 발동할 수 있다. 그 몬스터의 공격력 / 수비력은 300 올린다. ② : 이 카드가 묘지에 존재할 경우, 상대의 직접 공격 선언시에 발동할 수 있다. 이 카드는 일반 몬스터(전사족 / 어둠 / 레벨 4 / 공 0 / 수 300)가 되고, 몬스터 존에 수비 표시로 특수 소환한다(함정 카드로는 취급하지 않는다). 이 효과로 특수 소환한 이 카드는, 필드에서 벗어났을 경우에 제외된다.
Sets in other languages
French
German
Italian
Portuguese
Spanish
Japanese
Korean
In other media